Sally Purchase: 'Art is a little bit like a relief'
The pandemic hit MEA member Sally Purchase's AP art students in Muskegon especially hard as they were interrupted by the sudden closure of buildings last March in the final stretch of completing a multi-media art exploration on a personal theme.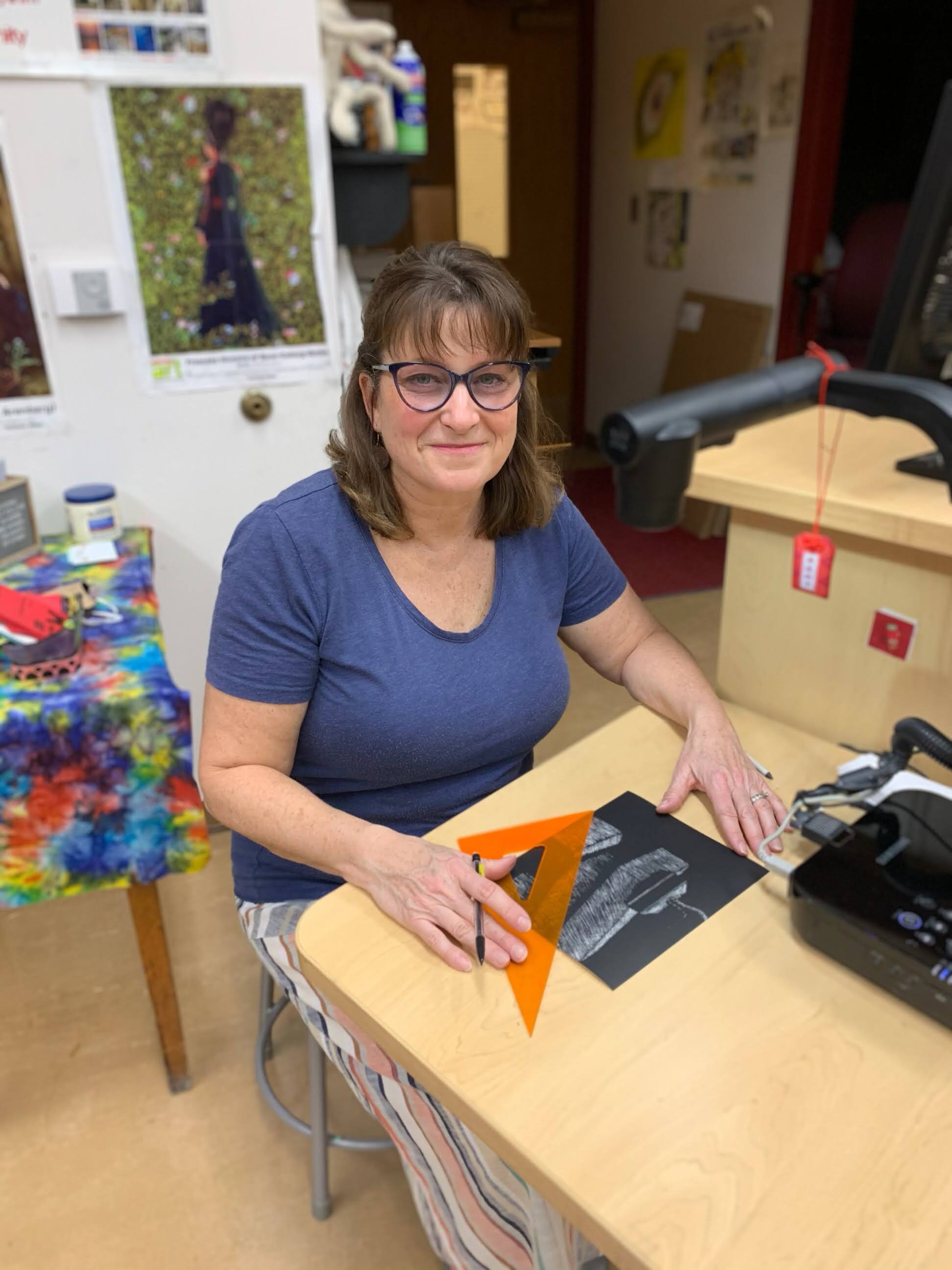 "We didn't know they weren't coming back, so here are these kids in their homes and no artwork, no art supplies," Purchase recalled.
She had been working all year with students—about half of 18 seniors in Advanced Placement—bringing pieces forward for AP testing in May. Suddenly she was retrieving in-progress projects and art supplies from school, which she loaded in her car, drove, and dropped at homes.
She critiqued work via photographs and walked students through a difficult digital submission process, instead of the usual—packing the objects in a portfolio box and shipping them to Utah. "It was super rough, but eight of the nine kids passed the AP exam, and I was so proud of all of them for working it out."
Purchase didn't have time to rest on those laurels over summer. She served as the lone union negotiator of return to learn plans, consulting with the bargaining team but developing specifics one-on-one with the superintendent. "There were so many details to work out at three different building levels. But the schedule we came up with was innovative, and I think we did well."
Muskegon had enough Chromebooks to sign out a device to each student. Ensuring all students had access to the internet was trickier, involving home and school hotspots.
To limit daily screen time at the high school, students took accelerated versions of half the normal number of classes—to focus on fewer subjects. Buses ran daily routes in the afternoons so students could come to buildings for tutoring or broadband internet access when needed.
Children learned remotely through winter until some elected a phased-in return to buildings starting in mid-February. In-person learning did not resume until staff at each site had been vaccinated.
Staff and families both have expressed appreciation for the focus on safety, Purchase said. However, it's been hard to get to know students virtually this year when many did not turn on cameras.
She learned personalities in the chat and connected through art. She demonstrated techniques and recorded the live feed so students could follow along and play it back later to try again—"like Bob Ross," she quipped. It could be hard to tell if anyone was listening.
But one girl in comments referred to Purchase as "titi"—a Spanish term of endearment meaning "auntie." Another called her "mom." And Purchase continued packing and delivering art supplies to homes of students and picking up their finished works, which were even more thoughtful than in normal times and showed that students were, in fact, listening all along, she said.
"I've had kids tell me, 'This is the class I really look forward to.' I think they're happy to have a non-core class that has a different vibe to it. It's a change of pace and a little bit like a relief. Right now, art is really needed."
Read more stories from the series, "What it's Like: COVID Vignettes":
Karen Moore: secretary with a purpose
Karen Christian: COVID ICU survivor
Jacob Oaster: leader, teacher, innovator
Amy Quiñones: Charting New Waters
Union Presidents Lead through Unprecendented Crisis
Jill Wheeler: On Books, Kids, and ESP
Gary Mishica: His Work is Hobby, Joy, Passion
Demetrius Wilson: 'We've made it work'
Shana Barnum: 'It's heart-wrenching'
Claudia Rodgers: Committed to her Work
Danya Stump: Building Preschool Potential
Rachel Neiwiada: Honored on National TV
Tavia Redmond: 'Let me tell you about tired'
Gillian Lafrate: Student Teaching With a Twist (or two)
Jaycob Yang: Finding a Way in the First Year
Julie Ingison: Bus Driver Weaves Love into Job
Chris DeFraia: Sharing a Rich Resource
Eric Hudson: Playing a Part to Beat the Virus