MEA Winter Conference – A Virtual Offering
Feb. 1-6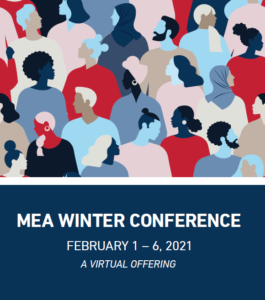 Welcome to an MEA Winter Conference unlike any we've held before.
This year our gathering will happen virtually over the course of five
evenings and a Saturday morning. But while the format has changed,
our purpose never wavers.
As always at our biggest conference of the year you can expect to
find the latest and greatest information on bargaining strategies,
organizing initiatives, lobbying priorities, legal issues, professional
development, and communication plans. Throughout the conference
you will connect with colleagues, learn and strategize – and be
reminded of our strength in union.
Learn more about the conference offerings.
Log in to our Members Only page to register (click on Event Registration).