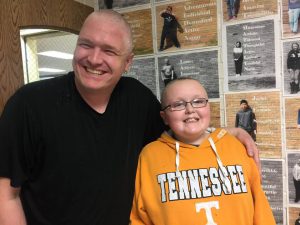 Fifth-grade teacher Ryan Oleson could relate when he heard about a student at his Niles school who felt self-conscious about losing his hair from chemotherapy treatments—hair loss that would reveal a surgical scar on the back of his head.
So the MEA member let the boy shave his full head of hair in the hallway at Brandywine Elementary School with classmates looking on. Afterward, Oleson and 11-year-old Colton Hubbard compared notes—Oleson also had a scar on his head from having a benign brain tumor removed when he was a child.
"We had a moment where I said, 'I was six when I got mine; how old were you?' And he said, 'Five.' It wasn't too exciting. Just kind of like, 'Huh.'"
Later, Oleson penned a moving note to Hubbard on a Facebook post commemorating the head shaving event: "Mr. Colton, you and I shared more than a haircut yesterday. We shared battle scars and a story of strength," the message read in part.
Young Colton has been battling the growth of non-cancerous tumors for the past several years, but he is surrounded by love, the teacher added.
"He has a lot of love at home and a lot of love among his friends here and among all the staff here," Oleson said.