Ladies Day at the MEA
Friday, May 12, 2017
SAFETY IS NO ACCIDENT
TO ALL WOMEN UNION LEADERS IN GOOD STANDING WITH MEA:
Please join us for a fantastic day – focusing on safety and the strength of women!
Held at MEA HQ, 1350 Kendale Blvd., East Lansing. Program begins with
a continental breakfast at 8:30 a.m. and presentations at 9:00 a.m.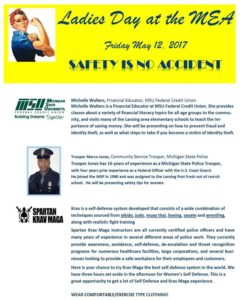 Ladies Day Keynote Speaker: Karen White, NEA Deputy Executive Director
Karen White holds the 2nd highest staff position in the nation's largest labor organization and is the first woman to hold this position in NEA's 159 year history.
Karen is very familiar with NEA and she has a thorough understanding of the issues facing educators across the country. She is an effective and unwavering advocate for students, public education and working families.
Karen learned early in life that political action is vital for students and school personnel and spent time on picket lines while her family lobbied legislators for better conditions in the classroom. Her work in Democratic politics helped her hone her skills in understanding diverse groups of people and is a huge benefit to NEA.
Prior to joining NEA, White served as the national political director for EMILY's List, the nation's largest political action committee and a prominent political network for pro-choice Democratic women candidates across the country. She has also been recognized for her work on numerous gubernatorial and U.S. Senate campaigns. Her successful management of Parris Glendening's 1998 re-election campaign for governor of Maryland earned her a key position in the Glendening administration. White served as the deputy secretary and chief of staff of the Maryland Department of Natural Resources. She also served as the governor's senior adviser, developing meaningful strategies to deal with complex and politically sensitive issues, thereby allowing the governor to achieve a number of high-profile legislative priorities.
Karen graduated from Michigan State University with a bachelor's degree in Education. She resides in Maryland with her husband and three children.