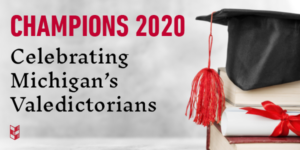 MEA is proud of every Michigan student, and especially our 2020 graduates. The COVID-19 pandemic has robbed those seniors of many rites of passage, which is why we're honoring Michigan's graduates as part of Champions 2020.
MEA members across the state are encouraged to have their local high school valedictorian (or other commencement speakers selected by your school) record their graduation remarks to YouTube and then submit the link to us.
We will share as many speeches as possible below — in these uncertain times, these videos will provide hope, inspiration and a glimpse of our future, thanks to Michigan's best and brightest graduates.
In the Lansing area, MEA is sponsoring Champions 2020 with a weekly sports show, Press Pass (11 p.m. Sundays on Fox 47), during which area valedictorians are being selected to deliver part of their remarks for broadcast on TV. Links to those recordings are below as well.
July 23

Haslett High School
(as aired on Fox 47's Press Pass – go to 48 minute mark)

July 12

Owosso High School
(as aired on Fox 47's Press Pass – go to 48 minute mark)

July 5

Lansing Eastern High School
(as aired on Fox 47's Press Pass – go to 48 minute mark)

June 28

East Lansing High School
(as aired on Fox 47's Press Pass – go to 48 minute mark)

June 22

June 22

Charlotte High School

(as aired on Fox 47's Press Pass – go to 48 minute mark)

June 16

Grand Rapids Union High School

(speech begins at 23 minute mark)

June 16

June 15

Grass Lake High School
(as aired on Fox 47's Press Pass – go to 48 minute mark)

June 12

Valedictorian, Lincoln Senior High School

June 12

Valedictorian, Swan Valley High School

June 7

Valedictorian, St. Johns High School
(as aired on Fox 47's Press Pass – go to 47 minute mark)

June 1

Valedictorian, Lansing Everett
(as aired on Fox 47's Press Pass)