A package of bills, Senate Bills 584-586, that allows concealed weapons in schools and other gun-free zones now heads to the State House for consideration after the Senate Republicans passed them this week.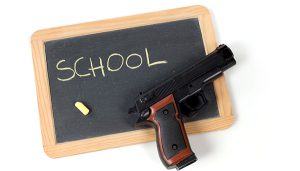 Make your voice heard with State Representatives to vote against these dangerous bills. MEA strongly opposes this legislation for the safety of students and school employees alike, and has been part of a coalition fighting similar legislation for several years.
The measures passed the Senate 25-12 along mostly party lines, with all Democrats voting against. Several amendments offered by Democrats were defeated that would have barred certain criminals from obtaining a license, allowed school boards to decide their own policies, and forced an end to the laws if an accidental shooting occurs.
As a Marine Corps veteran, Sen. David Knezek (D-Dearborn Heights) said he has received advanced training on how to carry and use a weapon and knows that "guns and classrooms do not mix."
"Other states are looking to keep weapons out of the hands of dangerous criminals and out of the classroom," Knezek said. "Michigan is looking to put in an express lane."
Sen. Curtis Hertel Jr. (D-East Lansing) pointed out in a Senate floor speech that even conservative U.S. Supreme Court Justice Antonin Scalia recognized a need for reasonable restrictions on gun rights. Pistols do not belong in preschools, Hertel said.
"Parents should be assured that when we drop our kids off at school, we will pick them up in the car lane and not in a body bag."
The answer to gun violence is not more guns in schools – in fact, it's a recipe for disaster. Making it legal to conceal a pistol in a preschool is a tragedy waiting to happen, regardless of the training concealed weapon holders undergo.
Here are some key messages to use when contacting your State Representative and urging a NO vote on SB 584-586:
– Whenever a gun is brought into a school – legally or illegally – it's going to disrupt student learning.  If a gun is seen, schools are going to err on the side of caution and lock down buildings, because there's no way to know the intent of the person carrying the weapon – someone properly licensed to carry or someone there to do harm.  These lockdowns grind student learning to a halt and create major anxiety among students, parent and staff.
– The only people who should be carrying a gun in a school are law enforcement and security professionals.  The few extra hours of training these bills would require pale in comparison to the lifetime of professional training and practice that police officers undergo to know how to handle a stressful situation with a gun.
– Not only should SB 584-586 be rejected, but the State House should act now to make gun-free zones truly gun free by eliminating the controversial loophole that allows concealed weapon license holders to open carry a gun in these locations.
Please contact your State Representative today and urge a NO vote on SB 584-586.