For the second time in the 15-year tenure of Ferris State University President David Eisler, faculty members have approved a resolution of "No Confidence" in the FSU leader for his administration's poor handling of contract negotiations which has led to a faculty strike and ongoing turmoil at the university.
The MEA-affiliated faculty union resoundingly approved the resolution in balloting conducted Sept. 25-26, with nearly 90 percent of participating members voting in favor. According to Ferris Faculty Association (FFA) President Charles Bacon, the vote marked the first time in FSU history that a single president has earned two no-confidence votes.
Of 270 ballots cast in the FFA's no-confidence vote, 239 (88.5 percent) voted yes and 31 voted no. Nearly three-quarters of FFA members participated in the voting.
The first no-confidence vote on Eisler occurred in 2007.
"This has never happened before with a president at Ferris State University," Bacon said. "We continue to hope David Eisler and the Board of Trustees will negotiate in good faith with us. Our members are galvanized and resolute."
Bargaining was scheduled to continue on Friday, Oct. 12. The 450 tenure-track faculty members at FSU have been working without a contract since June 30. A one-day walkout on the first day of fall classes Aug. 28 has been followed by informational picketing on campus and at university events, along with sit-ins at Eisler's office.
Meanwhile, a recent FSU graduate has started an online petition in support of the faculty. Beth Sweney, who was named FSU's Outstanding Graduate in Biology in 2016, has garnered nearly 600 signatures in 11 days with her detailed appeal to Eisler to "cease battle" against the FFA.
"Your faculty are truly exceptional, and FSU's outstanding reputation is a direct result of their talent and hard work," the opening to the 11-paragraph petition reads. "I have yet to meet teachers more dedicated to the holistic education of their students, or more invested in their students' success. These amazing individuals set our University apart from others, and they are the reason I encourage potential students to pursue higher education at FSU."
Sweney lives in Big Rapids and is now pursuing a Master's degree in Physician Assistant Studies at Grand Valley State University. She said she wanted to give students, alumni, community members, and other supporters of FSU the chance to weigh in on the issues, so faculty members know how much they are respected, valued, and admired.
"Throughout my four years at FSU, my teachers supported me, believed in me, and helped give me the confidence to reach for goals beyond my wildest expectations," she said. "Some of them continue to mentor me even to this day. I hope this helps the administration hear our voice on the matter."
Faculty member Holly Price was a student at Ferris State University the last time FSU faculty went on strike in 1997. Today she's an associate professor in the math department and part of the FFA bargaining team helping to lead efforts to "stand up to a bully."
Nearly 300 faculty members picketed on the first day of the fall semester in protest of the university administration's refusal to bargain in good faith. The faculty contract expired June 30, but the administration would not meet for talks in May or June.
"They really have not negotiated with us, and I'm on the bargaining team, so I can say that," Price said. "It's very frustrating; we want to be productive, and we want to be in the classroom, and we want to fix problems, but they're just obstructing it."
Now and 20 years ago, she said, "The faculty does not strike for frivolous reasons."
As striking faculty walked a picket line and handed out flyers to students, university officials filed a legal complaint against the association. A circuit court judge issued a temporary restraining order requiring faculty members to return to work the next day.
Faculty leaders continued informational picketing and held sit-ins outside Eisler's office to pressure administrators to return to the bargaining table with renewed commitment to negotiate a fair contract. Talks were scheduled to resume in early October.
The August strike garnered widespread media attention.
"It is extremely encouraging to see the turnout and the energy within our faculty, and the outpouring of student support was especially gratifying," said FFA President Charles Bacon. "Not only that, but we have received a lot of emails and phone calls of support from faculty associations across the state."
Longtime physics professor Dr. Bo Lou, who stood with dozens of colleagues along busy State Street on the edge of the Big Rapids campus at the start of the semester, said the problems boil down to a lack of respect and fairness.
"The upper administration is getting a very high rate of increases," Lou said.
University President David Eisler's compensation has grown by 128 percent since 2001. During that same time period, faculty wages have increased 44 percent. The FFA is seeking a 2.75 percent increase, down from 6 percent originally.
However, the university has not budged from its offer of a 1.5 percent increase, which amounts to a pay cut for many faculty when combined with continuing health care cost increases – a proposal Biology Professor Chris DeFraia considers insufficient.
"In addition, they are changing how promotions and tenure are done – dressing up pay cuts in unfair ways," DeFraia said. "This does not bode well for hiring. Nobody wants to work where they're not appreciated."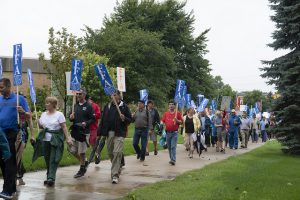 Bacon said bloated administrative costs reflect the university's failure to prioritize employees. He points to research in the past few years that shows higher education spending on faculty has declined since 2000, at the same time administrative spending has increased.
Meanwhile, FSU faculty are among the lowest paid professors at public universities in Michigan, he noted.
"Our total package would have cost about $1.8 million, and we showed them how they could make that money up, but they don't want to hear it. They don't listen."
The FFA bargaining team has been willing to compromise, but talks have been one-sided, Bacon added. "We give—they don't. We can't negotiate with ourselves."
The university has again retained the same law firm it used in the last round of negotiations. That firm billed FSU more than $400,000 for its work in 2013. In addition, the university recently hired a public relations firm at significant cost.
"It bothers me a lot that the university team hasn't budged on anything, and yet they'll bring in an outside negotiator from Ann Arbor and pay him $500 an hour to drive back and forth," said 33-year veteran English professor John Cullen. "They have lawyers on staff who are competent professionals. They could negotiate this.
"Instead of spending hundreds of thousands of dollars on outside resources, they could have just come in with a better offer to begin with. In fact," he added, "they could have hired a student worker for nine bucks an hour to sit there and say, 'No.'"
A number of students expressed their support for the striking faculty's demands. Junior Rebecca Bostic stopped by the picket line with friends to share words of encouragement.
"The administration needs to spend more money on the wonderful professors who work with us every day, because they are the university to us," Bostic said. "I came here to learn, and they are the ones who teach me."
The FFA recently filed Unfair Labor Practice charges with the Michigan Employment Relations Commission against the university. The charges detail the university's refusal to bargain in good faith, as well as bullying and intimidation tactics the university has engaged in.
Specifically, college administrators directed employees to conduct video surveillance of faculty members to identify those participating in informational picketing in the days leading up to a strike vote held in the end of August.
Check out photos from Ferris State on August 28.