Holly Price was a student at Ferris State University the last time FSU faculty went on strike in 1997. Today she's an associate professor in the math department and part of the Ferris Faculty Association (FFA) bargaining team who led a work stoppage Monday to "stand up to a bully."
Nearly 300 faculty members picketed on the first day of the fall semester in protest of the university administration's refusal to bargain in good faith. The faculty contract expired June 30, but the administration would not meet for talks in May or June.
"They really have not negotiated with us, and I'm on the bargaining team, so I can say that," Price said. "It's very frustrating; we want to be productive, and we want to be in the classroom, and we want to fix problems, but they're just obstructing it."
Now and 20 years ago, she said, "The faculty does not strike for frivolous reasons."
As striking faculty walked a picket line and handed out flyers to students, university officials filed a legal complaint against the association. A circuit court judge issued a temporary restraining order requiring faculty members to return to work on Tuesday.
Faculty leaders vowed to continue informational picketing to pressure university administrators to return to the bargaining table with renewed commitment to negotiate a fair contract. Talks were scheduled to resume on Wednesday.
The strike garnered widespread media attention.
"It is extremely encouraging to see the turnout and the energy within our faculty, and the outpouring of student support was especially gratifying," said FFA President Charles Bacon. "Not only that, but we have received a lot of emails and phone calls of support from faculty associations across the state."
Longtime physics professor Dr. Bo Lou, who stood with dozens of colleagues along busy State Street on the edge of the Big Rapids campus, said the problems boil down to a lack of respect and fairness.
"The upper administration is getting a very high rate of increases," Lou said.
University President David Eisler's compensation has grown by 128 percent since 2001. During that same time period, faculty wages have increased 44 percent. The FFA is seeking a 2.75 percent increase, down from 6 percent originally.
However, the university has not budged from its offer of a 1.5 percent increase, which amounts to a pay cut for many faculty when combined with continuing health care cost increases – a proposal Biology Professor Chris DeFraia considers insufficient.
"In addition, they are changing how promotions and tenure are done – dressing up pay cuts in unfair ways," DeFraia said. "This does not bode well for hiring. Nobody wants to work where they're not appreciated."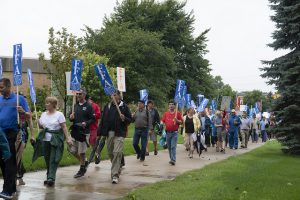 Bacon said bloated administrative costs reflect the university's failure to prioritize employees. He points to research in the past few years that shows higher education spending on faculty has declined since 2000, at the same time administrative spending has increased.
Meanwhile, FSU faculty are among the lowest paid professors at public universities in Michigan, he noted.
"Our total package would have cost about $1.8 million, and we showed them how they could make that money up, but they don't want to hear it. They don't listen."
The FFA bargaining team has been willing to compromise, but talks have been one-sided, Bacon added. "We give—they don't. We can't negotiate with ourselves."
The university has again retained the same law firm it used in the last round of negotiations. That firm billed FSU more than $400,000 for its work in 2013. In addition, the university recently hired a public relations firm at significant cost.
"It bothers me a lot that the university team hasn't budged on anything, and yet they'll bring in an outside negotiator from Ann Arbor and pay him $500 an hour to drive back and forth," said 33-year veteran English professor John Cullen. "They have lawyers on staff who are competent professionals. They could negotiate this.
"Instead of spending hundreds of thousands of dollars on outside resources, they could have just come in with a better offer to begin with. In fact," he added, "they could have hired a student worker for nine bucks an hour to sit there and say, 'No.'"
At some point the faculty association has no choice but to act, said MEA President Paula Herbart, who traveled to FSU to participate in Monday's strike.
"You do this for your students," she told the crowd before marching with the picketers. "You want to be in the classroom just like they do, and if your administration had been willing to bargain all summer long, that is where you'd be."
A number of students expressed their support for the striking faculty's demands. Junior Rebecca Bostic stopped by with friends to share words of encouragement.
"The administration needs to spend more money on the wonderful professors who work with us every day, because they are the university to us," Bostic said. "I came here to learn, and they are the ones who teach me."
A hearing will be held soon to determine if the temporary restraining order barring continued strike activities will become a preliminary injunction, according to MEA lawyers.
The FFA recently filed Unfair Labor Practice charges with the Michigan Employment Relations Commission against the university. The charges detail the university's refusal to bargain in good faith, as well as bullying and intimidation tactics the university has engaged in.
Specifically, college administrators directed employees to conduct video surveillance of faculty members to identify those participating in informational picketing in the days leading up to a strike vote held last Saturday.
Check out photos from Ferris State on August 28.