We hear it often – "All politicians are the same. Why vote?" Or members tell us – "Why bother phoning or emailing legislators? They never listen anyway."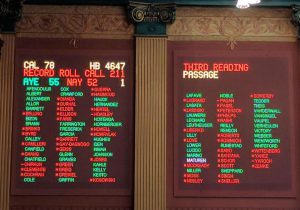 To those people, we beg to differ – and argue that yesterday's disappointing legislative action on school employee retirements was a case in point that: 1) Elections have consequences. 2) Calls and emails to politicians do make a difference.
First, the senators and representatives who support public schools spoke eloquently and powerfully this week – giving voice to educators otherwise shut out of the process by the Republican leadership. And secondly, thousands of calls and emails from our members changed floor votes and altered the legislation that ultimately passed.
Early next week we'll share a breakdown of the changes passed by the House and Senate, expected to be signed by Gov. Rick Snyder as soon as next week.
Today we wanted to share some food for thought – and maybe for your soul, if you're as disappointed by yesterday's outcome as we are. Below is a short list of "greatest hits" videos from the many passionate committee and floor speeches delivered by politicians who get it – who understand the vital role public school employees play in our state.
And at the end of this article, note the lawmakers we list who voted against the bills – and write a note of thanks to them (you can find their contact info here).
Watch these and recharge your batteries – we'll need that energy to elect more friends of public education like these folks:
Interestingly, Rep. Abdullah Hammoud (D-Dearborn) spoke about school employee retirement plans during a separate (but nearly concurrent) committee hearing on the "Good Jobs for Michigan" bill package, which gives a significant tax break to big corporations.  (1:00)
Sen. David Knezek (D-Dearborn Heights) made passionate remarks on the Senate floor Thursday, asking lawmakers to think about why teachers are leaving education and young people are not entering the profession in great numbers: "Do you think the people aren't going into education because every single bill that comes out of this chamber is a direct assault on the profession that they undertake every single day?" (3:42)
Senator Curtis Hertel Jr. (D-East Lansing) engaged in a heated exchange with Sen. Phil Pavlov (R-St. Clair) over Hertel's proposed amendment (later defeated) to add all public school employees into the state's retirement system, including for-profit charter schools. (2:00)
Rep. Darrin Camilleri (D-Brownstown) called out the Republican leadership during a hastily called committee "hearing" on the retirement changes less than 12 hours after the bill language first became available at 10 p.m. Tuesday night. Not a single educator was included in the discussion, he noted. (3:00)
House Minority Leader Sam Singh (D-East Lansing) delivered a sometimes angry litany of the ways in which the bill's proponents have offered misleading and inaccurate information about its provisions and effects. "In the end all you've done is dress something up and pretend you've solved the problem." (7:50)
Identical bills narrowly passed the Senate (21-17) and House (55-52).
In the Senate, all of the Democrats and Republican Sens. Tom Casperson of Escanaba, Rick Jones of Grand Ledge, Mike Nofs of Battle Creek, Margaret O'Brien of Portage, Tory Rocca of Sterling Heights and Dale Zorn of Ida voted against the bill.
In the House, all of the Democrats and Republican Reps. Joe Bellino of Monroe, Gary Howell of North Branch, Martin Howrylak of Troy, Mike McCready of Birmingham, Dave Pagel of Berrien Springs, Brett Roberts of Eaton Township and Jeff Yaroch of Richmond voted against the bill.
Our lobbying efforts made this a close vote. Drop a note to the lawmakers who stood with us on this, and let's keep up the good fight.