This week marks Teacher Appreciation Week, including yesterday's celebration of Teacher Day/School Family Day – a time to appreciate teachers, secretaries, bus drivers, aides, nurses, counselors, para-educators, maintenance workers, custodians, food services workers – the myriad of caring adults who together create our transformative public schools!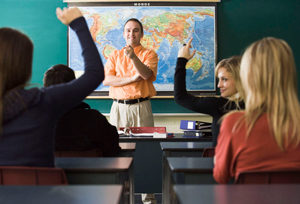 Support staff deserve recognition for the important work they do – often unsung and behind the scenes – to help kids feel safe, comfortable, and ready to learn.
Everyone in public education needs a morale boost – and a variety of people delivered that online yesterday using #NationalTeachersDay on Twitter.
Astronaut Scott Kelly acknowledged in a tweet:
My teachers never gave up on me – a poor student. Happy #NationalTeachersDay to all committed to improving our world through education!
Weather Channel host Marshall Shepherd proclaimed:
#NationalTeachersDay K-12 Teachers are so vital to all of us. They should be some of the highest paid professionals in our society. Period. 
And Sen. Al Franken (D-Minn.) shared this picture and a sweet story:
My fourth grade teacher from St. Louis Park, Mrs. Molin, attended my swearing-in ceremony. Thank a teacher as part of #NationalTeachersDay.