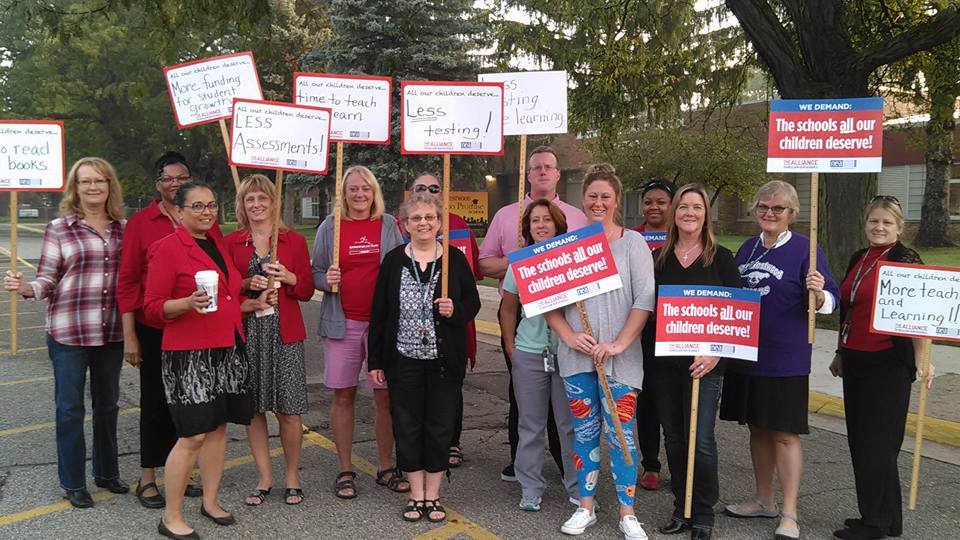 Early Thursday morning in Kalamazoo, well before the start of the school day, dozens of school employees, students, parents, and community leaders gathered outside every building in Kalamazoo Public Schools to send a message: It's time.
And the media stopped by to hear: It's time to stop toxic testing and quit under-funding public schools. Time to give school employees respect. Time to build the schools our children deserve. "It is time that all students have adequate funding, meaningful teacher-created tests, and more time for learning," said Kalamazoo Education Association President Amanda Miller.
Kalamazoo joined Flint and 200 other cities across the nation participating in Thursday's national walk-in, coordinated by the national Alliance to Reclaim Our Schools (AROS), a coalition of community organizations and labor groups – including NEA – focused on supporting and improving public schools.
In Flint, the message conveyed to media was about social justice, said Michelle Gushen, a Northwestern High School social studies teacher and secondary vice-president of United Teachers of Flint. About 100 people showed up in the early morning hours outside of Northwestern High School to send the message that "Brown and black students deserve educational justice."
Gushen said, "Our kids matter and our public schools need to be the heartbeat of our community, not a corporate afterthought."
National walk-ins happen a few times a year. School employees join with community members, parents and students to rally outside of school buildings in the morning. Participants wave signs at passing cars to build awareness of issues. Then they walk in together at a designated time.
Walk-ins can be a great organizing tool, and they happen more than once a year. Last February and May, 33 cities across the country participated. Watch this short recap video here, which includes images from February events in Detroit and Kalamazoo.
The Alliance to Reclaim Our Schools (AROS) is an unprecedented alliance of parent, youth, community and labor organizations representing over 7 million people nationwide that is fighting to reclaim the promise of public education as our nation's gateway to a strong democracy and racial and economic justice.
AROS believes that the best way to ensure each and every child has the opportunity to pursue a rich and productive life is through a system of publicly funded, equitable and democratically controlled public schools. After years of division, AROS is uniting parents, youth, teachers and unions to drive the transformation of public education, shift the public debate and build a national movement for equity and opportunity for all.
NEA is a national coalition partner of the Alliance and endorsed this week's walk-ins, following participation by more than 150 NEA locals in last year's events.
The NEA Representative Assembly approved support for local and state affiliates interested in organizing local AROS tables. To join the AROS movement for education justice or to organize a chapter in your community, contact Nate Gunderson.
Connect with the Alliance to receive organizing news, policy reports, and training.