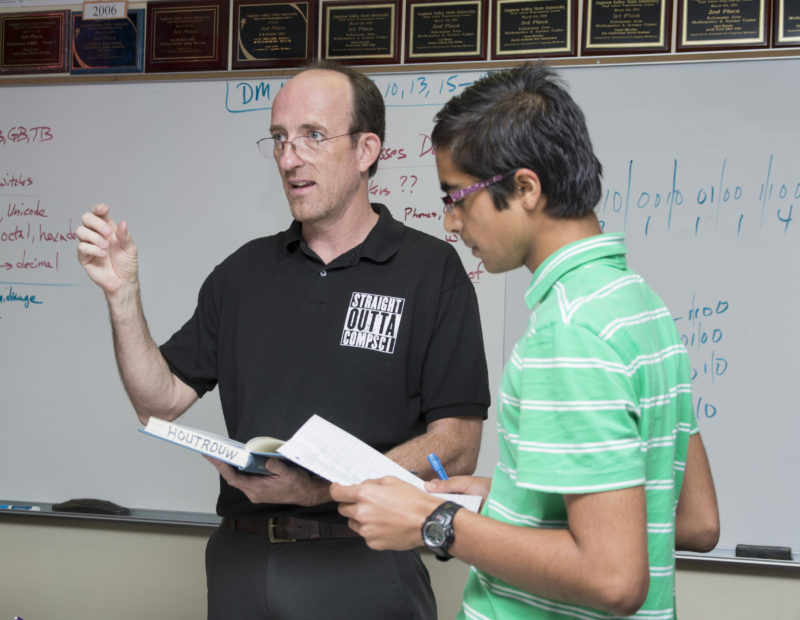 MEA member Shannon Houtrouw was coding before it was cool.
Last January, when President Barack Obama unveiled a $4 billion "Computer Science (CS) for All" initiative in his final State of the Union address, Houtrouw was already way ahead of the game.
A former professor and software systems engineer, the Kalamazoo Area Math and Science Center (KAMSC) instructor began transforming computer courses into hands-on coding and computer science opportunities nearly 20 years ago.
Since then he's built a groundbreaking program of introductory classes and AP electives at KAMSC always half-filled—or more—with female students, who are typically under-represented in CS classes and careers.
"They come in scared to death, certain they'll be the one who won't be able to do it, and I try to convince them otherwise," Houtrouw said.
Convince he does.
His alumni, male and female, go on to study at some of the most prestigious universities in the country, including MIT, Stanford, Harvard, Yale, Brown, and Caltech. They pursue CS and engineering degrees at Michigan, Michigan State, Western, Hope, and Kalamazoo College.
And they chase other dreams in medicine, or art, or biology—transformed by the critical thinking and problem-solving skills they master when they learn how to tell computers what to do.
"The task is not just to get them to code but to get them to think," Houtrouw said. "They can use these tools in whatever field they decide to pursue in their lives. It's a big door opener."
Houtrouw hooks students when they're required to take his sophomore CS class at KAMSC, a 30-year-old math and science half-day magnet serving 300 qualifying students from all over Kalamazoo County. The four-year school is administered by Kalamazoo Public Schools and receives resources and counsel from private industry.
"I didn't know anything about computers, except for a typing class I took once," said senior Ava Wood, a student in Houtrouw's third-year AP CS class who is considering majoring in the field in college. "I basically was forced to take his class, and that's when I found out I liked it."
Houtrouw motivates the majority of young women at KAMSC to apply to take his upper-level classes, though he can only accept half of students—male or female—who want a seat. Nearly 100 percent of Houtrouw's students take the AP CS exam, and all but a handful have passed it.
A secret to his success with all students is turning the work of problem solving into competition—in his classroom and in formal tournaments at the regional, national, and international levels. The hardest working students win "Code Warrior" status with a t-shirt to match.
"Competition gives them more motivation to study harder and work together better, and it's just fun," he said, likening it to Tom Sawyer convincing all those boys to whitewash the fence.
Hanging from the ceiling in his fourth-floor classroom are different-colored t-shirts with CS puns printed across the front ("Straight Outta CompSci" and "Every Bit Counts"). Plaques and awards cover the walls, interspersed with team photos of smiling, confident students wearing the shirts.
One of those students is Vaughn Taylor, a senior who won a Google Chromebook for his tournament-high individual math score at an international American Computer Science League (ACSL) competition last spring in New Hampshire.
"I don't think there's enough exposure to computer science," Taylor said. "It's the direction the world is going, and I'm really thankful to have this opportunity."
Houtrouw has accumulated a startlingly impressive record in tournaments, even though he has been known to bring as many as 60 kids to compete in multiple teams of three to five where it was allowed—in contrast to many schools that send only a handful of top students to compete.
The awards are too many to list, but highlights include a first-place win in the toughest category of the ACSL International All-Star Invitational in Denver two years ago, and sweeps of a state contest at Saginaw Valley State University in five of the last six years.
Perhaps most dramatic has been his track record of mentoring girls to achieve at the highest levels in high school and then aspire to a career in an industry where only one-third of technical employees are women.
He credits a Tapestry Workshop in Lansing, where he shared trade secrets on how to attract and retain women and minorities in CS classes, with introducing him to the National Center for Women in Technology (NCWIT). The rest is history.
In the past four years, six young women from Michigan have been among 35 girls nationwide to receive National Aspirations in Computing awards annually from NCWIT—five of whom were Houtrouw's KAMSC students. Another 23 of his female students were runners-up in that time.
"No school in the country can touch that," according to Houtrouw's colleague at KAMSC, physics and math instructor Michael Sinclair.
The 2013 national winner, Reinie Thomas, was one of only six girls who could be convinced to take Houtrow's AP CS class in 2012. A four-sport athlete awarded 11 varsity letters during high school, Thomas said she thought CS was for nerds and boys, and she had no interest.
Now she's a pre-med senior at Hope College, double-majoring in Computer Science and Spanish. "Because he believed I could, I did it, and it has changed my life," she said.
One strategy he's discovered is to directly attack the barriers standing between girls and CS, which include the stereotypes they believe and the intimidation they feel. Houtrouw enlists junior and senior girls to talk with the younger ones.
Junior Isabel Hernandez said talking with older girls who were competing and winning made the difference. "I was extremely intimidated," said Hernandez, a student in Houtrouw's AP class this year. "But once you get to know them, you realize, 'I can be them.'"
Houtrouw works tirelessly to bust the myth that girls can't code as well as boys, an effort that led him two years ago to deliberately take a girls-only team of 17 students to a co-ed high school programming contest at MSU typically dominated by boys.
His all-female team not only won the championship but they "destroyed" the competition, he said—solving the first of five challenge problems just 13 minutes into the three-hour time limit. They completed four of the problems before the other teams had finished one or two.
"That was fun," he said.
For his work promoting the value and talents of women, Houtrouw was honored with the 2016 MEA Gender Equity Award, adding to a lengthy list of honors he's received, including 40 Significant Educator Awards, selected by students; the NCWIT Aspirations in Computing Award; and a Coca-Cola Scholars Foundation Educator of Distinction Award.
Last year, he was one of five Michigan finalists for the Presidential Award for Excellence in Mathematics and Science Teaching.
"When students graduate and write back and say 'You made a difference,' it makes you want to come back and teach again," Houtrouw said. "I love my job."