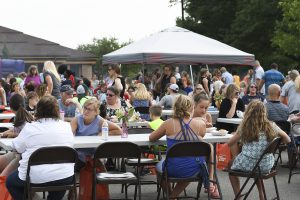 Bailey Rothe graduated from Northern Michigan University in 2017 with certification to teach English and social studies. Now she has a job—and a union family.
Rothe accepted a position with Lansing Public Schools in March and joined MEA for the member benefits, job protections and sense of community it provides, she says. "Lansing is such a big district, it's nice to have a good support system. I know help is there if I need it."
Rothe took part in a recent back-to-school event that brought together 300 members and their families representing local associations from St. John to Holt, Okemos and Lansing for food and fun. "It's really nice seeing all these teachers with their families outside of the classroom," she said.
Local leaders and staff from across Michigan have launched an unprecedented effort to introduce newly hired school employees and early career educators to MEA and all that a union stands for and provides.
In Okemos, the festivities for members of capitol-area locals included a bag of classroom supplies in addition to music, face-painting, food and giveaways. "We had new people signing up just so they could attend this event," said LSEA President Chuck Alberts.
In Grand Rapids, newly hired middle school teacher Erin Murphy joined the GREA at a recent orientation event. She appreciates the union's strength in advocating for public education—which she saw firsthand in New York during a three-year teaching stint there.
"This is such a big voice in policymaking to make things better," said Murphy, who hopes to try out leadership roles in the local association in coming years.
That was the point made by GREA Secretary Dan Slagter, an art teacher who serves in various leadership roles at the local, county, state and national levels. Slagter told more than 90 new hires assembled for the meeting that MEA is the vehicle for making students' lives better.
"As a union, we are the biggest collective voice out there talking about social justice and working to address the inequalities our students are facing," he said.
As in many school districts across the state in recent weeks, local leaders in Clarkston welcomed new employees with a luncheon that included member information packets and get-to-know-you talks with building representatives.
Upcoming plans include a meet-and-greet on opening day, a homecoming tailgate, and other get-togethers intended to build community and networking, in addition to ongoing one-on-one conversations between veteran and newer colleagues.
In addition, leaders across the state are planning professional development for new members on topics that include evaluations, certification, financial planning, and other issues of interest to early career educators.
"We want to show folks that this is what we do—we're here for you, and we can help in any way you need," said Okemos Education Association President Lisa Crites.