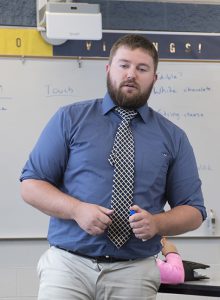 It's not easy finding solid footing in the early years of teaching. The job is demanding and difficult—if not impossible—to entirely master. Solving problems can feel like playing that Whack-a-Mole game. The classroom can be isolating, and it's hard to find a work-life balance.
That's the rationale behind MiNewEd—an innovative pilot project that brings on-the-spot support to early career educators. Both subjects in the START OF A JOURNEY series, Brittney Norman and Zack Griffin, are part of the joint MEA-NEA program this year.
Participants receive one-on-one virtual coaching from a mentor teacher, along with group meetings designed to create a support network of individuals who can lean on each other. The teachers set goals for improvement, try out new strategies, and reflect on their performance.
"My interest was to help more with classroom practice and improving teacher confidence," said MEA UniServ Director Chad Williams, who launched the program in Michigan. "With work demands increasing, school resources diminishing, and evaluation looming, teachers are experiencing higher degrees of stress, doubt and disconnection throughout their careers."
The program started last year in Cadillac and now includes Petoskey and Alpena. Williams, who worked as a teacher and assistant principal in Grand Rapids, said the project appeals to young teachers who want tools and feedback but also desire a sense of community.
"Folks really want to feel connected to something," he said. "As an organization, it's important that we make opportunities for our members to connect to a larger purpose and to one another."