Little do her Michigan friends know, but MEA-Retired member Ruth Westbrook – who worked at schools in Pontiac, Highland Park, and Troy – has lived out scenes similar to the Academy Award-winning movie Hidden Figures. Westbrook, 76, followed in the footsteps of African-American women depicted in the film, human math computers at NASA who fought segregation and discrimination to build trailblazing careers at the space agency.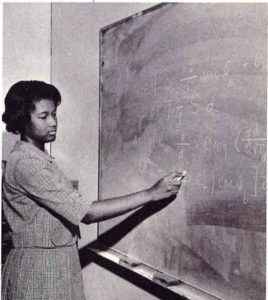 Did you always know you were good at math?
I knew I was pretty good at math, but I came from a very small school in Texas – eight people were in my graduating class – so I thought I had gotten an inferior education. I always liked math because it's like a puzzle, but I thought I had not had enough preparation for a career in it.
What changed? 
In college, I took general math and I did my work in ink. My instructor said, "Who is this person doing assignments in ink and getting most of them right?" He persuaded me to go into math.
How did you end up at NASA?
After college I worked two years as a teacher, then left to work at NASA at the Manned Spacecraft Center near Houston. It was 1964. I was a programmer. I learned Fortran on the job – other languages, too – but Fortran was the main scientific language we used to write programs.
What kind of projects did you work on at NASA?
There were a lot… In my most memorable one, I was given all of the steps that were used to get a man to the moon and back, and my job was to write a program for each of those steps to see how long it took in real time for that step to be completed. So I didn't have the whole program for going to the moon and back, but I had part of it.
What an exciting time to work for NASA – during the Space Race with the Soviet Union.
That's right, it was. And when I went to see the movie Hidden Figures, every time I saw a space ship, I got a chill through my whole body. To know – look, I worked on something like that.
The movie depicts racial discrimination and sexism at the NASA research facility in Virginia. Did you experience that in Houston as well?
No, I never did, and I worked with all men except for two females. I was treated like one person on the team. There were no separate restrooms and no separate places where I had to eat. I never knew what those ladies had done; that was a few years before my time, but I am thankful to those women who went through that, so I did not have to.
In 1970, you moved to Michigan with your husband and two young children, where you returned to teaching – eventually earning advanced degrees in library science, counseling, and law. But you never told your coworkers about your previous life at NASA!
It just never came up. I was kind of shy, and I never talked about myself.
Did you ever encourage a talented math student as you had been encouraged in college?
Yes, especially my girls. When I was teaching mostly ninth graders in Troy, if I found someone that was really good, I would talk to them about taking more math to be on track so they could take calculus as a senior. I had many students that changed their track to take more math.
What do your son, daughter, and three granddaughters think of your accomplishments?
Well, when I worked in NASA, my children were little – but they think a lot of it now! And for my granddaughters, I took all three of them to NASA a few years ago, and I was able to tell them what I had done and show them where I worked. I felt pretty excited about it; it was the history I always wanted my grandchildren to see.