LANSING, Mich., April 18, 2017 — The Lansing Schools Education Association, in partnership with the Lansing School
District, is hosting a local segment of the National Education Association's National Listening and Engagement Tour on April 19 from 5:00–8:00 pm at Pattengill Middle School (626 Marshall Street).  School employees and families from all area districts are encouraged to attend and participate in the conversation.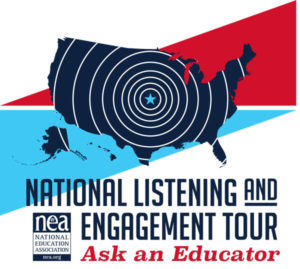 The theme of the discussion, "How to support the public schools our students deserve?" will include spirited discussion about options available to policymakers to achieve that goal. A
mong those attending are nationally acclaimed education author, Jaime Vollmer; Lansing Mayor Virg Bernero; state legislators Andy Schor and Tom Cochran; MEA Vice President Nancy Strachan and MEA Secretary-Treasurer Rick Trainor; as well as superintendents from Lansing, Okemos, Holt and Mason school districts. They will be joined by several Lansing School Board members and Lansing City Council members. A number of local area businesses and organizations will have representatives join the discussion, including Sparrow Hospital, Jackson National Life, United Way, YMCA, MSUFCU and Neogen.
Part of the evening will feature a panel discussion. Panelists will include Yvonne Caamal Canul, Lansing School District Superintendent; Dr. Ruben Martinez, MSU Professor of Sociology; State Representative Andy Schor; Rachel Lewis, Lansing School Board President and Program Manager at Bethany Christian Services; Ray Telman, Executive Director of the Middle Cities Education Association; and Dr. Terry Flennaugh, MSU Assistant Professor of Race, Culture and Equity in Education.
The evening will include a free Mexican buffet dinner from 5:00–6:00 pm, along with a pizza dinner in a room where free childcare will be provided.
For more information, visit teachingempowered.com.