Despite pressure from many MEA members who traveled to the Capitol on short notice, the Michigan House and Senate today narrowly passed legislation that would weaken retirement security for newly hired school employees and increase future costs to taxpayers.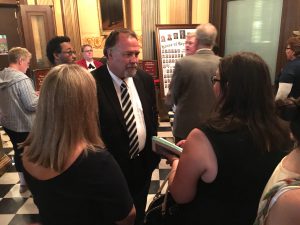 Identical measures passed the Senate, 21-17, and House, 55-52, with some Republicans joining Democrats in voting against.
The complicated legislation would increase financial risk for new hires without doing anything to improve the funding and stability of the current hybrid system or paying down the unfunded liability of the traditional pension plan, MEA President Steven Cook said in a statement after the bill's passage.
"The rushed passage of this legislation today – over the objections of educators from across the state who came to Lansing at the beginning of their summer break – is a travesty that will not bode well for future school employees, the students they serve, or the fiscal health of the state," Cook said.
MEA will be providing a detailed analysis of the legislation in coming days.  Please stayed tuned to Capitol Comments for more information.
In the meantime, it's important to note that the thousands of calls, emails, letters and personal conversations our members engaged in with lawmakers did make a difference.  While MEA did not support this latest legislation, we recognize that it is a vast improvement over the initial bills, which would have immediately closed the hybrid system, not offered new hires a choice in retirement plans, and cost the state billions in transition costs.
Shrouded in secrecy until the last moment Tuesday evening, the bills were rushed through committees early Wednesday morning with little notice or opportunity to read them. By Thursday morning, about 75 educators descended on Capitol lobbies to make their voices heard.
Provisions in the bill that place new restrictions on the ability of educators to invest in their retirement, including banning the ability for school employees to purchase service credit when they take parental leave, does nothing to make the profession more attractive, educators said.
"I think it's important for us to make statements and let our legislators know we care about these issues," said Alexis Mueller, an Owosso High School teacher of world history, economics, and civics. "This will dissuade people from going into teaching, and we already have a teacher shortage."
Under the plan, public school employees hired after Jan. 31, 2018, would automatically default into a 401(k)-style defined contribution retirement plan.
Those employees could opt into a hybrid system, which combines a 401(k) with a traditional defined benefit system. However, the new law raises the costs and risks of the hybrid for employees and school districts, while increasing maximum employer matches in the defined contribution plan to 7 percent.
Through quick, reckless action, the Legislature may have set up the hybrid system to fail – a system just overhauled in 2012 and one that was fully funded.
In floor debate, many opponents pointed out the latest changes were a solution in search of a problem – while Democratic proposals to fund real problems such as crumbling roads and school underfunding were defeated.
"Today, Republicans in Lansing made it clear that they are more interested in playing political games than passing good policies for Michigan families," said House Democratic Leader Rep. Sam Singh (D-East Lansing).  "It is irresponsible and short-sighted of my Republican colleagues to reject much needed funding to repair our crumbling roads and invest in our underfunded schools. House Democrats remain committed to fighting for the needs of Michigan families, communities and our state."
Others criticized the backroom deal-making between House Speaker Tom Leonard (R-DeWitt), Senate Majority Leader Arlan Meekhof (R-Grand Haven), and Gov. Rick Snyder.
In this video going viral today, Rep. Darrin Camilleri (D-Brownstown), criticizes the lack of transparency, the shutting out of teacher voices from the process, and the rushed timeline for passage.
"The proposed plan does nothing more than shift the risk to our school districts, increase the costs for taxpayers, and siphon money out of the classroom," Camilleri said in a statement. "Teachers and school employees deserve so much better. And if we're changing a benefit for teachers, it's not too much to ask to have teachers at the table before making this decision."
Procedurally, either the House or Senate will have to vote to approve the bill from the other chamber, but must wait five days to take such action. After it is approved by the second chamber, the bill will be sent to Snyder for his expected signature.