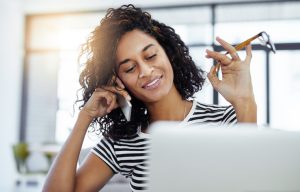 Making phone calls is easy via our virtual phone bank.  All you need is a computer with internet access and a phone (land line or cell).
Click here to start making calls!
You will be prompted to Log in with ActionID.  If you do not have an existing ActionID account, select "Create ActionID." You will need to enter your first name, last name, phone number, email address, and password of your choice.
If you have used the virtual phone bank previously, enter your email address and password. If you don't remember your password, select "I forgot my password" – you'll receive an email to reset your password.
Once this step is completed you will be ready to make calls.  A member's name and phone number will appear on the screen, along with a script and a few pull down menus to record the responses.
To fit your schedule while respecting the good times to reach members, the virtual phone bank will be available on the following days/hours for the next few weeks:
Monday through Friday – 9 a.m. to 8 p.m.
Saturday – 10 a.m. to 6 p.m.
Sunday – noon to 6 p.m.
Thank you for all that you do to help elect friends of public education!