Pontiac elementary students got a yummy lesson in garden-to-table nutrition recently when they harvested 500 pounds of potatoes from the school vegetable patch.  The Kensington Church volunteers and food service staff used the bounty to whip up cheesy potatoes for everyone.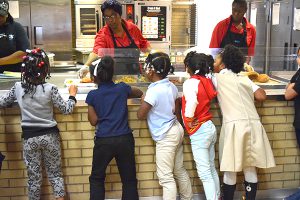 The dish was a cafeteria crowd pleaser, and the enormous haul of potatoes meant students even went home with leftovers. Students then wrote about their experience cooking the potatoes at home.
This is the sixth year of Herrington Elementary School's garden under the direction of MEA member Ailene Steinborn, a 25-year classroom veteran who took on the project in 2011 with no horticultural experience. She was assisted in the startup by volunteer Bill Pioch, a retired Michigan State University Extension employee.
"I had no prior knowledge about gardening when I started, but I was passionate about nutrition," the first-grade teacher said.
Steinborn became hooked on the benefits of urban gardening with kids after seeing sparks of engagement and learning from academically struggling students. In one instance, a student with special needs absorbed a challenging lesson that Steinborn couldn't understand – an explanation from MSU Extension about weed-prevention strategies of Native Americans.
The student eventually drew a sequence map that helped the teacher see the big picture of the historical agricultural practices known as Three Sisters farming.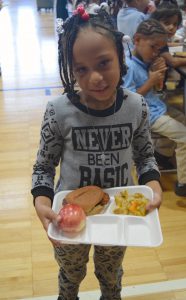 "I was blown away," Steinborn said.
Being able to eat what is grown adds another dimension of excitement to the project. When students first harvested radishes a few years ago, they washed and ate them – with many of the children tasting the zesty root vegetable for the first time.
"They were shocked and said, 'Oh my gosh! —they're so good! They're spicy!'" Steinborn said. "And I said, 'They're so good, you could eat radishes instead of spicy chips!'"
Several of the school's teachers use the garden as an outdoor classroom to make learning more relevant and engaging. Cultivating, planting, tending, and harvesting are just some of the lessons  learned from the garden.  Teachers turn the students' hands-in-the-soil labor into composition assignments, as well.
"We took students out last month to harvest and practice using the five senses in their writing," Steinborn said.
Last year, with grant money from PPG, the garden moved closer to the school and expanded in size. Steinborn used the renovation project as an all-school problem-solving exercise in measuring and planning.
The garden hasn't been without headaches  – including a groundhog invasion early on – and more volunteer help is needed, Steinborn said. But the results keep her going.
"They're so engaged when they're in the garden," Steinborn said. "It's healing and it's motivating. The self-esteem that they get—it changes lives!"