The theme of the 2018 Bargaining, Public Affairs & Professional Development Conference could not be more timely: "Nevertheless, We Persist—Don't Stop Believing." MEA members have persisted through relentless attacks on public education, and we stand strong today.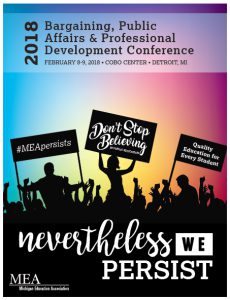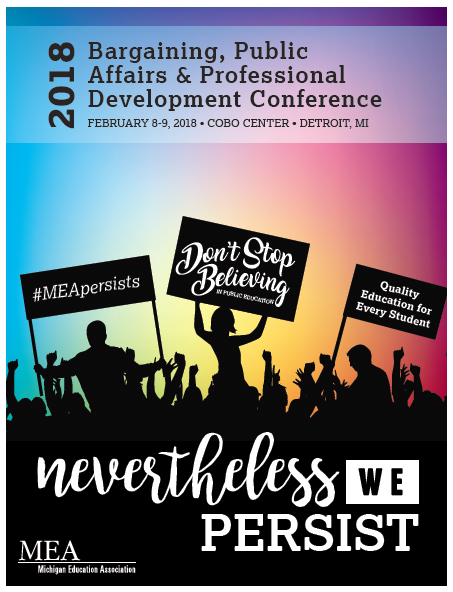 The schedule of events is now available—register today for MEA's biggest conference of the year, scheduled for Feb. 8-9 at Cobo Center in Detroit!
This MEA conference provides members the knowledge and skills to manage issues in their locals and the security to know they're not alone. We're all part of a greater community that believes in public education.
Standing strong together, we continue to promote and strengthen public education for our students and our members. We've fought a seven-year legal battle over pensions, and we push back every day against destructive anti-public school and anti-labor laws. Through our persistence, we will achieve so much more.
Attendees at the conference choose from sessions covering bargaining, communications, member engagement, political action, and professional development. The sessions cover current issues and provide the latest information members need to be strong advocates for public education. Additionally, this year we will have a Professional Development track for conference attendees.
Register now to receive the early bird discount for the 2018 Bargaining, Public Affairs, & Professional Development conference. A credit card will be required to register online.