By Brenda Ortega
MEA Editor
Students from a West Michigan high school recently returned from a Summer Science course out west with a dramatic tale of helping to rescue an incapacitated hiker in South Dakota's Badlands National Park.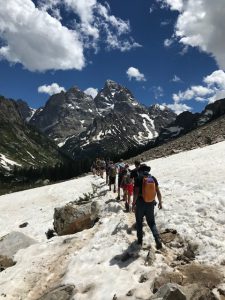 Yet for me, the exciting, lifesaving adventure was not the most moving part of this story.
When I contacted MEA member Chris Bolhuis, he told me how his Summer Science co-teacher and 26 students formed a human chain to carry the injured woman out of a ravine in blistering heat and unrelenting sun. Read more and view pictures of what happened.
However, the more we talked, the richer the story became.
Bolhuis is in his 17th year leading the trip to several national parks, an intensive three-week course culminating in a final exam that earns students both high school and college science credits. More than 70 Hudsonville students typically apply for 26 spots.
The field-experience science class with tent camping and mountain hiking – a first encounter with our planet's natural wonders for many students – has become one of the Hudsonville district's flagship programs.
Hearing about it, I began to see a different story than I originally set out to write.
First I learned
Bolhuis took over the class from his father David, who started the program 40 years ago in 1978 – which is also the first year Chris went on the trip at the age of six. Since then his own children have also attended, including his now-17-year-old daughter for the first time at six months old.
"Growing up with my dad and Summer Science, I spent a lot of time in the mountains, and I feel at home there; I love them," he said.
His dad retired in 2009 after 46 years in the district, and Chris is the "homegrown guy" who followed in his father's footsteps. But initially, he took an industry job after graduating from Grand Valley State University with a degree in geology. He and his wife moved to Oregon.
"I had no plans at all of going into teaching," he said. "I wanted to make more money. My dad was a teacher, and my mom stayed at home, and money was always tight in our house."
The move to Oregon, however, was not the right fit. The couple missed being close to family and decided to come back home. That's when his "deep respect and love for geology" brought him back to college for a teaching credential. He's been at Hudsonville High School since 1997.
"It's not a bad life at all," he said.
"Over time I've gotten into climbing and mountaineering, and now my wife and my own two kids have got a lot of experience being out west in the mountains doing these kinds of things," he said. "But it's also about being a geologist. It makes everything make sense, and that is what I love about earth sciences. I absolutely have a passion for it."
Next he told me
The new co-teacher running the course with him is a former student whose life was changed by the Summer Science trip he attended as a high school senior in 2004.
Andrew DeWitt graduated in 2005 and went on to earn two degrees in geology. He now works at a global environmental company based in Holland. I called DeWitt to ask him about the class.
When he was a student in Summer Science 13 years ago, it was the first time he'd set foot in mountains, DeWitt said. "I immediately fell in love, and I knew I wanted to learn more about the science and the history."
He works for Environmental Resource Management (ERM) doing environmental assessment and contaminated site management, a career that allows him to travel and work on interesting projects, including the Keystone XL Pipeline and a wind farm off the coast of Massachusetts.
In college he wanted to be a high school science teacher, but he was drawn to private industry by the opportunities for a variety of field work and the higher pay that would allow his wife to be a stay-at-home mother if she desired.
"I wanted to set myself up for success and be financially stable," he said.
DeWitt brought his wife and two toddler sons on this year's trip, his first as a colleague of his former high school mentor. "I'm not a teacher, but being around kids and having an influence on kids has always been a passion of mine, so this is a great opportunity," he said.
He knows how much students on the trip discover through experiencing science and geology in the field, "but they learn just as much about themselves and about teamwork," he said. "It's academic, but the hiking and adventure side is a really cool thing too."
Bolhuis says having a student take up geology, follow it into a career, and return full circle to share his love and knowledge with other young people, is "like a payday" for an educator.
Finally he shared
The hardest part of the program is having to turn kids away in a competitive application process, but space is limited. He has expanded the number of students allowed to attend in recent years by learning to drive a bigger vehicle.
Both he and DeWitt earned their Commercial Driver's License (CDL) to be able to take a school bus for the trip, and he said, "I don't know if you are aware, but getting a bus driver's license is not a fun thing to do. It's a pretty big ordeal."
Maybe that's why
My spine tingled most as I heard the quieter story of the program behind the saga of dramatic rescue in the Badlands—because it reveals the simple beauty of public education.
Day after day, year after year, educators bring learning to life and vice versa. Inside the classroom and out, they share their passions, live their ideals, and shape young lives in the process.
And that looks an awful lot like walking on mountain tops.