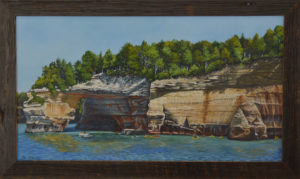 Almost every year since joining MEA as a Paw Paw school bus driver in 1991, Pat Miller-Coy has entered artwork in the MEA/MAEA Art Acquisitions Purchase Exhibition. This year, she took home the highest honor for the first time: "Best in Show."
Her oil painting, created using the old masters technique of underpainting with a base of browns, was selected as "an outstanding representation of Pure Michigan" by Juror Linda Sattler, an Ohio-based artist and educator.
That was her aim, Miller-Coy said. "I'm really tickled about this, because I just love Michigan and being outdoors."
Miller-Coy hopes anyone looking at her winning oil painting, "Power & Beauty of Earth – Pictured Rocks" will be inspired to visit the Pictured Rocks National Lakeshore along the south edge of Lake Superior in Michigan's Upper Peninsula.
"I wanted to focus on the magnitude of the size and the amazing colors, because that's what fascinated me when I saw it," she said.
The painting features kayakers dwarfed by the massive multi-colored sandstone cliffs and formations. Pine and birch trees cling to rock edges. Vivid hues of orange, lilac and blue radiate from the driftwood-framed canvas.
A graduate of Paw Paw schools and a founding member of the Southwest Michigan Art Association, Miller-Coy spent two months creating her winning entry. In addition, she entered a watercolor pastel painting that was accepted into this year's exhibit.
Miller-Coy has painted as a hobby since the 1970s, occasionally selling in art shows or working on commissioned pieces. She has no art degree but sometimes takes classes at Kalamazoo Valley Community College and Kalamazoo Institute of Arts. She retired from driving a bus in 2005.
"Now that I'm retired, painting is kind of a soothing thing to do," she said. "It relaxes me."
Miller-Coy's winning entry is available for purchase for $1,500.
All of the artwork submitted in this year's 53rd Annual MEA/MAEA Exhibit remains on display for public viewing 9 a.m. to 5 p.m. weekdays through April 19. Other accepted entries, winners, and purchased works include:
ACCEPTED ENTRIES
Jeanine Ackerman Smith, Burton, Earth Pod I, Stoneware/Fused Glass
Jeanine Ackerman Smith, Burton, Dragonflies, Felted Wool
Jerry Berta, Rockford, U.S. of Art, Mixed Media
Claudia Burns, Ann Arbor, Side by Side, Acrylic
Jack Converse, Saline, My Niece "Callie", Photography
Jack Converse, Saline, Our Vet's Cat "Niles", Photography
Gayle Crittenden, Kalamazoo, All for One, Watercolor & Ink
Gayle Crittenden, Kalamazoo, Illuminated, Watercolor & Ink
Francie Dittrich, Haslett, Soldier of Orange and the Pollinator, Chinese Paint on Xuan Absorbent Paper
Francie Dittrich, Haslett, A Friends Garden, Watercolor
Brent Douge, Lambertville, Untitled, Clay
Brent Douge, Lambertville, Untitled, Clay
Doug Duncan, Kalamazoo, Scantron City, Collage & Watercolor
Zach Dunn, Adrian, Fast and Slow (III), Reduction Fired Porcelain
Zach Dunn, Adrian, Fast and Slow (V), Reduction Fired Porcelain
Joel Ellis, Haslett, Three Poppies, Acrylic
Joel Ellis, Haslett, Cooling of the Dunes, Oil
Melissa Ennis, Grand Rapids, Pollinators 3, Graphite, Colored Pencil
Melissa Ennis, Grand Rapids, Pollinators 4, Graphite, Colored Pencil
Colleen Ford, Swartz Creek, Ridge Birches, Watercolor
Colleen Ford, Swartz Creek, Sandy's Bouquet, Watercolor
Sally Giroux, Saginaw, Byte Me: Sound Bytes from the Political Arena, Fiber, Mixed
Joshua Gove, St. Johns, Tingaphant, Relief Block Print
Lynn Gregg, South Lyon, School's Out, Photography
Lynn Gregg, South Lyon, Morning Chores, Photography
Garin Horner, Ann Arbor, Ancestors, Photography
Garin Horner, Ann Arbor, Hammer Men, Photography
Nancy House, East Lansing, Alumni, Mixed Media
Victoria Hussey, Clinton Twp, Line No. 7, Mixed Media
Victoria Hussey, Clinton Twp, Aperture 3, Mixed Media
Terry Junger, Perry, Birch Batik, Mixed Media – Collage
Terry Junger, Perry, Rockscape, Mixed Media – Collage
Rose McDonnall, Livonia, Moment, Permanent Marker
Molly McNeece, Farmington Hills, Drops of Sunshine (Piccard), Acrylic on Canvas
Molly McNeece, Farmington Hills, Waiting for Summer, Acrylic on Canvas
Pat Miller-Coy, Paw Paw, Power & Beauty of Earth – Pictured Rocks, Oil
Pat Miller-Coy, Paw Paw, A Secret Spot, Pastel
Harlan Minor, New Baltimore, Shard 002, Oil/Canvas
John Murphy, Detroit, Matrimony, Slip Cast Porcelain
John Murphy, Detroit, Carnival, Slip Cast Porcelain
Sarah (Beth) Murphy, Leslie, Canoeing Across Loon Lake, Fiber Arts
Carol Patrick, Lansing, Calm Before the Storm, Photography
Keith Rayner, St. Clair Shores, Dragonfly Quilt, Fibers
Keith Rayner, St. Clair Shores, Dream Coat, Fibers
Pat Rist, East Lansing, Rain Forest Beauty, Watercolor
Kevin Robinson, Berrien Springs, Study Hall, Canvas Print Drawing
Katie Schuur, Farmington Hills, Llama by the Lake, Linoleum Print
Sharada Sharp, Shelby Twp, Pa amb Tomaquet, Color Pencil
Rhonda Sherwin, Williamston, Love Lilly, Acrylic/Mixed Media
Rhonda Sherwin, Williamston, Milkweed, Acrylic/Mixed Media
Randy Simmons, Croswell, Aitut – The Gift, Watercolor & Ink
Randy Simmons, Croswell, Fragile Beauty, Mixed Media
Emily Somoskey, Lansing, Realm !!, Oil on Canvas
Henrietta Spiris, Haslett, Michigan White Tails, Photography
Sherri St. Clair, Grand Blanc, Majestic, Oil on Canvas
Sherri St. Clair, Grand Blanc, Owning It, Oil on Canvas
Carolyn Steenland, Newaygo, Kindred, Fused Glass
Carol Trojanowski, Haslett, Meadowland, Fiber art (Fabric & Stitching)
Carol Trojanowski, Haslett, Morning, Fiber art (Fabric & Stitching)
Adam VanHouten, Traverse City, Burning Bright, Watercolor on paper
Adam VanHouten, Traverse City, Hiking with Grandpa, Watercolor on paper
Pat Vartanian, Novi, Analogous Blue, Mini Macramé Necklace
Peggy Wier-Leonard, Ann Arbor, As the Seasons Change, Mixed Media
Peggy Wier-Leonard, Ann Arbor, Finding the Balance, Mixed Media
Kari Wilson, Grand Rapids, Earth, Air, Fire, Water, Watercolor
Christina Zardus, Dearborn, Untitled, Photography
BEST IN SHOW
Pat Miller-Coy, Paw Paw, Power & Beauty of Earth – Pictured Rocks, Oil
JUROR'S CHOICE
Melissa Ennis, Pollinators 3, Graphite, Colored Pencil
Lynn Gregg, School's Out, Photography
Garin Horner, Ancestors, Photography
Victoria Hussey, Line No. 7, Mixed Media
Rose McDonnall, Moment, Permanent Marker
John Murphy, Matrimony, Slip Cast Porcelain
Sherri St. Clair, Grand Blanc, Owning It, Oil on Canvas
HONORABLE MENTION
Jerry Berta, U.S. of Art, Mixed Media
Gayle Crittenden, All for One, Watercolor & Ink
Victoria Hussey, Aperture 3, Mixed Media
Keith Rayner, Dragonfly Quilt, Fibers
Kevin Robinson, Study Hall, Canvas Print Drawing
Carol Trojanowski, Morning, Fiber art (Fabric & Stitching)
Peggy Wier-Leonard, As the Seasons Change, Mixed Media
Peggy Wier-Leonard, Finding the Balance, Mixed Media
MAEA PURCHASE IN HONOR OF ART EDUCATOR OF THE YEAR – SHARON STRATTON
Terry Junger, Perry, Rockscape, Mixed Media – Collage
MEA PURCHASES
Jeanine Ackerman Smith, Dragonflies, Felted Wool
Colleen Ford, Ridge Birches, Watercolor
Colleen Ford, Sandy's Bouquet, Watercolor
Joshua Gove, Tingaphant, Relief Block Print
Garin Horner, Ancestors, Photography
Terry Junger, Perry, Birch Batik, Mixed Media – Collage
John Murphy, Matrimony, Slip Cast Porcelain
Adam VanHouten, Hiking with Grandpa, Watercolor on Paper
Peggy Wier-Leonard, As the Seasons Change, Mixed Media