2018 Summer Leadership Conference
July 31 – August 2 – Saginaw Valley State University
Registration Deadline: July 18, 2018
Activism begins with one person venturing one step—and soon a trail is blazed for others to follow. The MEA Summer Leadership Conference points the way.
Frontline educators like you who step up every day to lead make MEA an unwavering voice for school employees' rights, working conditions, and benefits; for best practices; for healthy neighborhood schools; and for social justice across our most vulnerable communities.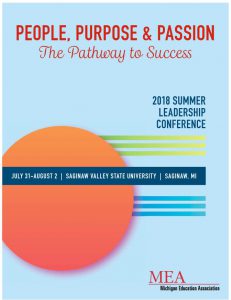 It takes people power to make change happen. If we tap into our members' passion for public education and lead with a clear sense of purpose, anything is possible. 
The 2018 Summer Leadership Conference offers you the tools to harness the energy bubbling under the surface of your local association. Learn about the issues. Hone your communication skills. Develop organizing strategies. Build political action.
Leadership in a time of unprecedented challenges demands courage and vision. We have to meet our members where they stand and bring them forward in the cause. It begins with awareness and leads to action.
People, Purpose & Passion: The Pathway to Success.
You haven't walked away from the fight to protect public education – you've embraced it, and your determination to chart a positive course is our greatest hope for the future.
With you stepping forward as a leader in this time of challenge and change, together we'll create a world of opportunity for our members, our students, and our schools.
Paula J. Herbart, MEA President
Review the conference announcement.
Local Presidents – please see page 5 for important information about registering for the conference. You are not able to register on-line at this time. Your registration form must be sent to Carolyn Cortright at MEA Headquarters for processing.
Local Presidents that cannot attend may send a designee, the president should complete a Local President Designee Selection Form and the designee should forward with their registration form.
On-Line Registration for all other participants is now available.