The education plan outlined by Gretchen Whitmer, Get It Done: Better Schools Now for Michigan Students, is built around four themes. To view the full plan, visit gretchenwhitmer.com/education.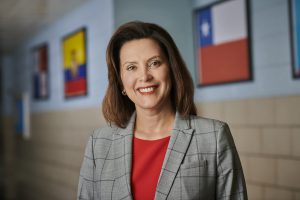 Quality education from cradle to career
Phase in universal preschool for four-year-olds
Triple the number of literacy coaches in schools
Add more psychologists, social workers, nurses, security, healthy meals and safe transportation
Invest in wrap-around services through partnerships
Ban guns in schools, except for law enforcement professionals
Paths to prosperity with a highly educated workforce
Provide more school counselors to help students explore careers
Invest in skills and technical trades and job training programs
End over-testing through alternative options and federal flexibility
Renew investment in extra-curriculars and electives
Create the MI Opportunity Scholarship to provide two years of debt-free college or other post-secondary training
Respect for educators
Support rigorous and practical teacher preparation programs
Improve compensation and working conditions
Improve professional development offerings and flexibility
Allow more opportunities for teacher collaboration
Stabilizing school funding and improving accountability
Fix the one-size-fits-all funding system
Restore the School Aid Fund to its constitutional purpose
Implement transparency and accountability standards for all schools
Require all schools to hire state certified teachers and accept all students
Stop the expansion of for-profit charter schools
Much like Michigan's roads, the state's once-proud education system has been neglected over the past eight years as lawmakers pursued the Betsy DeVos agenda despite pleas from school professionals, says Gretchen Whitmer, MEA's recommended candidate in the governor's race.
That will change if she's elected, Whitmer pledged at a press conference outlining her education plan—"Get It Done: Better Schools Now for Michigan Students"—to invest in public schools, support and respect educators, and expand opportunity for every child in the state.
Her plan will end the "hyperfocus" on standardized testing pushed by DeVos and her allies and encourage schools to focus on project-based learning and other approaches to build creativity and problem-solving skills that will take students into a career.
"When it comes to education, the first question and the last question that any policy maker, any budget writer, any legislator should be asking is how are the children of our state doing?" Whitmer said. "That should drive every decision."
Whitmer's comprehensive blueprint would move Michigan toward universal preschool for four-year-olds, develop wrap-around services in schools through community partnerships, and triple the number of literacy coaches in schools—focusing on support instead of punitive measures such as third grade retention.
"Right now the philosophy at the Capitol seems to be there's no constitutional right to literacy—that's what our attorney general and governor say in court," she said, referring to Republican gubernatorial candidate Bill Schuette's response to a lawsuit arguing the state has failed its neediest students.
"I believe every child has a birthright to a solid education," Whitmer said.
Months before unveiling her plan, Whitmer sought input and ideas from educators. As governor, she will continue that approach with a Governor's Educator Advisory Commission of frontline school employees to advise on pending laws and assist in implementing needed reforms.
Whitmer also vowed to improve pay for educators who have endured several years of falling and stagnant wages.
"It's time for us to respect our educators," she said. "If you have dedicated your life to the education of our kids, and gone through the training it takes to get the degree, then you should be treated like the professional and critical person that you are.
"That begins with saying we're not going to simply impose the will of people without expertise at the Capitol to determine what happens in the classroom. The people on the frontlines will drive the policy that happens in this state."
MEA President Paula Herbart said Whitmer is following through on her promise to listen to and address the concerns of educators and support staff. "Three clear themes emerged from the input we received from about 1,000 members across the state—and all three are addressed directly in Gretchen's plan," Herbart said.
Those three themes included respect for educators; reducing over-emphasis on standardized tests; and fixing our broken school funding system.
Whitmer's plan shifts to a weighted funding formula based on the fact that different students have different needs, which in turn have different costs to educate. At the same time, she plans to stop lawmakers from taking hundreds of millions of dollars away from the School Aid Fund to cover other parts of the budget.
"We are underfunding the education of all of our children right now because of the continuous raids on the School Aid Fund," she said. "If we are going to get our house in order here in Michigan and make this the place our kids stay and others come to for opportunity, we've got to fix the continuous assault on education funding in our state."
She will also push for strong transparency and accountability measures for all schools, including for-profit-operated charter schools and their management companies, and she would stop expansion of for-profit charter schools.
From greater respect for the profession to ensuring schools foster the workforce of the 21st Century, "This plan addresses so many needs we hear from front-line educators," MEA's Herbart said.
"Our members are motivated, energized, and ready to work with Gretchen to make this education plan a reality so we can build a better Michigan for everyone. Let's get it done."
Adults need to lead on education for the children who depend on us, Whitmer concluded. "That's what this election is all about," she said. "We're going to make education a priority, and we're going to start getting it right for a change."