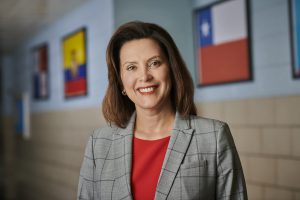 In her travels all over the state campaigning to be the next governor of Michigan, Gretchen Whitmer listens as much as she talks.
Not long ago, the Democratic candidate was invited to read with kids at Detroit Children's Hospital. Two boys, ages 5 and 11, sat with her after finishing some books. The younger child's mother said, "Malachi, she's running for governor; what do you think she should work on?"
The boy thought for a minute and replied, "I want everyone to be able to read."
Recalling that moment later, Whitmer was moved again by the boy's concern. "Think about a five-year-old lobbying for literacy," she said. "Doesn't happen very often, right?"Then she noted the wish offered by the 11-year-old, Corey: "I want everyone to have clean water."
He was from Flint, Whitmer pointed out. "Think about the stressors that children in this state are confronting that adults have to start getting right. That's what this election is all about. That's why I'm here, and that's why we're going to lead on education."
Whitmer is the daughter and granddaughter of educators. Her mother taught in Lansing schools for a while; her grandmother was an educator in Waterford, and her grandfather was superintendent of the Pontiac School District. Her children attend East Lansing Public Schools.
"I know that a strong public education is what truly levels the playing field for kids, but it's also what drives an economy and a high quality of life," she said. "Right now, more than ever, we need a governor who can get things done and who is going to fight for the kids and the educators of our state."
The former prosecutor and state Senate leader has actively sought to understand the current realities facing public schools and the dedicated teachers and support staff who infuse those buildings with life and learning every day.
She solicited opinions and ideas from MEA members while developing her education plan, "Get It Done: Better Schools Now for Michigan Students," which you can learn more about on page 24 of this issue or by visiting www.gretchenwhitmer.com/education.
What she has gathered from countless conversations and written submissions from educators across Michigan is that school funding has been neglected, educators disrespected, and students shortchanged for too long.
"Our teachers often find themselves in packed classrooms without the aid of a school nurse or school psychologist or a social worker or counselor," she said. "We expect the teacher to do all of those things, and then we penalize them when they're not able to wear every single hat that students need."
MEA's Statewide Screening & Recommendation Committee voted unanimously to recommend Whitmer for governor to our members. Made up of MEA members from across the state, the committee interviewed candidates from both parties before making its decision.
Throughout her political career, Whitmer has steadfastly supported educators and defended public education. As Senate Democratic Leader:
She took on leaders from both parties when they tried to take money out of the School Aid Fund that was meant for educating our kids.
She fought against Republican attempts to destroy unions and take away the voice of educators in their working environments—which are our students' learning environments.
And, from her initial vote against the bill that took money from our paychecks to her advocacy for our legal case ever since, she's been with us every step of the way regarding our recent victory in the 3 percent case.
Topping her education to-do list as governor will be to fix our broken school funding system, broaden learning opportunities from preschool to post-secondary, involve educators in policymaking, and rein in for-profit charter schools that have drained resources from public schools educating 90 percent of students.
"We've got a lot of work to do," she said. "That's why I'm here. I want to make this the state where our kids stay and make their lives, where our families can thrive, where people start going back into the profession of education, where you know—no matter what community you go into—your children are going to get that great education."