During a recent community forum on education and urban issues, gubernatorial candidate Gretchen Whitmer had no shortage of examples to show what she would seek to change if elected.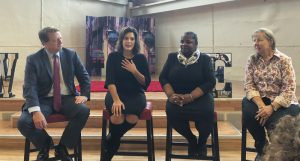 Diversion of hundreds of millions of School Aid Fund dollars each year to fill gaps elsewhere in the state budget. Draining resources away from the state's neediest communities. Retention of third graders who do not meet a standardized test benchmark. Tax cuts for corporations and new taxes on retiree pensions.
All bad policies; all enacted under total Republican rule, said Whitmer.
"Right now in our state we have seen the failure of the last 25 years, where we had a family on the west side of the state pretty much dictating the law and dictating funding when it comes to education," Whitmer said, referring to the influence of the DeVos family over GOP politics.
"Probably the most demoralized group of people in our state right now are educators, because they've been attacked and blamed and stripped of the resources they need to be successful," she added.
Whitmer held the discussion on Thursday in a community close to her heart – Pontiac, where her grandfather was once superintendent. Next door in Waterford, her grandmother was a teacher. Growing up with grandparents she called true public servants, Whitmer said she learned that "every child has potential; it's our job to ensure every child has opportunity."
Whitmer was joined by panelists Aimee McKeever, president of the Pontiac Education Association; school board member and state House candidate Brenda Carter; and state Rep. Tim Greimel (D-Auburn Hills).
McKeever told the crowd of community members and activists that 75 percent employee turnover in the city's schools over the past several years can be attributed to destructive state policies that fail to value students, respect educators, and adequately fund public education.
"Because of emergency managers, because of consent agreements, urban and rural school districts are failing their education communities," McKeever said. "We need to stop this. We need to make it a priority that we value all of our students, who are our future."
Hit hard economically by the loss of its manufacturing base, the city of Pontiac struggled for years under a succession of state emergency managers, and the school district has been slashing budgets for five years under a consent agreement with the state.
Pontiac School Board member Brenda Carter, who is running for the State House, said the state removed local control and "literally tied our hands." Urban areas have been disproportionately affected by state takeovers, which she called "an all-out attack on districts in poverty."
"We were told either follow these mandates or there will be repercussions," Carter said.
From his very first state budget, Gov. Rick Snyder's approach to education has been "upside-down," Whitmer noted – giving a $1 billion tax cut to businesses while cutting school spending, taxing retiree pensions, and shrinking the earned income tax credit that allowed working families to keep more of their earnings.
"A budget is a statement of values, and this governor's first budget told the real story," she said. "Who paid for that huge corporate tax cut? Kids, the working poor, and retirees."
Education spending still has not returned to pre-Recession levels. Numerous studies and reports have found that Michigan is underfunding education, especially for poorer, at-risk, and special education students. Meanwhile, school employees have seen their take-home pay shrinking as new laws forced them to absorb increasing health care premiums and deductibles.
"Our leaders in Lansing have balanced budgets on the back of education and made choices to give for-profit companies the opportunity to make money off of education," Whitmer said. "We've taken a system that was once the envy of the world and now as a state we're in the bottom 10 in our country."
She is often reminded of the human toll of the DeVos agenda, Whitmer said. On her birthday in late August, she was approached by a Lansing-area paraeducator while taking a rare night off from campaigning. She had stopped in a store with her family between dinner and a movie.
The woman said, "'You're my last hope,' and she started crying," Whitmer recalled. "She explained to me that she was working in this store because her job as a parapro didn't pay her well enough to take care of her three kids at home."
That is what this election is all about, Whitmer said. "We need a governor who cares more about our kids and our parents and our educators – the people who work in our schools – than about Betsy DeVos."