Utica High School Spanish teacher Julie Wright is "sick and tired" of the erosion of public education in recent years. She sees hope for a better future in Gretchen Whitmer, and it's not just wishful thinking.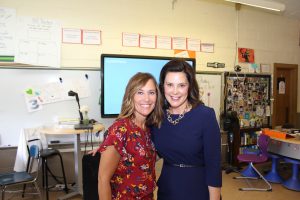 despite thousands of workers shouting opposition from the Capitol lawn.
Wright recalls seeing the Democratic candidate for governor in action back in December 2012, when the Republican-dominated state Legislature was ramming through so-called "Right to Work" legislation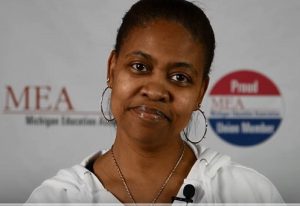 As the minority leader in the Senate, Whitmer led her Democratic colleagues out of the chamber and into the crowds protesting outside.
"Back then I knew she was a fighter, and she'll fight for us now," Wright said.
Educators are rallying around Whitmer, the candidate who has said she will be the education governor. The former prosecutor and state Senate leader was unanimously selected for recommendation by MEA's Statewide Screening and Recommendations Committee.
The Michigan primary election is Aug. 7.
"Gretchen Whitmer is all about public education, and she's the right person to carry that message straight to the Capitol," said Theresa Dudley, a school secretary in Grand Rapids.
Melissa Wriggelsworth (above, left), a fourth-grade teacher in Lansing, appeared at a June press conference where Whitmer unveiled her education plan to publicly explain her support for a candidate who pledges to listen to and respect educators.
Teachers "find a way" to educate kids despite roadblocks, Wriggelsworth said, explaining that she and many others spend time helping kids during lunch and after school. Educators take time away from their own families on weekends designing engaging lessons and grading work.
They spend hundreds of dollars out of pocket outfitting classrooms and buying supplies for activities and projects. "We always find a way," she said. "And I understand Gretchen Whitmer to be a person who will ask us questions so policymakers know what we do and what we need."
Students increasingly come to school feeling anxious, depressed, tired, worried, and hungry, added Wriggelsworth's colleague, Spanish immersion teacher Susie Hernandez. Challenging circumstances at home often interfere with learning, she said.
"Unfortunately, many students struggle to make it to graduation and beyond high school," Hernandez said. "We need to support all of our students, and Gretchen Whitmer has a plan to provide students with the support they need."
Southfield teacher Simone Babridge (above, right) met Whitmer at a meet-and-greet event in Macomb County months ago, long before the governor's race began heating up. "Given the experience we've had with (Governor) Rick Snyder, I was more than willing to give Gretchen a try," she said.
Babridge was impressed with Whitmer's understanding of education and her commitment to "stand up for those who make other professions possible—educators. After the cutbacks and right-to-work, we need a governor who's going to fund education and seek the fruits of investing in our kids.
"I'm supporting Gretchen."