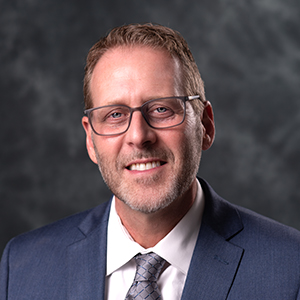 Aaron Eling became the Michigan Education Association's secretary-treasurer on July 15, 2023.
Previously, Aaron, a sixth-grade science and social studies teacher in Grand Haven Area Public Schools, served as vice president of the Grand Haven Education Association, as well as in a variety of other union, community and professional volunteer capacities.
Aaron has been a classroom teacher for 20 years. In that time, he's worked in urban, suburban and rural school districts, as well as in charter schools. Aaron's broad experience, including working as a paraprofessional, has provided him with a unique perspective —particularly when it comes to the benefits of union membership as opposed to working in a non-union school setting.
Before becoming a teacher, Aaron, a veteran of the U.S. Marine Corps, spent over a decade working in the skilled trades. He earned a bachelor's degree in social studies and elementary education from Grand Valley State University and a master's in science education from Montana State University.
Contact Aaron Eling
PO Box 2573, East Lansing, MI 48826-2573
800-292-1934
aeling@mea.org