Educators deserve a secure retirement after dedicating their careers to student success.  MEA is here to protect that retirement and help to navigate choices school employees need to make along the way.
Retirement benefits are a large part of a total compensation package. Not understanding retirement plans can cause an individual to lose out on financial benefits like a pension.
Important Facts New Hires Need to Know About Retirement:
By law, newly hired school employees have 75 days from their first payroll date to choose a retirement plan. Those that do not actively choose a plan within this window are considered to have elected the Defined Contribution (DC) plan by default – and that plan selection cannot be changed.  MEA has created a guide to help understand this important decision, and offers training for all new school employees (regardless of MEA membership) to help understand the various choices.
Need Assistance?
MEA can help members in good standing with retirement issues. Contact your local MEA Uniserv office for assistance.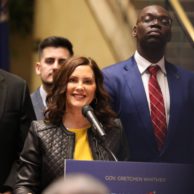 Editor's note: Lawmakers need to hear from you! Please take a few minutes to contact your state senator and representative and urge them to support Gov. Whitmer's proposal to repeal the unfair tax on retired educators' pensions. After a long 11 years, retired educators may soon experience relief from the unfair retirement tax imposedon them by former lawmakers, Gov. Gretchen…