About MEA: Champions for Education
Ensuring every student in Michigan has access to an excellent education—by ensuring every educator has the support they need to succeed.
"The mission of the MEA is to ensure that the education of our students and the working environments of our members are of the highest quality."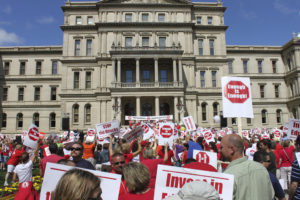 The Michigan Education Association (MEA) is a self-governing education association, representing about 120,000 teachers, education support professionals and higher-education employees throughout the state.
MEA started in 1852 as the Michigan State Teachers Association with 20 teachers in Ypsilanti. Today, headquartered in East Lansing, we are the largest single public employee union in the state.  We are also affiliated with the National Education Association. Since our beginning, public school employees have joined together to win and protect basic rights that help ensure they are treated with the fairness, respect and dignity they've earned.
Through collective action, MEA is dedicated to the purpose of serving our members' employment goals, interests and needs, while advocating for quality public education.
Together, we are Champions for Education.
MEA Brand and Logo Information
Supports the development of successful, empowered students;
advances the principles of democracy, human and civil rights;
meets the needs of our global society; and
improves the quality of life for all.