Click here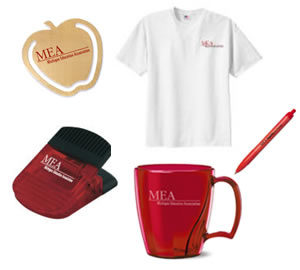 to order gifts, apparel, promotional and event items, such as pens, pencils, buttons, tote bags and coolers, mugs, banners, shirts, hats, jackets, and much more. All items are union imprinted in the USA and can include the MEA logo or your custom imprint.
If you can't find what you're looking for, contact Amy Smith at amy.smith@keystonemillbrook.com.
Teacher Day/School Family Day 2018
Teacher Day/School Family Day 2018 is Tuesday, May 8.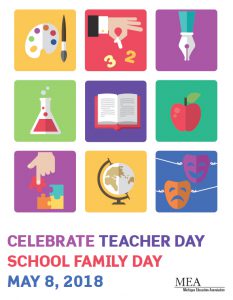 Each year schools and communities observe Teacher Day/School Family Day with local celebrations that pay tribute to the contributions school employees make to our communities and to society in general.
The Michigan Education Association invites you to observe this important date by continuing the traditions of celebratory activities. To help you do this, the MEA Public Affairs Department has developed this booklet that contains ideas for activities, radio scripts and camera-ready artwork.
You can also order ready-made materials. Again this year we are offering notepads and bookmarks at a minimal cost. Complimentary posters are also available, one per school building/work site.
To order materials, go to www.mea.org/merchandise.
Orders must be received by April 23, 2018.
You must order online.
If you have any questions, please contact Eleanor Mustafa at eam@mea.org or
800-292-1934, ext. 5463.