Good Afternoon Artists,
Due to the COVID-19 pandemic, we are facing a few issues with the current art show displayed in the MEA headquarters' lobby, including:
–  Our buildings are currently closed to employees and the public;
–  We're unable to photograph the artwork to post online because we're not allowed in the building; and
–  We don't know the date of when we'll be able to return to work.
As you know, the final date to pick up artwork was scheduled for Saturday, May 2. As of today, I'm crossing my fingers that date will still work, however, I will not know until later this month, since the number of those  infected in Michigan is rising by the hundreds each day.
I will send another email closer to the end of the month, once I have any details on a possible date that MEA will again be open.
Thank you for your patience and stay at home.
---
56th Annual MEA/MAEA Art Acquisitions Purchase Awards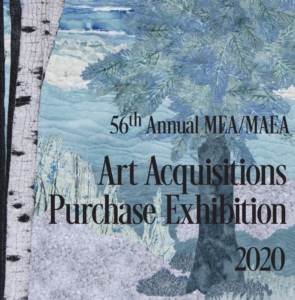 Purpose of the Exhibit
The Michigan Education Association (MEA) and the Michigan Art Education Association (MAEA) announce their annual purchase exhibit to acquire artwork to enhance the MEA headquarters in East Lansing and MEA regional and UniServ offices throughout the state. This exhibit provides an opportunity to showcase the artwork of our members.
Eligibility
Any member in good standing of MEA, MAEA or MEA-Retired is eligible to submit artwork (this includes ESP and student members in good standing and MEA-Retired members with life membership dues paid in full). Proof of membership is necessary. No entry fee required.
Paintings, drawings, prints, ceramics, jewelry, metal work, enamels, mosaics, wood, fibers, stained glass, photographs, experimental media and sculptures are all eligible. All artwork submitted must be original work. Artwork deemed not original by the juror will not be accepted. Each artist may submit up to two works. Works not for sale will not be accepted.
Download the 56th Annual MEA/MAEA Exhibit brochure.
View the artwork accepted in the 56th annual exhibition—co-sponsored by MEA and the Michigan Art Education Association below: