Oct. 21: MEA Higher Education Conference
MEA's 2022 Higher Education Conference will be held Friday, Oct. 21, 2022, at MEA headquarters in East Lansing.

Attendees will take advantage of the expertise and knowledge of MEA presenters, who have geared their sessions to address prevalent issues facing higher education in Michigan, especially issues affecting faculty and staff.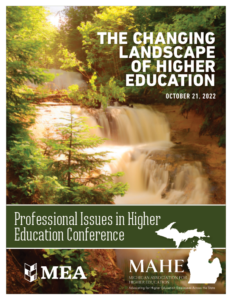 Click here to view the conference booklet, which includes session descriptions and more information.
To register follow these steps:
Log in using your MEA Members Only account and click Event Registration.
Click here for instructions for creating your Members Only account.
Click on "2022 Professional Issues in Higher Education Conference".
Follow the instructions on the page to register for the event.
Some sessions are available virtually via Zoom as well as in person, including the opening session, the keynote address, and Sessions 102, 103 and 301. You must register to obtain the Zoom link.
Questions? Contact Monica Ritchie at mritchie@mea.org.