NEA president's school visits spotlight Michigan successes: 'I will tell your stories everywhere I go'
By Brenda Ortega
MEA Voice Editor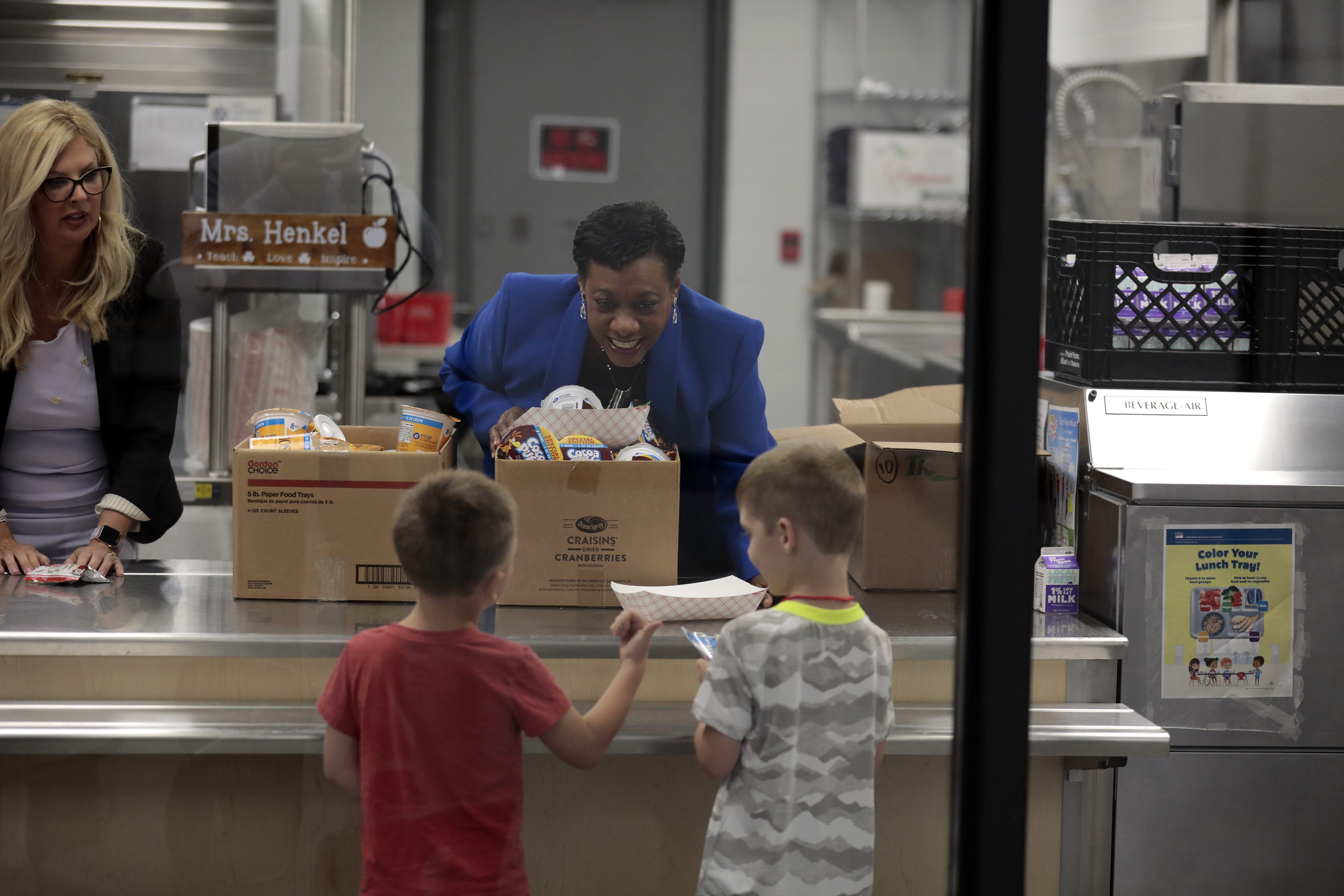 NEA President Becky Pringle visited four school districts in Michigan last week to see what change looks like when a governor and state Legislature prioritize public education. At the first stop in Walled Lake, she held in her hands a tangible example of that positive change. Then she gave it away.
Leader of the nation's largest labor union at 3 million strong, Pringle and MEA President Chandra Madafferi stepped behind the cafeteria counter last Tuesday morning and began bagging and distributing free breakfast to Dublin Elementary students who lined up to receive it.
This fall, Michigan became one of only eight states to provide funding for public school districts to offer free breakfast and lunch for all children regardless of family income. At Dublin, breakfast included an oats bar or cereal, dried cranberries or apple crisps, and milk.
"Providing breakfast and lunch to all students here in Michigan means it's not stigmatizing for children who are living in poverty, and that is the kind of caring, inclusive environment we want to create," Pringle said.
"What Gov. (Gretchen) Whitmer and the Michigan Legislature understand is we have to treat students as the whole beings that they are," she continued. "Our babies can't learn if they come to school hungry."
In addition to giving children the daily nutritious food required to learn and grow, Madafferi pointed out the free school meals program is expected to save parents $850 annually, and "that's going to help families stretch their dollars farther and meet more of their other needs."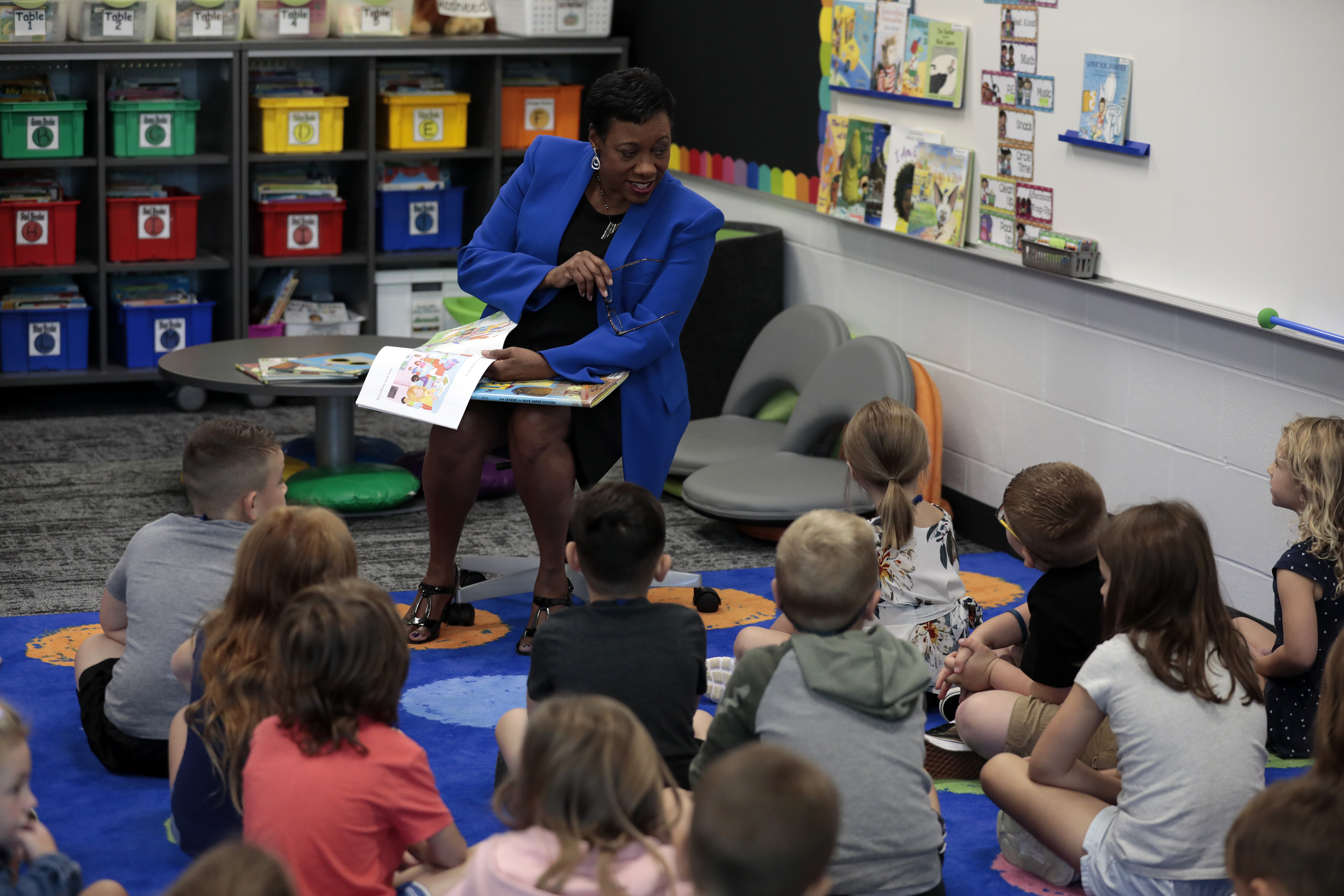 After the breakfast rush, Pringle read the poetic picture book I Am Enough by Grace Byers to first graders, who listened attentively and summarized the book's message – of finding self-worth, embracing differences, and being kind.
One youngster named Cora drew a gasp of delight from Pringle with her takeaway from the book: "The people aren't perfect, but they're enough, and you are perfect just the way you are." Teacher Laura Kauffman told the girl, "Your words make a difference—remember that."
Pringle asked the children to describe what they enjoy about Kauffman despite it being only the second day of school, and the children replied she's kind, nice and fun – to which the veteran educator and MEA member exclaimed: "You have just filled my bucket; thank you so much!"
Pringle and Madafferi were led on a tour of the one-year-old state-of-the-art elementary school – featuring flexible seating and collaboration spaces – by district officials and local leaders, including Walled Lake Education Association President Jared DeWitt, who described the visit as a positive boost to start the school year.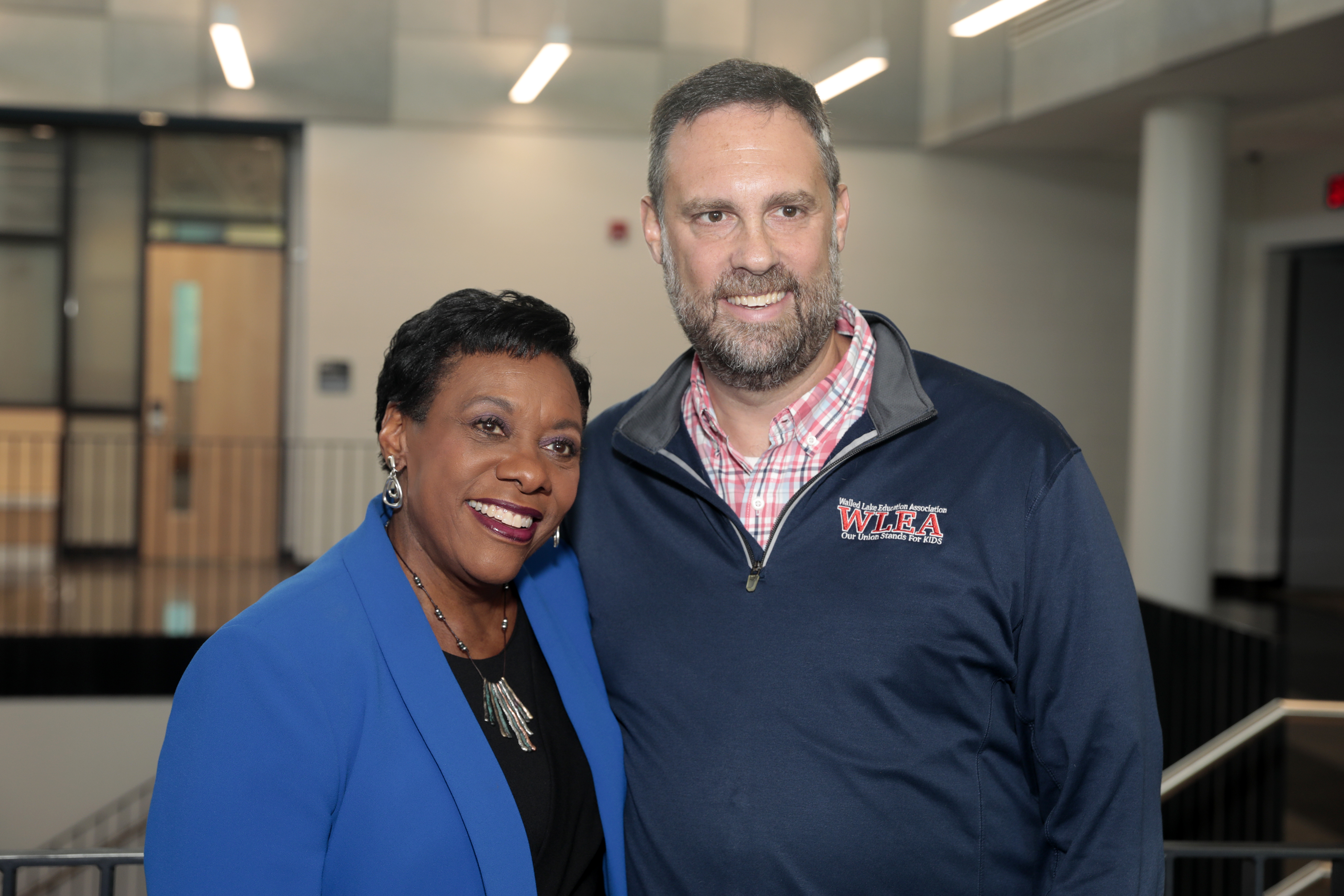 "It shows that not only the school district but all of the staff unions that MEA and NEA represent are in it to win it for kids," DeWitt said. "We're here to be their biggest supporters, we're here to be their cheerleaders, and everybody at every level wants the same thing – to help our kids be successful."
FLINT: 'Turning a corner for our students'
That afternoon, the two presidents joined Gov. Whitmer for two stops in Flint on her back-to-school tour of the state. Together, they highlighted the fifth straight bipartisan education budget Whitmer signed over the summer with increased funding for many key priorities, such as universal free school meals, along with the highest-ever state per-pupil funding.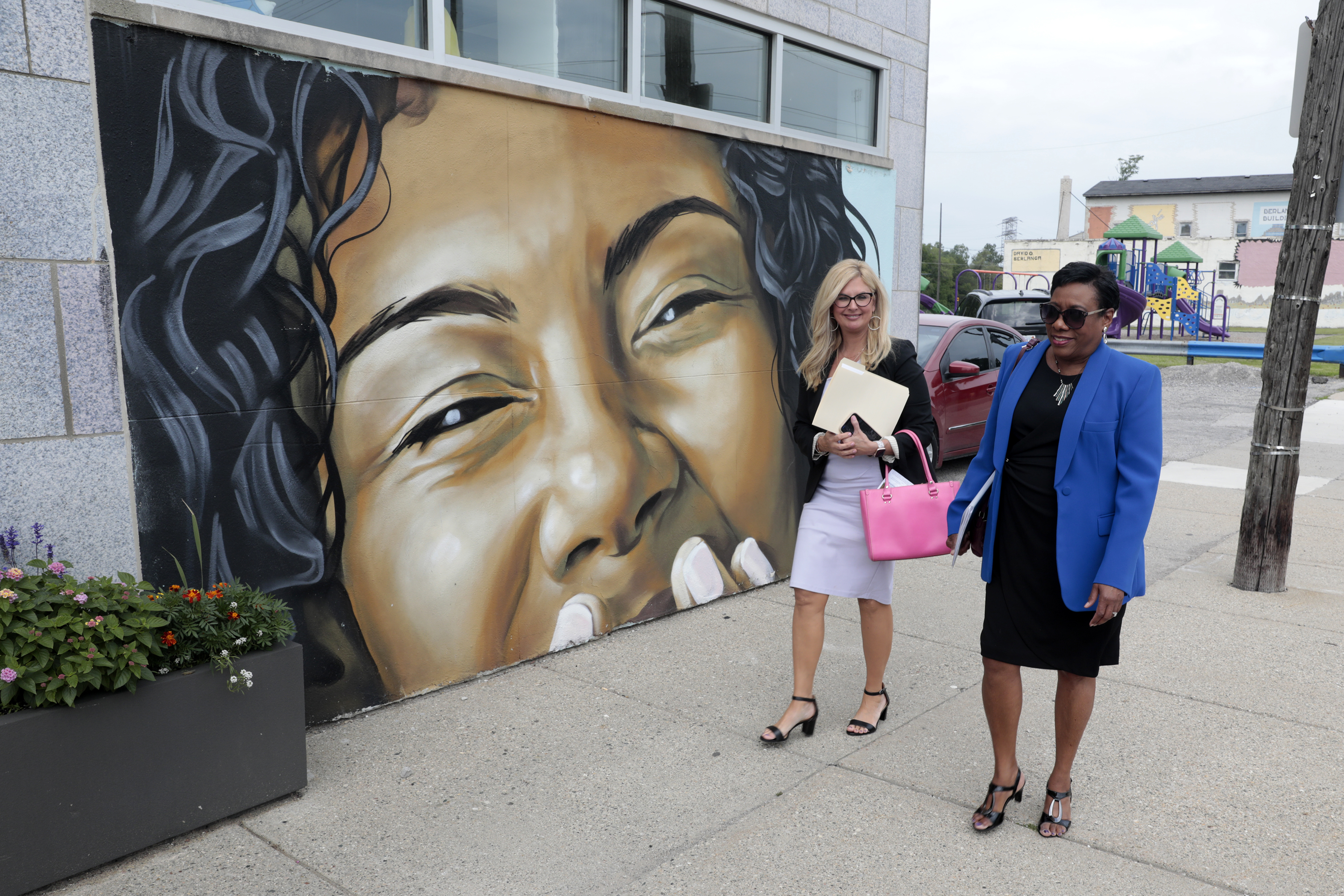 The trio toured the Latinx Technology and Community Center, a Flint cultural center that provides adult education and summer youth programs, where a $2.6 million investment from this year's state budget will help to convert a nearby abandoned building to a bilingual early childhood center.
In formal remarks before assembled officials, community members and news media, Whitmer touted PreK-16 spending in this year's budget on preschool expansion, services for at-risk and special needs kids, student mental health, teacher recruitment and retention, literacy, school safety, rural transportation, tutoring and academic recovery, and higher education funding and access.
"And we've built on last year's school infrastructure investment with more money for clean air and water infrastructure in schools from pipes to HVAC systems, etc.," Whitmer said.
"And the budget supports our education professionals, because as much as we all focus on outcomes for our kids, there's no way we can improve those outcomes if we don't have great adults in our schools as well, from the front of the classroom to driving the bus to working in the office to serving the meals in the cafeteria."
With college scholarships for aspiring educators and stipends for student teachers both continuing in this year's state budget, Whitmer added, "If you want to give back to your community and become an education professional, we want you in Michigan. We will lower your costs and give you the support so that you can do what you do best."
In her remarks, Madafferi gave thanks for the investments and commitment the governor and state lawmakers have shown. "With friends of public education like Gov. Whitmer and allies in the Legislature, we are turning a corner for our Michigan students," Madafferi said.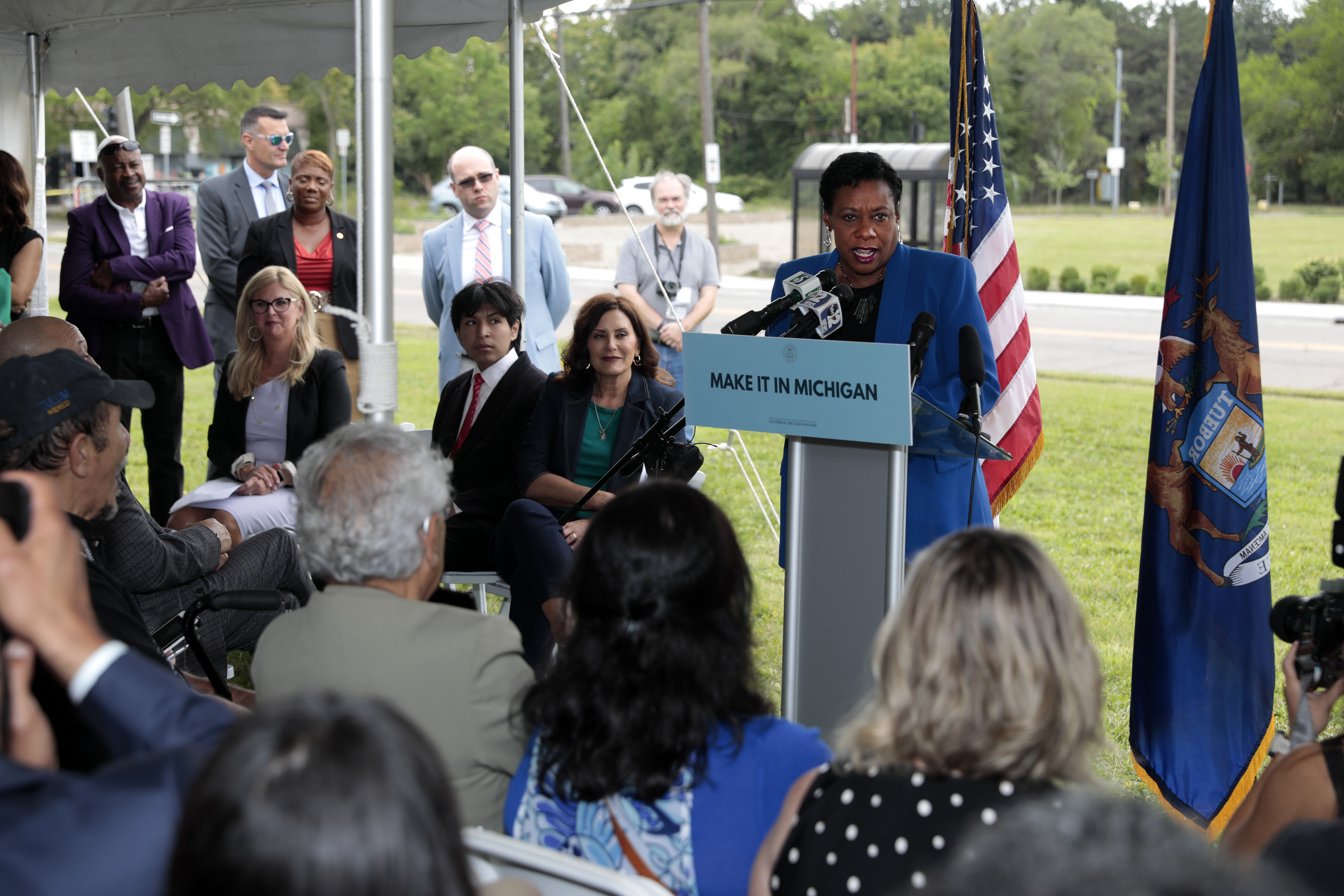 But significant challenges still lie ahead, she added. "To solve them, educators, parents, community leaders and elected officials must continue working together for the sake of our kids' future… Every child everywhere in our state deserves the opportunity to succeed."
Meanwhile, Pringle vowed to take what she learns from visiting the state and "tell your stories everywhere I go. At the end of the day, every caring adult in this state and across this country needs to be able to say, 'We are worthy of our children.' That is what I see in the great state of Michigan."
The second stop at Beecher Community Schools in Flint highlighted a $2.5 million state contribution to rebuilding the district's high school, shuttered a decade ago. Students in grades 7-12 attend a joint middle/high school, where Whitmer dismissed students for the day over the office PA system after visiting classrooms with news media in tow.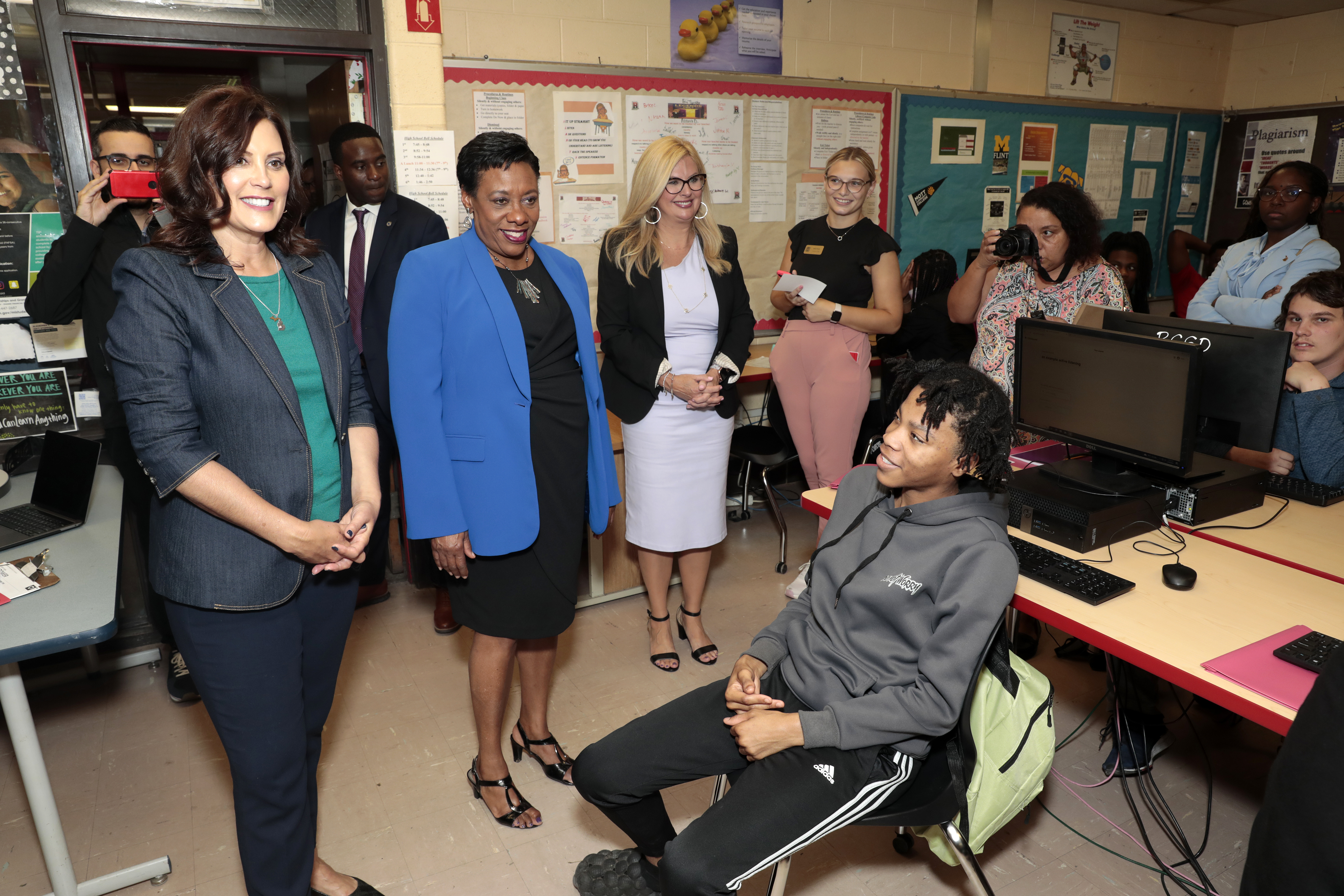 "Beecher, this is Gov. Gretchen Whitmer… this year I urge you to pursue your potential and get involved on campus. Try out that sports team, join the volunteering club, go the extra mile on that group project, ask your crush to the dance, have a good time… Have an excellent school year. Enjoy your day, and you are dismissed."
Teachers in the district are feeling optimistic after settling a strong contract on the heels of a decade of financial struggle and stagnation, said MEA UniServ Director Bruce Jordan, who joined the tour with other district officials and elected leaders.
The Beecher Education Association's new contract includes steps and on-schedule increases of 18% over three years, a fully funded health savings account, and a $10,000 bonus over three payments this school year, Jordan said in a conversation after school let out and donuts were served in the cafeteria.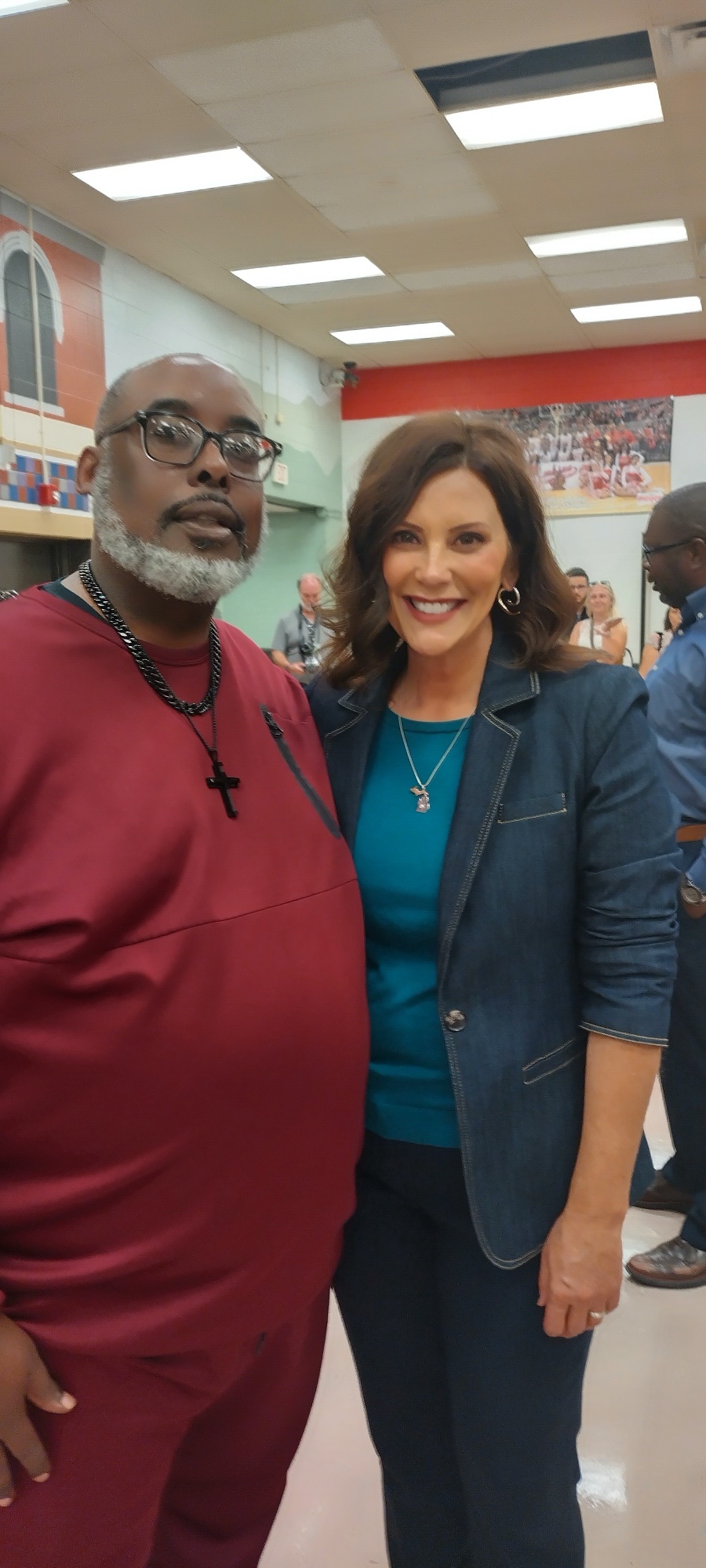 "They're still toward the bottom of pay in Genesee County because they have so far to go to catch up, but the consistent state funding increases over the past few years, along with (federal American Rescue Plan) dollars, have been able to put them on the right track."
Next spring, paraeducators will be negotiating a contract and will need to see significant improvements as well, said Micah Knox, president of the local paraeducators unit who also participated in the visit. "We play such an important role with students, but we're the lowest paid in the county," he said.
Knox could be seen talking one-on-one with Whitmer as the tour wound through hallways. Asked what he communicated, he said, "Oh, I was just messing with her. Every time she comes to Flint, she only attends one church – it's my cousin's church. I would like her to attend more churches. Like mine."
Later, as the visit wrapped up, Knox got a photo with the governor, and she quipped to him as he walked away: "Eat your heart out, Cousin!"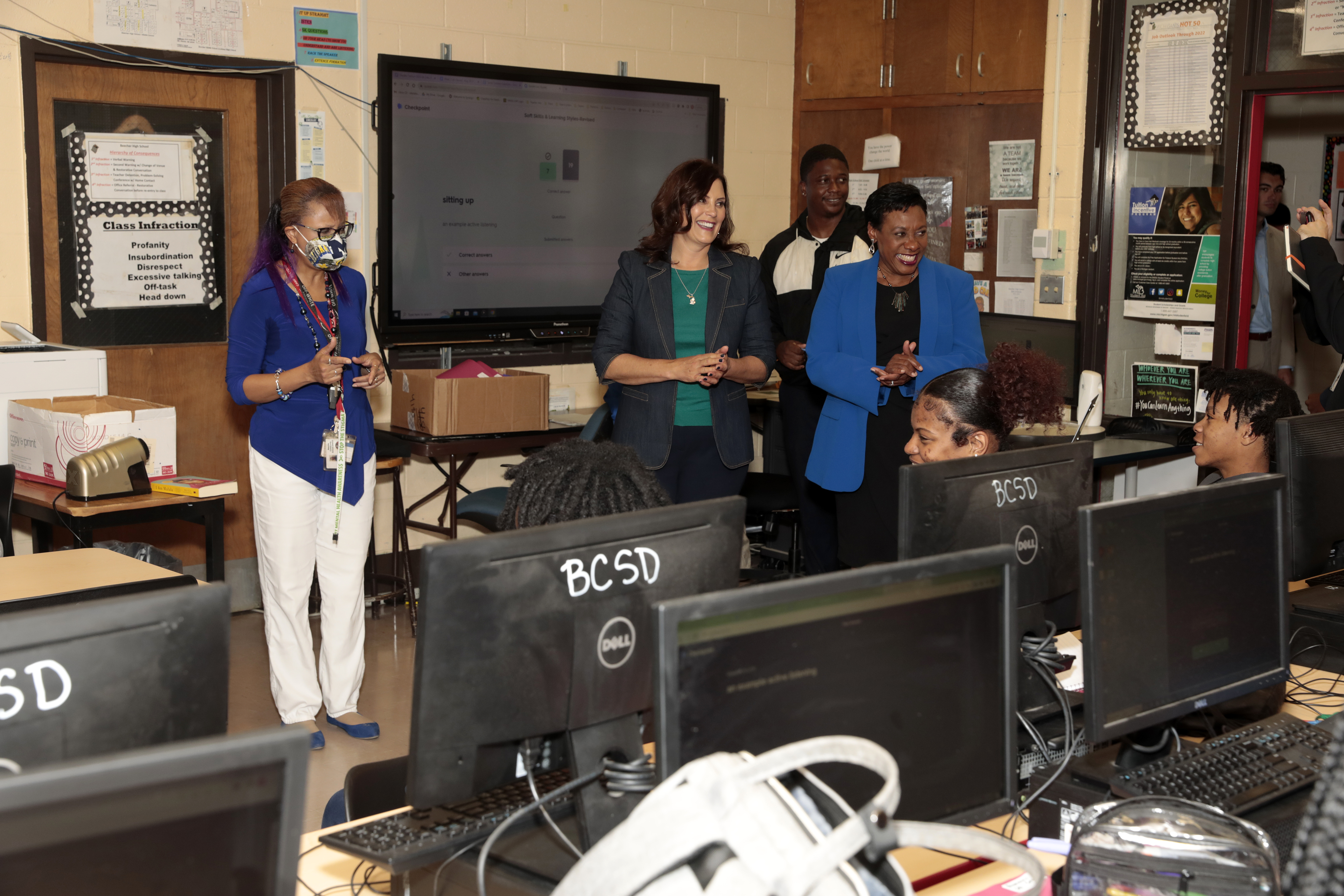 Two Beecher teachers whose last classes of the day were stops on the tour said it was incredibly meaningful to have the governor and MEA and NEA presidents walk into their rooms on the first day of school.
MEA member Treva Daniels-Carlson, who does instructional coaching in addition to teaching sociology, psychology, senior seminar, and eighth-grade career exploration, called it "an incredible honor to have the governor come in and witness what we're doing and thank me for my efforts.
"And I returned the favor. She has done an amazing job and put up with more than she ever should have, and I'm very pleased that she was able to come to my class," Daniels-Carlson said.
MEA member Robert Fenton said it was intimidating but validating to have the dignitaries stop in his Spanish class. Certified in instructional coaching for classroom management, the 34-year veteran said their presence underscored the positive messages educators received from the strong new contract.
"It validates what we do to be recognized by leaders of the state and leaders of our union that – yeah, because you do the valuable work that you do, you deserve a raise. Because you put in the hard work that it takes to educate kids despite all the barriers we have today, you deserve more compensation.
"Of course, it's not all about the money, but it seemed like we were always getting the short end of the deal," he added. "We deserve it. It's not an easy job. We work really hard here, and it feels really good to be noticed and appreciated and rewarded for what we do."
GRAND RAPIDS: 'Advocate for teachers'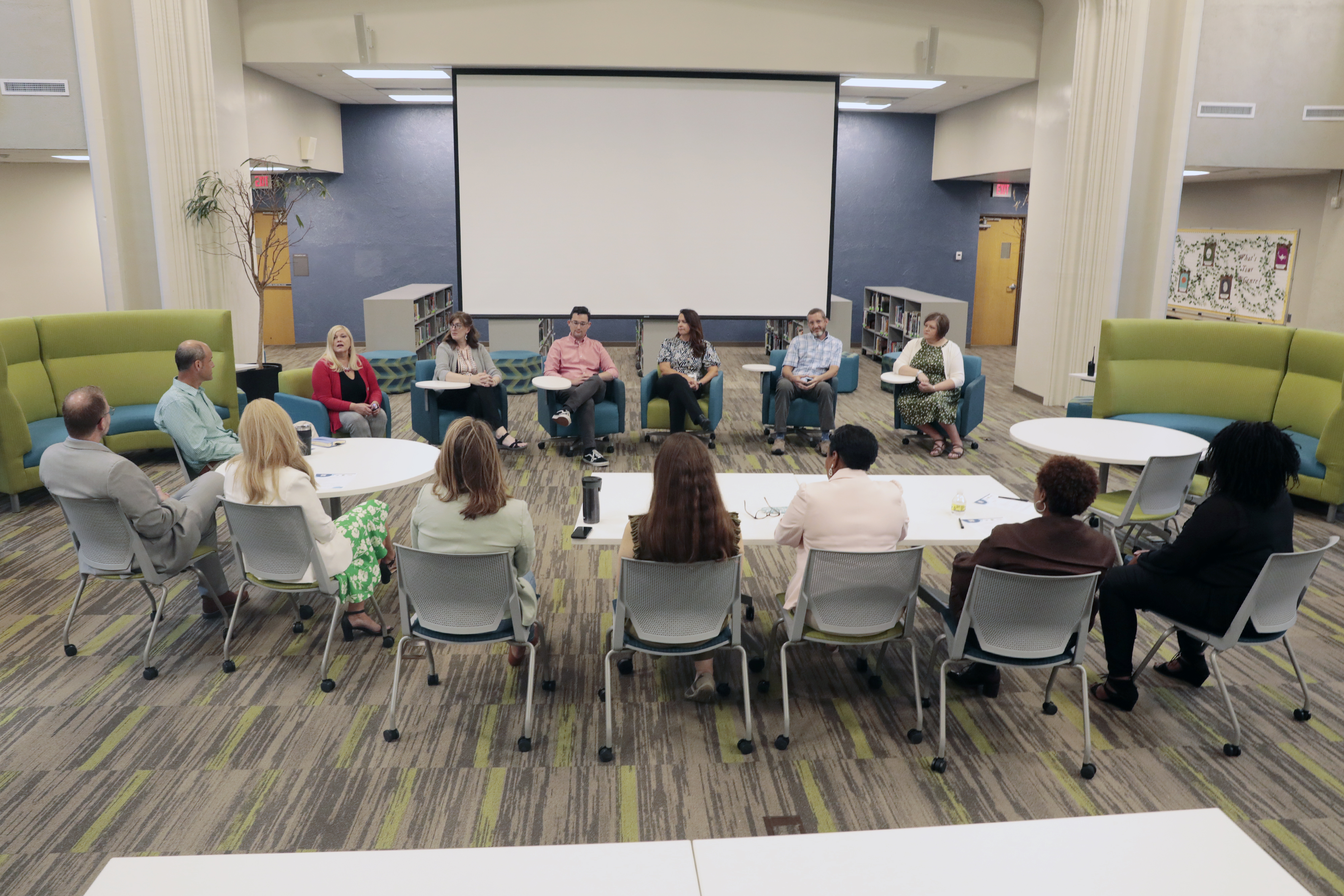 Pringle and Madafferi continued their back-to-school trip on day two with stops in the west side of the state at Grand Rapids and Grandville.
At City High Middle School, a public grade 7-12 magnet school that is part of Grand Rapids Public Schools, two panel discussions by students – called scholars – and staff revealed some of the factors behind the International Baccalaureate (IB) School's success.
Last year City High was the top-ranked high school in Michigan and 18th in the nation for its college readiness rates. City's enrollment has doubled to 944 since the school relocated to the former Creston High School building 10 years ago.
The IB model focuses on a well-rounded education that encourages open-mindedness, intercultural understanding, and appreciating diverse perspectives, and challenges scholars to be engaged, principled, critical thinkers.
MEA member Meagan Whittle, an art teacher and panelist, told the tour group and accompanying media that she has taught for 11 years – including six at City – and said, "I will die in the classroom. I love being here, and I love our students so much."
Foreign language teacher April Anderson agreed. An MEA member for 21 years, Anderson has taught at City for 10 years and became emotional discussing how she almost left the profession after deciding to leave a job in another district. Then she got an offer at City and took it.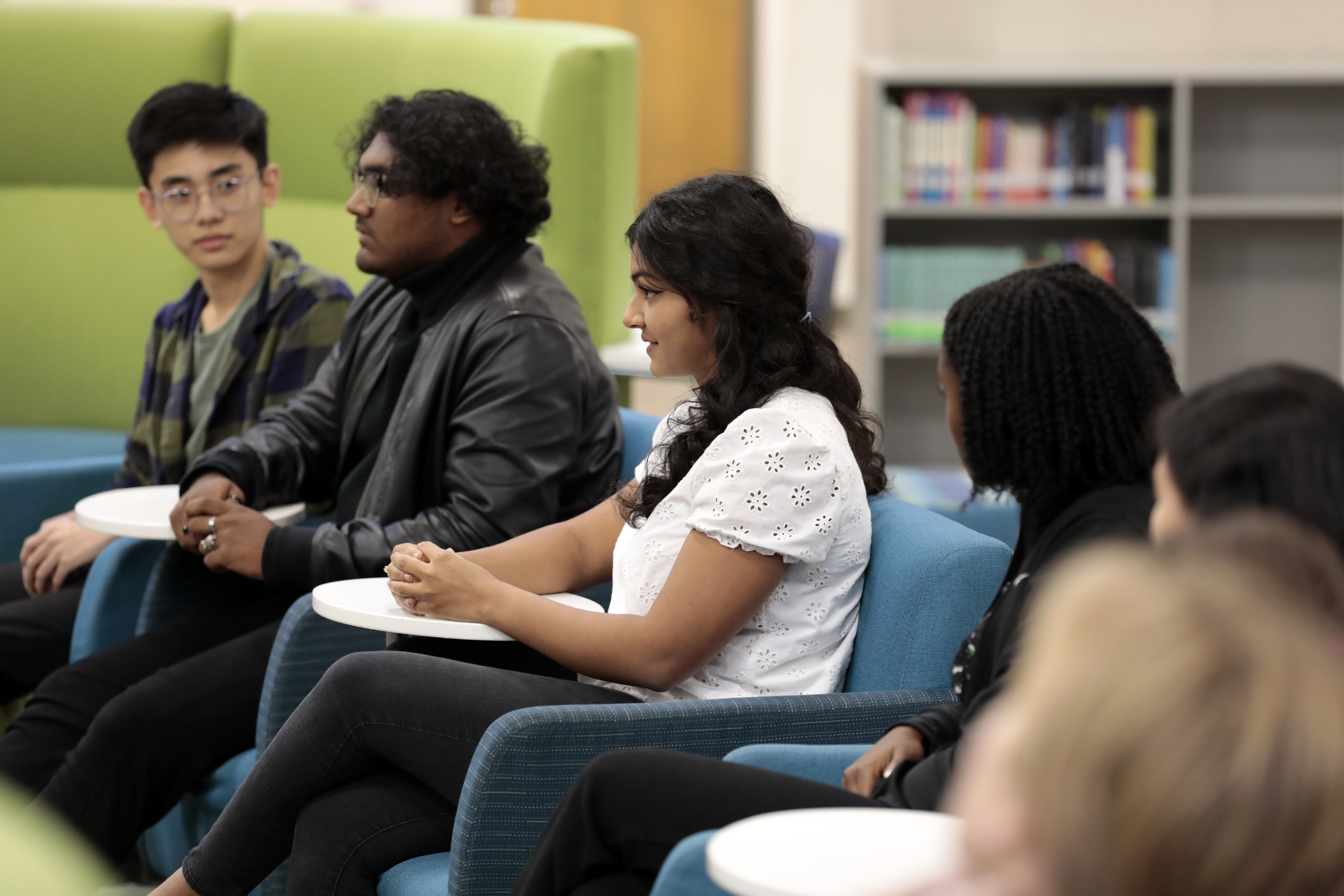 "In my first year here, I was blown away by the inquisitiveness of the students that we have and the passion they bring to learn every day," Anderson said.
Student panelists, in turn, praised the educators for encouraging and stretching them to learn deeply, express themselves, and discover and develop their talents. Asked by Pringle what education priorities policymakers should invest in, scholar Sabina Cobo answered and others agreed: teachers.
"I would say to advocate for teachers – for their support," the senior said. "Teachers are often overworked and underpaid, and it's such important work they do. Our education is in their hands."
Matt Marlow, president of the Grand Rapids Education Association, said in recent years Michigan has become a beacon of light regarding education policy, but Sabina's comments reveal the need to push forward and address long-standing issues that have led to nationwide educator shortages.
"Our students are the future leaders and they know what's going on, so I'm glad to hear someone of her age noticing how important educators are to their success," Marlow said. "It's been great to have NEA President Becky Pringle here, and Chandra Madafferi – president of MEA – to put a spotlight on not only Grand Rapids but Michigan and beyond."
Pringle said the conversations at City showed the significance of building a collaborative school community that sees students as whole people, offers them a breadth of opportunities, and wraps them in supports.
"If everything is going to be successful, you have to have a community of people, you have to have resources, you have to have respect," she said.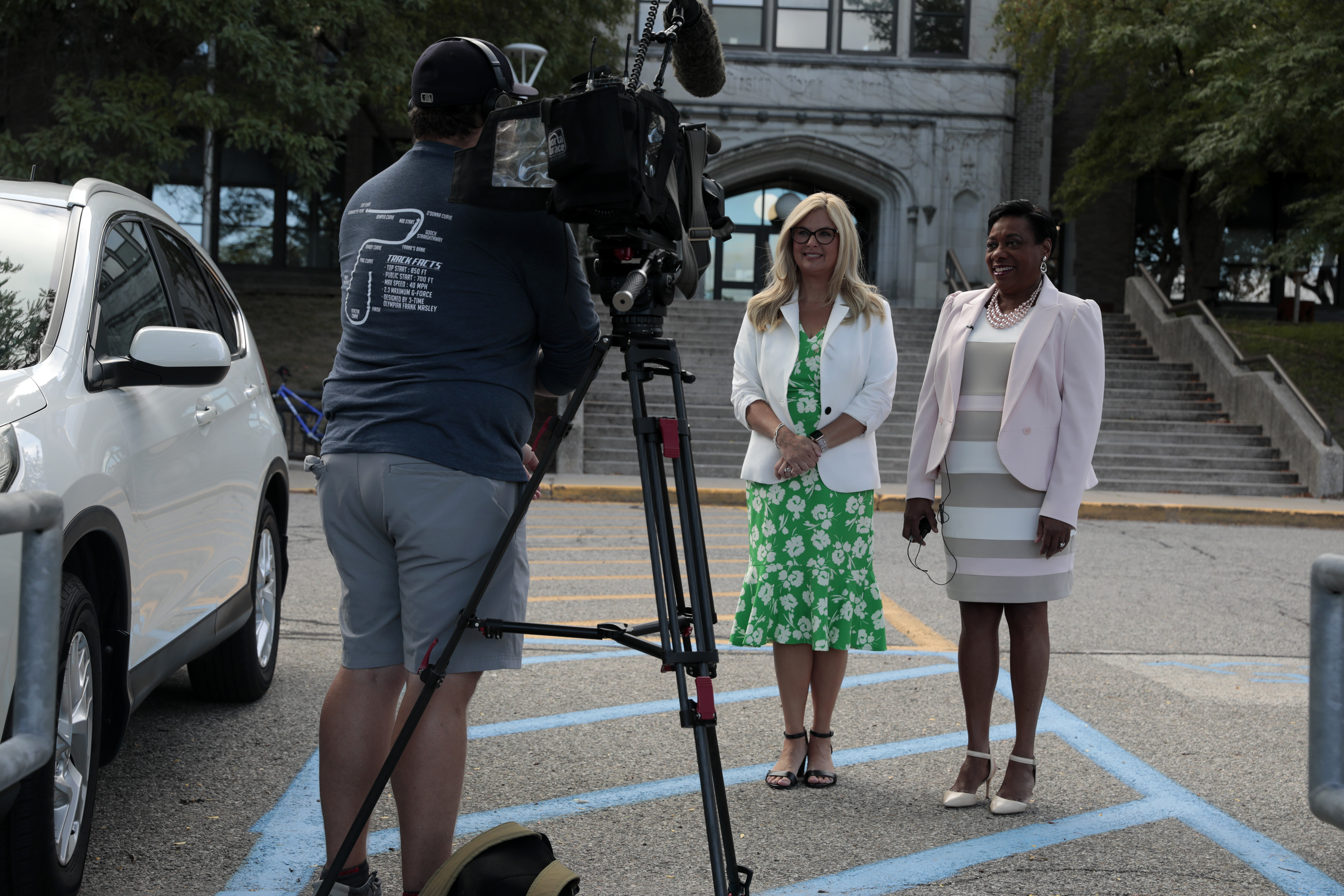 Madafferi said she became emotional listening to the City High discussion panels: "It was overwhelming to hear the educators say, 'I was going to leave. Now I'm staying because I feel valued and respected and I have the freedom to teach.' And the students said the educators were some of the best things about the school.
"I'm very tired of the narrative that our public schools are not working, because that is absolutely not true. A well-resourced and staffed school can do amazing things. Our public schools are doing amazing things, and the more I see and learn, the more I can do to advocate for what our members need."
GRANDVILLE: 'People are what it's all about'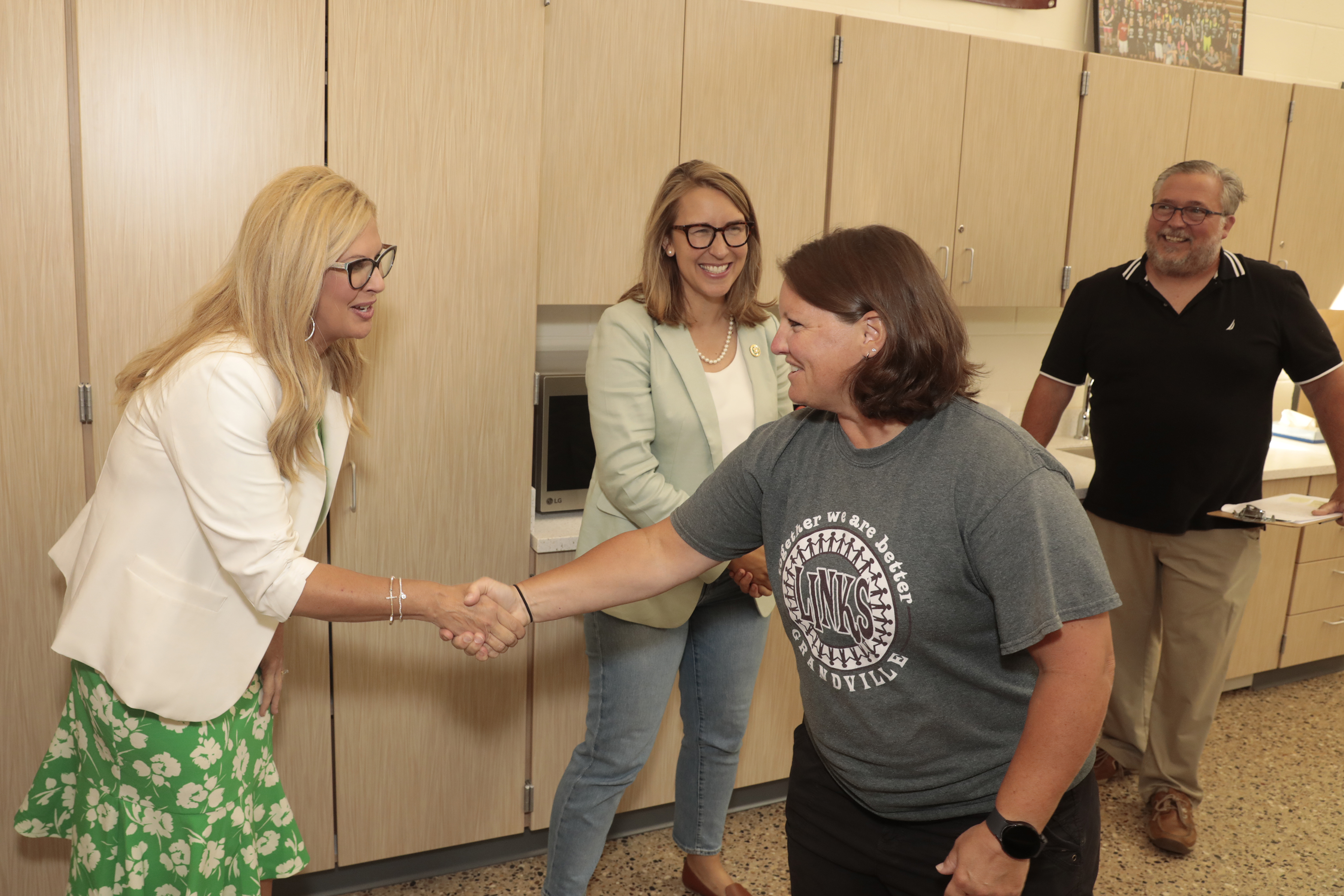 The two presidents' two-day visit concluded with a tour of Grandville Middle School's brand new 220,000 square-foot, $57 million building featuring classroom and collaboration spaces, specialized areas for science, technology, engineering and math (STEM) learning, and a first-in-the-nation robotics competition center.
"We're really proud of the learning environments and enrichment opportunities for kids here in Grandville, which are the direct result of a committee that spent many hours studying what other districts have done and visiting schools all throughout West Michigan," said Jeff Pietrowski, a 25-year educator and vice president of the Grandville Education Association.
The 900-student building includes flexible seating, movable desks and small and large spaces for groups of all sizes to work together, Superintendent Roger Bearup said in leading the tour group, which included Congresswoman Hillary Scholten.
Students are grouped in teams that rotate together across subjects and classes, and teachers work together to get to know students and address their needs. Security features include expensive bullet-proof glass installed in all windows up to seven feet high.
The tour showed the group science lessons, physical education routines, and a class known as Links for Life, which builds relationships between general education students and those with special needs to encourage stronger connections throughout the student body.
"I'm lucky because I get to see kids' hearts and to see them just loving on each other," MEA member Wendy Harkema said of the popular elective course she teaches.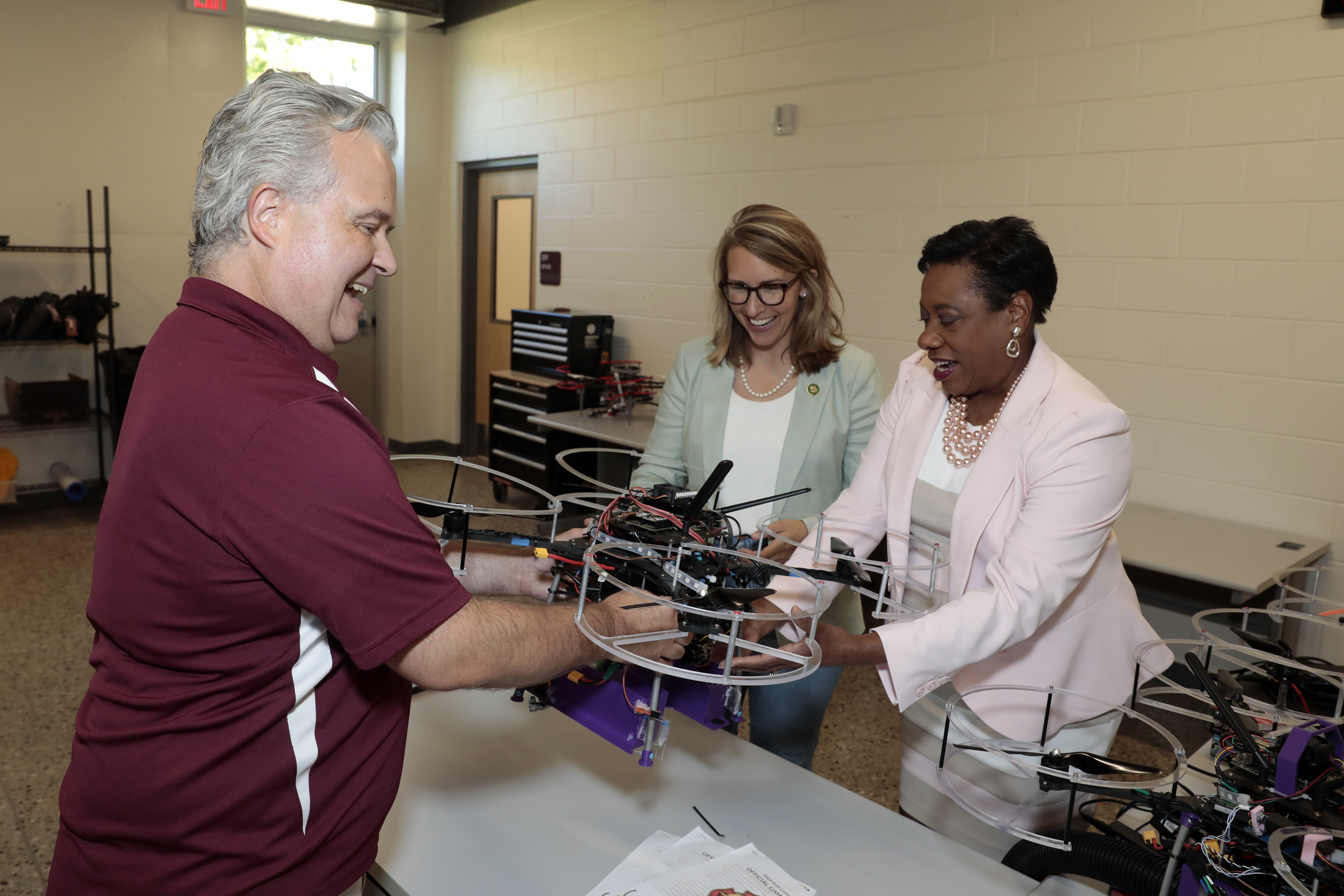 The superintendent added, "And Wendy's a superhero. She does an outstanding job with all of the work she does. So the building is beautiful, but I wanted to highlight the fact that the people are what it's all about."
The tour finished in the stunning robotics competition facility. The school's robotics program has won numerous state and national championships, but young people across the region will benefit from its use.
"The facility is just amazing; we pinch ourselves every time we come in here," said MEA member Mike Evele, an Honors and Advanced Placement Physics teacher and one of the head coaches of the Grandville High School Robotics team, the RoboDawgs.
The RoboDawgs have been recognized internationally for participation in robotics competitions, work with high-altitude balloons, autonomous boat races, and partnering with the National Aeronautics and Space Administration to put an experiment on a suborbital sounding rocket.
"A lot of thought has gone into this – every aspect of the design is very intentional – to make this one of the first real robotics arenas here in the country," Evele said.
The new middle school was made possible by a voter-approved bond measure, and it was powerful to see firsthand how resources in a district like Grandville can make a difference in students' lives, Congresswoman Scholten said in a television news interview after the tour.
But she added, "It shouldn't matter whether you happen to live in a great school district like Grandville; students across West Michigan and our state as a whole deserve to have high-quality education and the resources they need to succeed."
For Madafferi, visiting four school districts in two days and witnessing a spark of improvement in school employees' morale was heartening.
"We've had so many of our educator rights restored; our members have a stronger voice again at the bargaining table, pay is going up, more money is being put into our public schools than ever," Madafferi said. "If we can let our educators know they are valued and they're supported, then this begins the movement and the renaissance of our profession."