MEA Student Debt Resources
MEA Voice: BIG NEWS! Changes to Public Service Loan Forgiveness Announced – Hear from MEA members who had their student debt reduced or eliminated under new rules for the Public Service Loan Forgiveness program.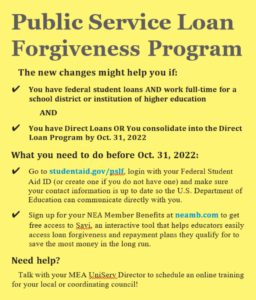 Labor Voices: Address Michigan's educator shortage by reducing student debt – Learn more about the student debt crisis facing educators in this September 2021 op-ed from MEA President Paula Herbart.
Student Loan Debt Among Educators: A National Crisis – A July 2021 report from NEA showed the depth of the student debt crisis, including specifics about the impacts on educators of color, younger educators and even those who are approaching retirement.
NEA Student Debt Support – By working to cancel student debt and improve forgiveness programs, we can make sure everybody who wants to learn and grow can do so—without exceptions.  Learn more about NEA's efforts to help members across the country, including a quick questionnaire to help you determine the right next step for tackling your student debt.
NEA Student Debt Navigator – As an educator, you may be able to have part, or all, of your federal student loans forgiven. The NEA Student Debt Navigator, powered by Savi, can help you find and apply for money-saving programs.
MEA Student Loan Forgiveness Training – Learn more about training available for groups of MEA members about student loan forgiveness, one of the offerings of the Leader & Member Training Program through MEA's Center for Leadership & Learning.