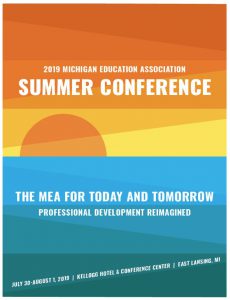 July 30 – August 1
Kellogg Hotel and Conference Center, East Lansing
In her welcome letter in the conference announcement, MEA President, Paula Herbart, starts with:
When I speak with MEA members and leaders attending our conferences, one common refrain I hear matches the title of an infectious Pointer Sisters song from the 1980s – "I'm so excited!"
They're rejuvenated and ready to get back at it, they say at the conference wrap: "I'm so excited to share this information/try this new idea/implement this innovative plan!"
 I'm always happy for them—and now you.
 Welcome to the Summer Conference: The MEA for Today and Tomorrow. Whether you are a first-time attendee or a returning veteran, there will be much here to replenish your soul and retool your local.
To read more of the message and have the rest of the announcement so that you and/or others from your local can register for the conference, click here.
Registration deadline is July 8, 2019.
On-line registration for those that are required to pay a fee to attend will be available through July 8. Local President and/a designee they send from their local in their place, can not register online – they need to complete a registration form and submit to Conferences@mea.org or the address on the form.
If you have questions, please call Carolyn Cortright at 517/337-5491 or 1/800/292-1934, extension 5491.
As of May 24, 2019, all of the rooms at the Kellogg Center have been booked – they are completely full.  Please see page 7 of the announcement for other hotels in the area.