Whitmer shares MEA member story in marking pandemic anniversary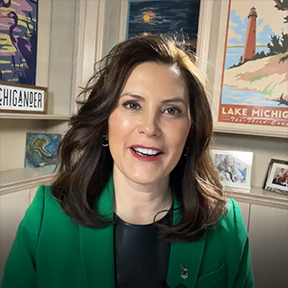 In marking the one-year anniversary of Michigan's first COVID-19 case, Gov. Gretchen Whitmer shared several stories last week about the inspiring work done by a variety of Michiganders during this pandemic.  One person highlighted was MEA member and Warren Woods teacher Todd Bloch – the governor shared his experiences as an educator over the past year.
"Mr. Bloch says that we've all been learning since the day we were born by falling on our faces and getting back up—and this time was no different. Like so many incredible educators across the state, Mr. Bloch adjusted," Gov. Whitmer said.  "There was a lot of change, but students, staff, parents, and organizations like the MEA worked together to keep the wheels turning. Teachers went above and beyond, finding creative ways to keep kids engaged, and Mr. Bloch is a great example."
The governor shared that Bloch oversees the weekly student news show at Warren Woods Middle School – a program she appeared on last week (watch the video here).
In a 

release marking last week's anniversary

, MEA President Paula Herbart thanked Gov. Whitmer for her leadership and partnership with educators during the pandemic, "In particular, we appreciate her prioritizing frontline PreK-12 teachers and support staff to receive the COVID vaccine – MEA survey data has shown Michigan educators far outpacing the national vaccination rate for school employees, which is a direct result of her leadership. This has been an essential step in planning a safe return to in-person learning."