Educator-Turned-Lawmaker Says You Can Too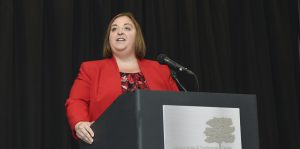 Serving as a state representative isn't much different from being an elementary school teacher, according to educator-turned-lawmaker Lori Stone (D-Warren), who told her story to attendees at MEA's Summer Conference last week.
The 14-year classroom veteran and MEA member said every legislative session starts with the pledge of allegiance. Seats are assigned. "And I still work on evenings, weekends, and over summer break. I consider myself a professional problem solver."
Stone won her 28th District House seat last November after defeating an incumbent during the Democratic primary last August. She encouraged other educators to claim a seat at the table.
"If you are tired of asking others' permission or help, or feel ignored or dismissed or disappointed, we need to build each other up," Stone told the crowd of hundreds of MEA leaders and members attending the annual conference. "You need to encourage yourself and your colleagues to run."
This October, MEA members thinking of running for office will have easy access to high-quality, free information to help them navigate the process. NEA's See Educators Run program, a non-partisan training opportunity, is coming to Detroit from Oct. 4-6.
The program is open to NEA members and their immediate families. The trainings are free and include travel, hotel and meals. They run from Friday evening through Sunday afternoon, so no classroom substitutes are required to attend.
The program aims to give educators – regardless of political party – the tools to raise money, communicate effectively, recruit volunteers, and run a campaign for school board up to state-level office.
For more information or to apply to attend, visit www.SeeEducatorsRun.org.
As a third-generation educator, Stone said she decided to seek office after witnessing firsthand the effects of bad policy-making as students' needs grew.
"I watched as the news vilified and blamed teachers for factors beyond their control, and I watched attacks on pay, benefits, and retirement that had made pursuing a career in education a worthwhile endeavor."
In last November's election, five MEA members won election to the state House and Senate. "It's great having a voice at the table," she added.