Educators testify in support of bills restoring school employees' workplace rights
UPDATE: The House Labor Committee passed House Bills 4354-4357 on Thursday, May 25. The legislation will now proceed to the full House for consideration, likely in June.
In the early hours of Thursday morning, over a dozen MEA members from across the state made the drive to Lansing to make their voices heard in the Michigan House Labor Committee in support of a package of bills to restore educators' collective bargaining rights.
House Bills 4354-4357 would restore the right to bargain subjects such as job placement, decisions on hiring and teacher evaluation, all of which were made prohibited subjects of bargaining in 2011 by the previous governor and Legislature.
Combined with funding cuts and partisan political attacks against educators, the 2011 laws stripping away collective bargaining rights had a devastating impact on the teaching profession. Enrollment in teaching programs has plummeted, with now fewer than half the number of college students pursuing a career in education than a decade ago.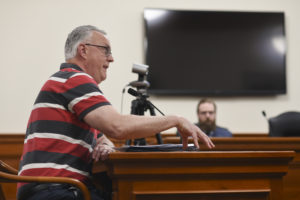 "Teaching jobs used to be hard to find," said veteran Centerline teacher John Duffy. "We are now experiencing unprecedented educator shortages."
Subjects prohibited from bargaining are intended to be minimal and simply prevent abuses of power, such as bargaining monetary kickbacks for oneself, testified Sean Egan, deputy director of the Michigan Department of Labor and Economic Opportunity, in support of the bills.
Ionia teacher Steve Cairns highlighted an example of when evaluations and placement – both of which are currently prohibited from bargaining – were weaponized against an educator in his district who "spoke truth to power." He witnessed that AP biology teacher achieve the rare feat of having 100% of her students pass the AP exam, only to be rated "minimally effective" that same year and lose her position.
Cairns said being allowed to once again bargain over placement would create a fairer work environment for school employees and discourage favoritism and "cronyism" amongst administrators, which he felt was responsible for his colleague and others like her losing their positions.
Testimony of placement issues was a recurring theme of Thursday's hearing. Waterford teacher Mary Craite shared how she received seven different teaching assignments in a six-year period, including being forced to move buildings three times within six months.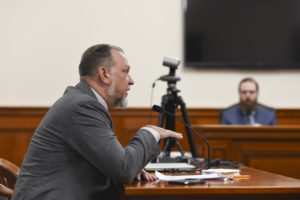 "Teachers are leaving the profession because of stories like mine," Craite said. "Six years with seven teaching assignments is not what is best for kids. Our working conditions are our students' learning conditions."
Grandville teacher Blake Mazurek emphasized during his testimony that removing placement from prohibited subjects of bargaining would not automatically force seniority systems upon school districts. It would merely allow the topic to be discussed between both parties, rather than having placement being a unilateral decision made by administrators.
Birch Run teacher Amy Urbanowski-Nowak testified that restoring these workplace rights will encourage more collaboration between administrators and school employees — something that will set a good example for students.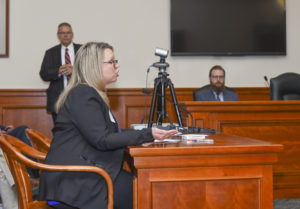 "In the real world, you need to learn to work with others," Urbanowski-Nowak said. "It's something we teach our students in the classroom every day."
Saginaw teacher Andy Richardson was one of many MEA members who made the trip to Lansing but were unable to testify due to committee time constraints. However, he said that will not dull his enthusiasm to advocate for this important legislation.
"I'm going to continue to speak to my own representatives," Richardson said. "I'm going to work through MEA — through our lobbyists and my UniServ Director — to continue to advocate for these bills."
Make your voice heard today on these important labor bills – contact your lawmaker and urge their support!