Higher Education Chair Meets with MAHE Board
On March 31, state Rep. Carol Glanville (D-Walker) met with the board of MEA's  Michigan Association of Higher Education (MAHE) to discuss issues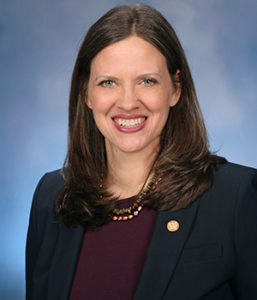 affecting colleges across the state. As the Chair of the House Higher Education Committee, Glanville has spent 30 years in the field of education as both a teacher and administrator, working with students from pre-K to graduate level.
The committee – which was eliminated by GOP leadership over a decade ago – was reinstated by new Speaker of the House Joe Tate (D-Detroit) to ensure higher education policy issues have an appropriate place for in-depth legislative discussion.
Glanville appreciates the importance of her new role and is working closely with higher education professionals to ensure their voices are heard at the Capitol. The primary goal of the meeting was to build relationships with leaders in higher education and engage in informative discussions to bring MAHE members' priorities to the forefront in Lansing.
"I have focused our first weeks on bringing experts in to testify to the committee to get the lay of the land and gain a better understanding of the issues facing our state, students, and higher education partners from those that know best before bills are developed or heard," Glanville said.
During the meeting, Glanville touched on her upcoming priorities, including moving away from a traditional A-E grading system and toward a competency model that better reflects student learning outcomes. She also highlighted the importance of giving students credit for work experience, which can help Michigan workers enter college programs at the appropriate level when they are looking to further their education.
Members of the board had the opportunity to ask Glanville questions and voice their concerns on a variety of topics, including tenure – specifically the proportion of tenured professors related to adjunct professors at Michigan colleges and universities. There was also constructive discussion regarding tuition rate caps and how factors such as gap years and fields of study can impact students' financial aid.
"I look forward to strengthening relationships with our higher education partners and improving and creating more pathways between K-12 and higher education opportunities to best retain and attract great talent in Michigan," Glanville said.