Pontiac paraeducator finds special takeaways at MEA Summer Conference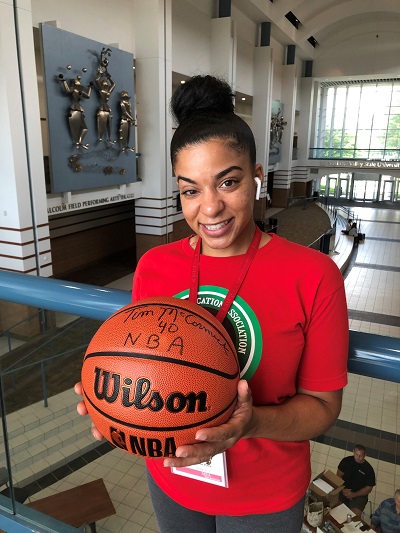 Pontiac paraeducator Gabby Price attended her first MEA conference last week, caught a front-row seat to a well-attended motivational talk by former NBA player Tim McCormick, responded with a smile to the speaker's light-hearted banter and left with an autographed basketball.
More importantly, she said in an interview after the conference session, she learned so much at the MEA Summer Conference that she plans to take back to her classroom and union roles next year.
"All of the classes have been so informative, and everything I've learned I plan to use in my day-to-day life," Price said.
Price was among more than 200 members who attended the conference last week at Saginaw Valley State University, attending sessions on a variety of topics while getting inspired from the likes of McCormick and a special appearance by Gov. Gretchen Whitmer.
Principles for success and inspiration
A third-year para in a special education classroom at Owen Elementary School, Price was diligently taking notes in McCormick's pick-me-up session when the former pro basketball player and ESPN sports announcer stopped his talk to praise her preparation and dedication.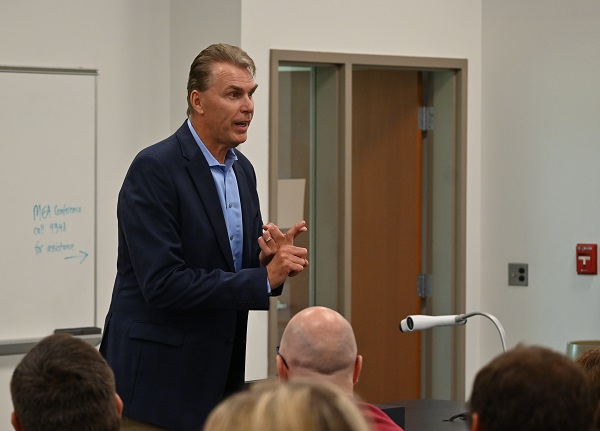 "You're ready to go, aren't you?" McCormick said, interrupting the point he was making about having a game plan as the key to resilience.
"Yeah," Price replied.
"If you don't write something down, you forget 72%, so you're on top of things – thank you," McCormick added.
In a humorous speech peppered with references to legendary opponents he played with and against – Julius Erving, Larry Bird, Michael Jordan, Charles Barkley and Hakeem Olajuwon – McCormick laid out three core principles that lead to success in life, starting with hard work.
"Big producers keep evolving over and over," he said. "It's an old-school approach: You grab your lunch bucket and your hard hat, and you attack your day with effort."
As he shifted to his second principle – what he called "bounce back-ability" – McCormick pulled a basketball from his bag, referring to it as his "role model" and preparing to demonstrate what he meant. He paused and looked at Price again in the front row for dramatic effect.
She turned the tables, interjecting playful banter in his direction. "Will you sign it for me?" she quipped.
"Did you just ask if I could sign it for you?" McCormick replied, laughing along with the crowd. "Watch this," he continued, bouncing the ball up and down.
"What did it do? It bounced back. It does this every time. This is a great role model because if you get knocked down or beat up or disappointed or frustrated or whatever happened at 10:00 in the morning, you've lost a ton of productivity. You've got to let it go – forget that stuff."
Then he spun the ball to reveal his autograph already written on it in black marker and tossed the ball to Price, saying "Here – this is for you" to a cheer from the audience.
His final principle for success – teamwork – encompassed communication, empathy, leadership, trust, and the need to build a team to both give and receive support – what he called "a circle of greatness."
"Right now it's the most important time for you to build your community up," he said. "Too many people are out there on their own. They need you, but you need help too. Through the isolation and pressures of being a teacher, you need somebody that's going to be positive and optimistic and enthusiastic."
Price said getting attention from the speaker kept her on her toes. "It was a delight to sit there and just be focused and be in the eye of the conversation sometimes," Price said.
The message from McCormick got her thinking about her own situation, Price said. Last year she became treasurer of her local union without much training.
"When I took on the role of being a treasurer, it was scary and I was like 'Oh, I don't know how to do any of this.' But hearing him talk makes you realize the people at the top didn't get there overnight. It takes hard work and dedication, and it's worth it to work hard for what you really want."
Other classes she took on how to be a union treasurer and tips for social-emotional learning will be invaluable going forward, Price said, adding "I'm glad I came."
New skills and resources to help members
After McCormick's speech ended, Price was sharing her insights with a more veteran educator who also attended the talk. Kathy Perdue, a local president in Huron County's Ubly Community Schools, agreed McCormick's dynamic message on personal growth was uplifting.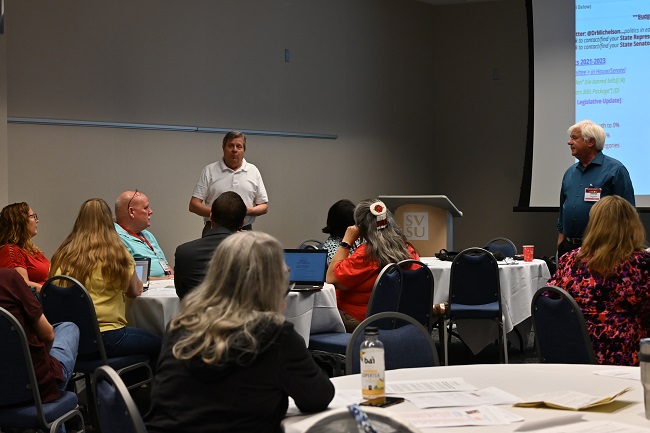 The 25-year math teacher said she has come to many MEA conferences and always learns something new. This year one thing she would bring back is information about how to combat inflation and save with new and improved MEA and NEA member benefits.
"It used to be promoted as 'Hey, with these benefits you can earn your dues dollars back,' but now it's more like 'You can earn three, four times your dues dollars if you're a savvy shopper," Perdue said.
Another session she attended and always enjoys – "Chat with a lobbyist" – allows her to share information of interest to her members, such as details on the new law allowing retirees to return to work in a school after nine months without jeopardizing their pension.
"I always love coming to that session, because it's like a full-time job trying to keep up on your own with whatever's going on at the House and Senate," Perdue said.
Among many others, sessions at the three-day conference offered training on building union strength, understanding legal issues, developing bargaining strategies, plus professional development topics such as culturally responsive teaching and classroom management.
Whitmer: Ensuring a successful future together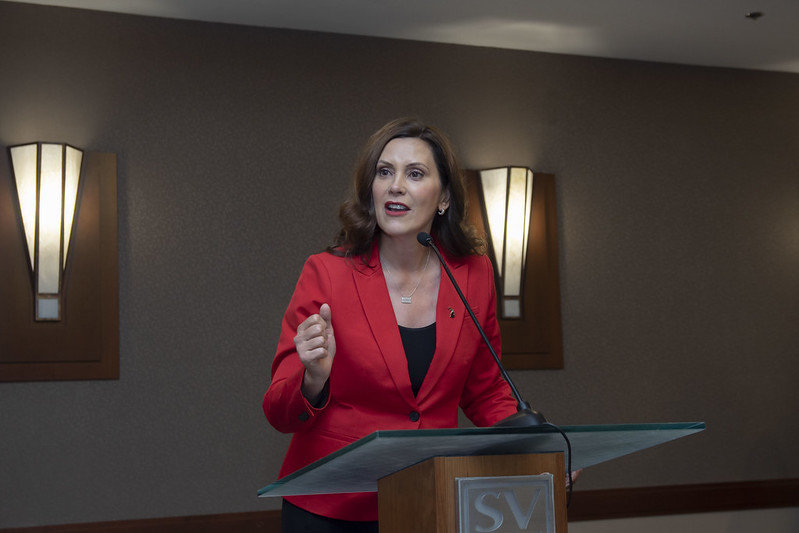 A Wednesday night MEA-PAC reception featured Gov. Gretchen Whitmer, appearing in the wake of her signing an historic education budget, along with other candidates recommended by MEA Screening & Recommendations committees.
Go to meavotes.org to find MEA's voter guide and candidate recommendations, developed by members from across the state.
In her remarks, MEA President Paula Herbart stressed the importance of putting in the work to elect pro-public education candidates – with the entire state Legislature on the ballot – in newly drawn legislative districts.
"We see what can happen when we win, and we see what can happen when we don't," Herbart said, drawing cheers with her conclusion: "I like winning more—how about you?"
Whitmer energized the crowd with her reason for pursuing a second term in office – despite unprecedented challenges facing Michigan and the world: "because we are making progress, and we're doing it together in a way that ensures a successful future for the generations that follow us," she said.
Whitmer has secured historic education budgets two years in a row that brought equity to PK-12 per-pupil funding and the highest foundation allowance in state history, more funding for student mental health, and higher education funding increases.
She called out every category of education employees for their hard work through many difficulties to give every child the opportunity to succeed.
"That's why I'm willing to take the heat for vetoing efforts to make vouchers a reality in Michigan," she said to an eruption of cheers and applause.
The stakes are high in this election, with workers rights, bargaining rights, voter rights, reproductive and civil rights all on the ballot, she said. Public education is also a critical campaign issue this season. Everyone who can needs to get involved, she said.
"We want to make Michigan a place where you can be proud to say you're an educator because people respect you, and they compensate you, and they support your work," Whitmer said. "We are on a path to that place, and we cannot afford a setback now."