Retirees Lead on National Level
Every other Wednesday a group of silver-haired men sit around some pushed-together tables in a Brighton diner for breakfast and companionship, and their talk inevitably turns to the state of public education. They can't help themselves.
This gathering of more than a dozen regulars typically includes six former presidents of the Huron Valley Education Association (HVEA), a retired teacher turned school board member, several retirees from various districts—and now, a national-level public education advocate.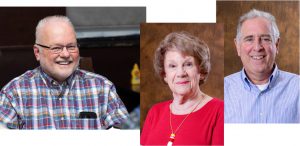 Instead of sailing into the sunset, these retirees remain politically engaged and active. Their table talk alternates between good-natured ribbing, catching up on personal events, and trading political commentary—on school funding, union busting, eroding compensation.
"I learned the other day about a student five years out of high school, with a master's in engineering, making a starting salary of $89,000," former history teacher Jim Pearson told the group at a recent gathering. "That's not on the teachers' salary schedule at 30 years."
Beyond low pay and dwindling health and retirement benefits for educators, the retirees share other causes of concern for "actives"—their term for current educators—including over-testing, class sizes, school violence, and politicians' mandates that ignore and vilify classroom experts.
"No Child Left Behind motivated me to retire," said Bob Kullberg, who taught social studies, government, and economics for 30 years in Bay City—referring to the George W. Bush-era law that launched standardized test-based accountability.
"After four years of pedagogical training I was well-prepared to be a teacher, but all of a sudden the state comes in and says we're going to tell you how to do it because we know better."
Previous generations believed in "leaving the world better than you found it," noted Mike MacGregor, a school social worker in Huron Valley for 31 years who served for six years as HVEA president.
MacGregor spent hours canvassing voters' homes during the 2018 midterm elections to usher in a return to that philosophy of investing in youth which has been "systematically squeezed," he said.
Pearson—the retired history teacher—agreed. He won a seat on the Huron Valley School Board in 2016 to help students and educators. For example, the board recently added social workers at every elementary school to address students' growing needs outside of the classroom, he said.
Given the passion and commitment of this boisterous breakfast club, it's no surprise that one of the group's members has recently assumed a role of national prominence in education advocacy.
Dan Rudd, who retired in 2005 after teaching elementary school and middle school social studies for 37 years, last year became one of three top elected officers of NEA-Retired, which represents more than 300,000 school retirees across the country.
And he is joined in taking a position in the national organization by two other Michigan retirees, making our state delegation among the best represented of any state chapter.
"In education you retire from your job but not your profession," Rudd said of his desire to keep advocating for school employees in his golden years. "I still have a heart for my profession, and it's important—I think—to continue lobbying for our positions."
Rudd was elected Secretary of NEA-Retired in addition to his roles as secretary-treasurer of the state MEA-Retired organization and treasurer of two local MEA-Retired chapters in West Oakland and Livingston counties.
His election to the national post followed two terms on the NEA Board of Directors, which required him to travel regularly to Washington, D.C., to lobby Michigan's federal lawmakers on issues related to public education. He also volunteers often to lobby in Lansing.
Rudd never imagined he would follow his decades in the classroom with routinely pressing state and federal elected officials one-on-one to do the right thing for public education. He's naturally a shy person, he said. But he knows he has expertise that matters.
"I can talk about effects that a certain bill would have on schools from the perspective of all of the changes I've seen over my career," he said.
Rudd couldn't walk away knowing that others before him had unselfishly raised their voices to fight for the rights, respect, and resources he enjoyed during his active teaching years.
"A lot of the new people coming into the union have very little idea what's gone on in the past," he said. "Some of them think that the school board just gives them stuff like benefits and planning time. We have to keep reminding them that—no, we fought for those. If not for the union and our activism, we wouldn't have those things today."
Our state's retirees are known for stepping up. Michigan eclipses much bigger states in sending the largest delegation to the NEA-Retired annual meeting each summer. Perhaps that is why the state is over-represented in elected posts in the national organization.
While Rudd is one of three top officers—outranked only by the president and vice president—retired Grand Ledge educator Barb Schram is one of six retiree members of the NEA Board of Directors, and retired Royal Oak school social worker Sid Kardon is one of six retiree members on the Resolutions Committee of the NEA Representative Assembly.
Schram said she wants to use her position on the NEA Board to keep educators back home—both active and retired—informed and involved in the political realm, including in fundraising for MEA-PAC to help elect supportive legislators.
"As we all know, money talks—and we need to put our money where our beliefs are and with the people who support our belief in public education," Schram said.
The 33-year veteran elementary school teacher left the classroom and walked into the halls of power. She now regularly lobbies in D.C. as an NEA board member.
"By staying involved, I am able to work with amazing teachers and support professionals who feel the same way I do and who are spending their time in local school districts, lobbying their legislators, supporting PAC and continuing the commitment to public education."
Kardon has a similar motivation for his ongoing involvement since retiring in 2014. Being on the Resolutions Committee means he helps to shape debate over education policy, union positions, and social justice issues.
One of the most exciting moments serving in this role happened last summer when the Resolutions Committee brought forth a statement to acknowledge white privilege in U.S. culture—a position passed resoundingly by the 10,000-member RA.
"Millions of students we teach don't have a fair shot at the benefits enjoyed by others in our society because of their race," Kardon said. "This was a statement about social justice that NEA made to the nation."
He enjoys the process of debating and wordsmithing that brings differing viewpoints to a place where agreement can be found, he said. "To me, standing up for our beliefs is a fundamental part of what NEA is."