Rights restored – time to say THANKS!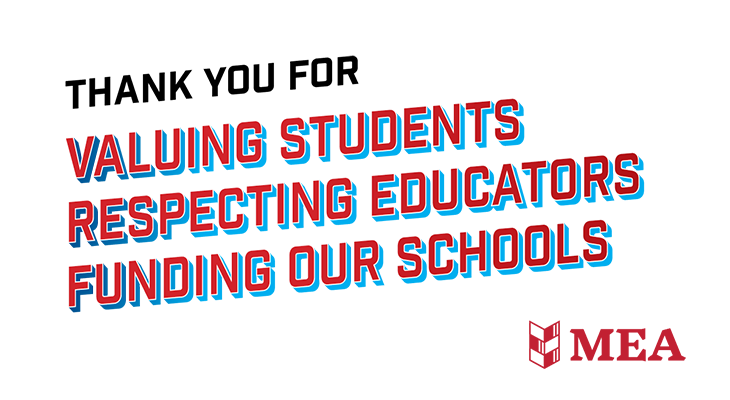 On Wednesday, Gov. Gretchen Whitmer signed legislation restoring collective bargaining rights lost by educators over a decade ago – making good on pro-educator lawmakers' promise to respect the profession as a way to recruit and retain the best and brightest for our students.
Building on the record-breaking education budget signed last week, these new laws – which will go into effect in early 2024 – repeal prohibitions against bargaining over a variety of important topics, such as teacher placement, evaluation, layoff, recall, discipline, payroll deduction of dues, as well as removing automatic penalties incurred on employees when a contract expires.  Learn more about the full package of bills here.
"Educators across the state are excited about the changes brought forward with signing of these important bills," said MEA President Chandra Madafferi in a press statement with Gov. Whitmer. "The restoration of educator bargaining rights will serve to build an even stronger profession for current and future educators which, in turn, will benefit our students and communities. As we frequently state; our educators' working conditions are our students' learning conditions."
With these bills now signed, it's time to say THANK YOU for lawmakers' votes to value students, respect educators and fund our schools. 
Please take a moment to send a message to your State Senator and Representative that you appreciate their support on restoring educators' rights to a voice in their profession AND budgeting a record amount for Michigan's public schools.