Saline paraeducator named MI Education Support Staff Professional of the Year
By Brenda Ortega
MEA Voice Editor
As a sign language interpreter, MEA member Heather Dew was taught to think of herself as the unseen part of a communication triangle: A speaks to B and B speaks to A, while she serves as "the invisible C" facilitating the exchange.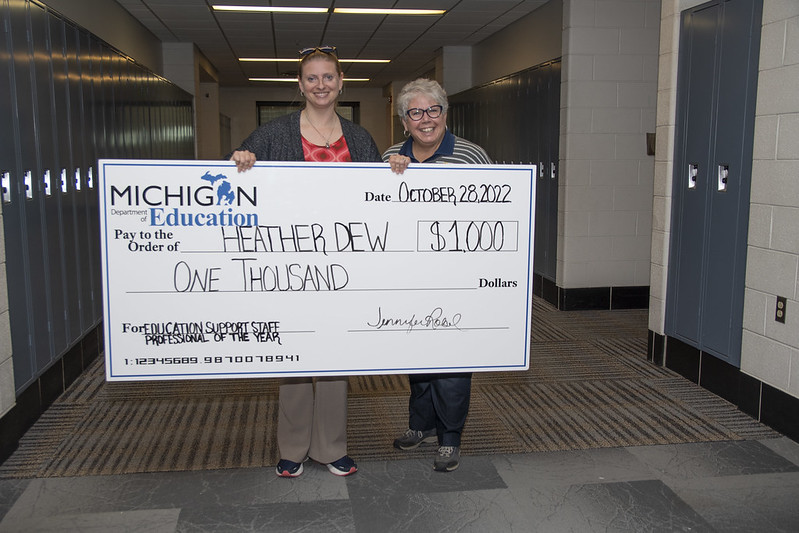 Dew brought that same sensibility to her work as a paraeducator when she transitioned from her interpreting job to working with special education students in Saline Area Schools nine years ago, she said.
"I try to minimize my presence and not be so public, because if I can make it almost seem like students are not receiving support, then they don't feel like the focus is on them and they can build their independence and their belief in themselves," Dew said.
For her caring attitude and willingness to do what it takes to deliver needed help to any and all students, Dew was named the 2022 Michigan Education Support Staff Professional of the Year by the Michigan Department of Education (MDE) on Friday in a surprise ceremony at Saline High School.
"Heather goes above and beyond in trying to help her students access the curriculum, and she is instrumental in helping the Deaf and Hard of Hearing community," said Monica Ellis, the district's assistant director for special education. "She's helped us provide interpreter services for families at community events and IEP meetings, so she really goes beyond the school day."
Dew described the experience of receiving the award – which she did not know she had been nominated for – as surreal. "It doesn't feel like real life at the moment," she said in an interview afterward.
"We don't do it for recognition. We don't come into our job thinking I'm going to be the best, and I'm going to get an award. I'm here for the students."
Growing up Dew helped out in her mother's daycare, and she put herself through interpreter school doing in-home care for students with disabilities. Coming from a family of educators, she initially wanted to be different and pursue a career in a field outside of education.
But after working as an interpreter for four years, she was asked to interpret for a cognitively impaired student in a CI classroom and realized she wanted more.
"I realized I didn't want to just facilitate communication from A to B; I wanted to be in there saying 'How can we make this student more successful? How could we better address their needs? How can we reach them in a broader sense?'"
Dew's proudest accomplishment to date has been her work with a student who has multiple impairments, whom she started assisting at age three and continued with until he started sixth grade this year, she said.
His parents had taught him a bit of sign language, but Dew expanded his ability to sign as a preschooler, then helped him learn some speech communication, Spanish, and how to play the string bass, among other things. She only found out after our interview that the boy's mother nominated her for the award.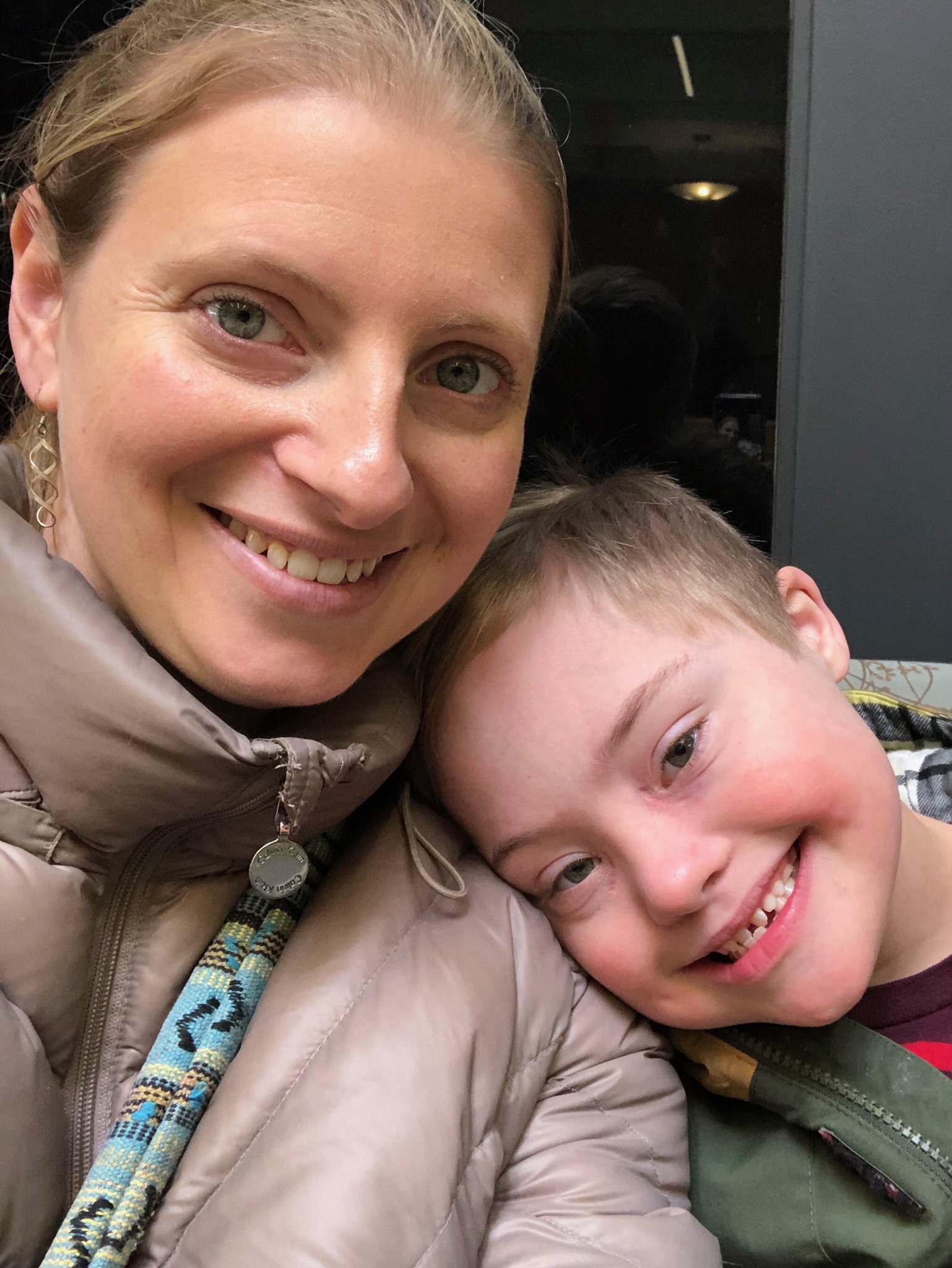 "We learned to play the bass together, and I played the bass right along with him, and I got to be in the concerts with him," she said, her face beaming with a smile. "That was probably my proudest moment – him playing an instrument – and seeing this little guy who has so many impairments being so successful."
His mother, Charlotte Nickodemus, said in an interview Dew has a knack for picking up on what her son – Jeremiah – likes and then immersing herself in bringing that forward. "It fills your cup – my heart is full of joy," Nickodemus said.
"Her skill set is just amazing with many kids – not just mine – but she's truly one of a kind."
Dew helped Jeremiah pick an instrument as a fourth grader that he would learn the next school year, his mom said. It was amid the restrictions of COVID, and students could not pick up and play instruments to choose as they normally would, she added.
Jeremiah has Down syndrome, autism, hearing loss and speech delay. Dew noticed the boy swaying to the sound of orchestra music and helped to discern his choice of bass. In addition to playing alongside him, Dew modified his sheet music for easier visual tracking and helped him learn fingering.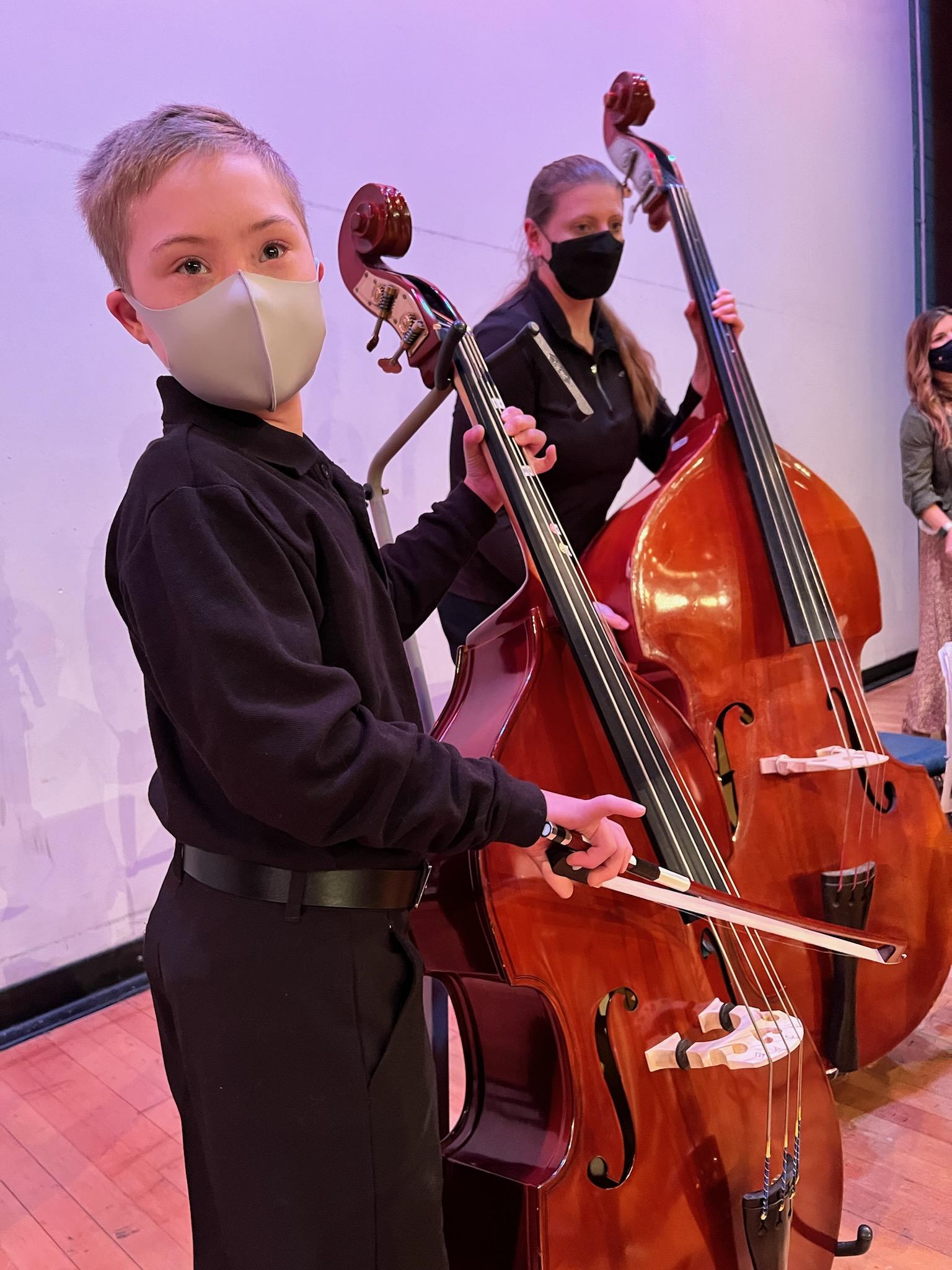 "The orchestra teacher said he has never seen anything like it!" Nickodemus said in her nomination letter, adding a long list of ways that Dew has supported Jeremiah and other students through afterschool programs, class trips and special modifications – even more so during the pandemic.
"She is showing the other students and their families that my son can do things – playing the bass in orchestra, being in the class play, participating in gym class and art, attending camp and being a member of the community!" she wrote.
Dew says she helps any student who needs it, not only those on her caseload. Her secret is that she loves to learn: "I don't care what it is we're learning, we're going to have fun learning it together and you're going to feel good about yourself in doing so," she said of her philosophy.
Now in her first year at the high school, Dew has a caseload of several students with a range of accommodations in Individualized Education Program (IEP) plans. None of her current students are deaf or hard of hearing. She accompanies some in classes and works with others on life skills in a self-contained classroom.
"The students live with me all the time in that I'm constantly thinking How can I do better; how can I be better?" she said. "The students that struggle the most are the students I think about the most. I wonder what might possibly be shutting them down and what I can do to be consistent for them."
High school is the level where Dew hoped to land eventually, she added. "This is the age group I really love to serve because I think they're the ones that get lost. They're struggling the most because they're not little and cute anymore."
In addition to focusing on academic skills, Dew works with young people when they need help learning strategies to self regulate when big emotions become overwhelming – a trauma-informed approach drawn from her own life experience seeing a family member who didn't get needed help after traumatic events.
"If we can't reach them here and they have significant emotional regulation needs, then they age out and they become mental health patients – and there's not enough support in the mental health world for them," she said.
"I love to think I can get them here and I can say, 'I see you. You're bigger, but you're still a kid. You're valuable; you're reachable; you're worth it.' I want to draw them out and let them feel empowered to become strong citizens when they graduate."
Now Dew is among the first cohort of an innovative pilot program through the Washtenaw Intermediate School District, in collaboration with Eastern Michigan University, to send paraprofessionals in the county back to school to become Special Education teachers.
Dew said she was drawn to the Para-to-Teacher Program because over years as both an ASL interpreter and a paraprofessional she has witnessed incredible teachers who help students thrive by meeting them where they are without judgment.
"My goal is to add yet another classroom where students feel seen for their strengths, accepted for their struggles, and encouraged to grow," she said. "I am beyond grateful for the program for providing so many paraprofessionals with the opportunity to pursue that same goal and spread support throughout Washtenaw County."
The Education Support Staff Professional of the Year award includes a $1,000 cash prize for the winner made possible through a partnership between MDE, MEA, AFT-Michigan, and AFSCME Council 25.
MEA President Paula Herbart attended the ceremony to present the check and congratulate Dew. "Every classroom needs a qualified paraeducator to work alongside students who need a little bit more love, a little more listening, a little more understanding, so thank you for all that you do," Herbart said.
Winners of the state ESP award also become Michigan's nominee for the Inspiring School Employees (RISE) Award, coordinated by the United States Department of Education.