Support Gov. Whitmer Veto of DeVos-Inspired Voucher Scheme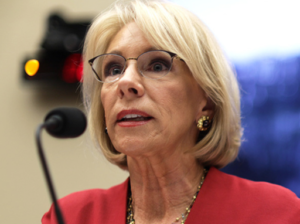 The Republican-controlled Legislature recently fast-tracked legislation that would set up a $500 million voucher program, pulling money from our public schools to funnel money to private schools. This Betsy DeVos-inspired scheme is in direct conflict with the Michigan Constitution's ban on public support for private schools – a ban voters have consistently supported.
Gov. Whitmer said she will veto the legislation. Now, big money GOP donors – like the DeVoses – are funding ads asking the public to push the Governor to sign the bills. We need to show Gov. Whitmer that she has the support of the public to veto this unconstitutional legislation and stand up for the public schools every student deserves.
Please send Gov. Whitmer a letter today.
Related: President Herbart media statement on latest voucher scheme