Two Worlds, Big Hearts: Some Educators Work in Health Care, Too
By Brenda Ortega
MEA Voice Editor
Some MEA members – like the three featured below – are positioned at the crossroads of the current public health crisis, working both in education and health care. They offer a unique perspective on teaching, learning, and appreciation for front-line caregivers in the age of COVID-19.
Patrick Lothrop – Lapeer Community Schools
When middle school science teacher Patrick Lothrop runs a weekly Zoom class meeting in these days of remote learning, his students in Lapeer immediately ask about his well-being. How's he feeling? Is he busy? Staying safe?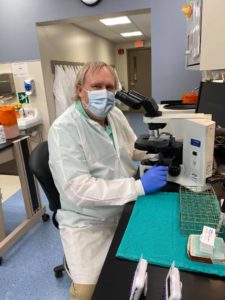 Like some other MEA members, Lothrop straddles two arenas at the forefront of current events: health care and education. In his case, Lothrop works part-time as a front-line health care worker and full-time as a teacher at the Center for Innovation in Lapeer Community Schools.
In his job as a medical technologist at Beaumont Hospital in Troy, Lothrop runs laboratory tests on patient blood and bodily fluid samples – now including COVID-19 tests. In his school job, he teaches middle school science and engineering – including an elective course called Medical Detectives.
The students are very curious about him handling specimens from patients possibly infected with the novel coronavirus that causes COVID-19, so he explains the work he does and safety precautions he takes every day, he said.
"I'm a firm believer that when you treat kids as mature as they want to be treated, they will rise to that. So I'm honest with them. I say, 'Yeah, I worry when I go to work sometimes. Yes, I've got the mask on; I've got the gloves; I've got the gown, but I still worry when I go to work.'"
Under normal circumstances, students in Lothrop's Medical Detectives class study the human body and DNA to learn how to measure and interpret vital signs, diagnose disease, and solve "crime scene" mysteries through hands-on projects.
Students plate bacteria, grow it, and do antibiotic studies on it. Lothrop brings in blood samples to spin down and show the components of blood. The goal is to teach problem-solving – a critical skill in life and the lab – by drawing on kids' interest in real-world applications.
"A medical technologist has to problem-solve," he said. "When results look abnormal, I have to determine whether they're accurate or not to be able to give out to the doctor. And I have to look at all these different formulas in my head to determine if the specimen is valid or not."
Lothrop was a laboratory scientist before he was a teacher, although his first dream was to be in the classroom. As a college student in the late 1980s, Lothrop was steered away from education and chose to be a medical technologist so he could use science to do some good in the world.
"It sounds corny, but I like helping people behind the scenes," he said. "I get a lot of enjoyment from knowing I've helped that doctor or that nurse to provide the best care."
However, he never lost the itch to teach and returned for his teaching credential after several years of working in the lab. He's been an educator for 20 years and currently serves as treasurer of the Lapeer Education Association.
In addition to the Medical Detectives class, Lothrop teaches robotics, computer-aided design, flight in space, and other science and engineering classes for sixth through eighth graders. When school is in session, he works at Beaumont Hospital on some weekends and two to three days per week on the 3:30 p.m. to midnight shift.
Now that school buildings are closed, Lothrop and his teaching colleagues are doing their best to continue educating students with engineering design challenges they can do online or using materials they have at home.
He admits the classes are difficult to replicate on the computer. "There's been a push in the last couple years to say, 'We don't need teachers; we can do this all online,'" he said. "I say no. Kids need human contact and they want the chance to do science and engineering directly."
Beverly Banks – Alpena Community College
MEA member Beverly Banks got creative to finish teaching two hands-on nursing classes that she already had under way at Alpena Community College (ACC) when buildings on campus closed in March.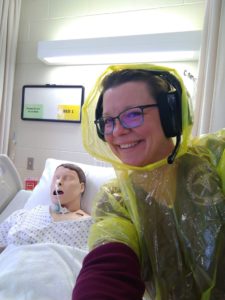 A registered nurse and full-time senior faculty member at the college, Banks was teaching classes for students at both ends of the experience spectrum when spread of the novel coronavirus led the state's higher education institutions to switch all classes to distance learning.
One of Banks' classes that changed midstream featured beginner basics, such as handwashing and medications, for students just starting to take nursing classes. The other class was the final step for seniors before clinical experience and graduation.
"Some of the things that I had to teach them in the higher functioning lab was mock codes and what to do in emergency situations," she said.
Normally the students would practice and demonstrate their advanced knowledge using training mannequins. Now the only people in close proximity to the dummy patient would be Banks and a couple of family-member assistants.
With help from ACC's IT department, Banks established a video connection with four different camera angles allowing students to direct the actions of the people on-site. "They have to direct exactly what they want us to do with the patient. We were just an extension of their hands."
Nurses in training practice emergency response to learn how to perform under pressure, and feedback from the students revealed the distance technique worked, Banks said: "After everybody went through it, I asked my students to give me one word to describe the simulation, and a lot of them said 'stressed' and 'intense.'"
The beginner students similarly were able to watch Banks demonstrate techniques from multiple angles before repeating back her actions while she watched on video. Fortunately, students have all the equipment and materials they need in lab bags purchased at the beginning of the class.
"It was a little limited, because I only have one view of them, so I might have to ask them 'Please turn and let me see what you're doing right there.'"
Learning to be a nurse involves practice, individual redirection, and more practice. "The beauty of an educator is being able to assess, and it truthfully goes hand-in-hand with nursing. All of my patients aren't the same, and neither are my students."
Eventually, basic techniques such as how to open a sterile package must become part of a nurse's muscle memory – so it can be done correctly even while attending to other aspects of a patients care, she said. "I'm constantly saying – especially to my fundamentals students – 'Do it again, do it again, do it again.'"
Amid the pressure of learning in unusual conditions, Banks has made a point of bringing humor into class. She incorporated special theme days, such as pajama day and unicorn day, to take students' mind off of world troubles and model the kind of nursing work that isn't taught in textbooks.
"You need to have a little bit of fun and enjoyment, because what we do is not always a graceful job," she said. "Nurses are supposed to make it better, so I don't mind being a goofball if it makes somebody happy and it makes somebody laugh."
Tim Nelson – Ontonagon Area School District
MEA member Tim Nelson demonstrates what educators and health care workers have in common – big hearts.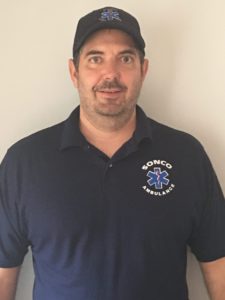 In his 21st year of teaching social studies and English in Ontonagon, in the northwestern corner of the Upper Peninsula, Nelson decided to become an Emergency Medical Technician (EMT) who staffs an ambulance. He took the training last fall and began working on-call shifts in November.
"There was a need, and it's a way to help out the community," Nelson said. "We get paid a little bit, but it's considered a volunteer service. I figured as I'm inching my way toward retirement, it was something I could continue doing once I'm done teaching."
Little did he know as he took on this new role, the COVID-19 pandemic would soon upend lives around the globe – even in the farthest reaches of the UP. "It's always on your mind, whether you're on an ambulance call or at the grocery store," he said.
Gloves were always part of the EMT uniform, Nelson said. Since the coronavirus began to spread in Michigan, Nelson and his fellow EMTs now wear a gown, mask and goggles in addition to the gloves if a patient is suspected to be infected.
A big worry surrounding the virus is the dearth of rural hospitals with Intensive Care Units and adequate Emergency Room beds to handle a big surge of patients, he said. The one hospital in Ontonagon County has three ER beds and no ICU. The county to the east has no ICU, and the same is true two counties to the north.
"I think there's a lot of misinformation out there," he said. "The virus is going to run its course, but with the stay-at-home orders the idea is to try to slow the spread so we're not overwhelming our ICUs and our emergency rooms."
While Nelson said he hadn't yet knowingly encountered a patient with COVID-19, he did recently experience his first loss of a patient after performing CPR and initially bringing back a heart rhythm. He left on the call at 1 a.m. and returned home around 4, but couldn't sleep.
"I kept thinking about what happened and what we did," he said. "We did everything right. If I had to redo it, I wouldn't have changed anything. It was just unfortunate that the patient didn't make it."
What he enjoys about being an EMT is similar to what he loves about teaching: no two days are the same, and he gets to help people and see them improve.
Like educators across the state, Nelson continues to teach remotely – using Google classroom to stay connected online to his students from Ontonagon High School. Some students receive paper packets in lieu of digital access.
He has taken note of parents posting kind words about educators on social media after discovering the difficulties of home schooling. He also has appreciated caring gestures toward health care workers, such as hearts in windows and offers of free coffee for first responders.
"I take pride in both jobs, and it's been great to see the support for my colleagues in both professions," he said. "It is a little disappointing that we need a crisis to be appreciated, but it's awfully nice to see people reaching out with kind words and actions throughout our great state."