What is a certified school librarian, and what do they do?
School librarians, also called library media specialists in Michigan, are teachers who hold a Michigan Teaching certificate with the Library Media endorsement. They typically have a Masters in Library and Information Science and are uniquely qualified to carry out five roles:
Teacher – delivers instruction on reading, accessing resources, information/media literacy, digital citizenship, and technology tools.
Literacy and Reading Expert – has training in youth and young adult literature and collection development to select and promote materials in multiple formats to support learning, personal growth and enjoyment.
Information Specialist – selects, curates, promotes and uses physical, digital and virtual collections of resources ethically and equitably to support the needs of the diverse learning community.
Program Administrator – plans, develops, implements and evaluates the school library programs, resources, and services in support of their schools' mission according to the ethics and principles of library science, education, management, and administration.
Leader – leads a strong reading culture within their school and advocates for students' access to diverse resources and positive learning environments. Provides professional development for teachers and integrated resources and services to all students and the school community.
Replenishing school libraries
MEA member Kathy Lester is looking for ways to rebuild funding for school libraries to boost Michigan schoolchildren's reading skills and enjoyment – especially given the need for literacy recovery in the pandemic's wake. Some strategies she is advocating:
Local unions should advocate for school library funding when considering good uses for federal money from the American Rescue Plan.
The state should create grant programs to hire school librarians similar to a program designed to increase the number of mental health professionals in schools.
Grants of $10 per student could fund library resources.
Other grants could be used for districts to help teachers earn a Library Media Endorsement.
The state should create a state-level school library coordinator to help districts meet quality benchmarks.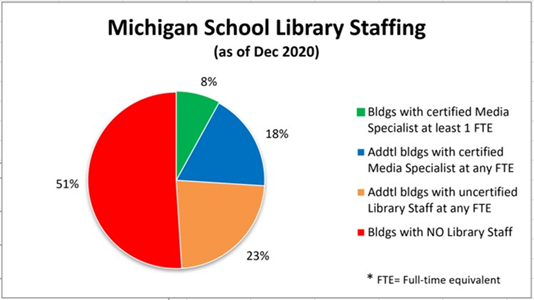 Source: Michigan Center for Educational Performance and Information
Related: