Whitmer signs repeal of unfair retirement tax on educators
Gov. Gretchen Whitmer signed legislation Tuesday rolling back Michigan's unfair retirement tax, as retired educators and others looked on.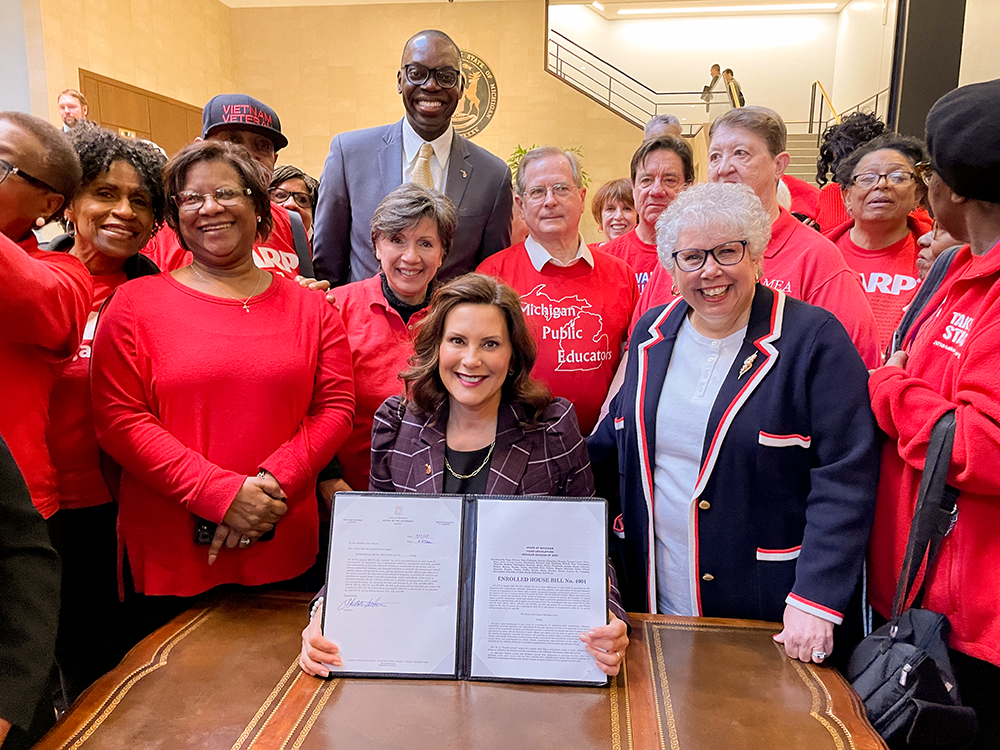 MEA President Paula Herbart, who stood immediately to the governor's left as she signed the bill at a Capitol ceremony, said "it's a big day for working families in our state."
"MEA applauds Gov. Whitmer for providing relief to hard-working retirees by rolling back the unfair retirement tax," Herbart said. "Many Michigan educators planned for their retirement expecting their pensions would be tax-free — but a decade ago, retirees had the rug pulled out from under them through an unfair tax hike on those who could least afford it.
"The governor and our new legislative leaders have righted a wrong," Herbart said, "and thanks to their hard-fought efforts, Michigan seniors and families will finally receive some much-need money back in their hands."
Once it takes effect, the legislation will save about 500,000 Michigan households an average of $1,000 a year — a critical savings at a time when inflation continues to impact everyday families and retirees.
In addition, the legislation quintuples the state's Working Families Tax Credit match of the federal EITC to 30%, up from 6%. This will provide an average combined tax refund of $3,150 to 700,000 families, according to state officials, and will also benefit nearly 1 million children.
"Getting this done will help people pay the bills, put food on the table, and afford essentials like groceries and school supplies," Whitmer said. "It will ensure seniors can keep more of what they've earned over a lifetime of hard work and put money back in the pockets of 700,000 working families. I will continue to work with our legislative partners to build on this progress, grow our economy, and lower costs for every Michigander."
Follow this link to watch a video of MEA President Paula Herbart speaking at the signing ceremony.