Above and Beyond – Jessica McGrath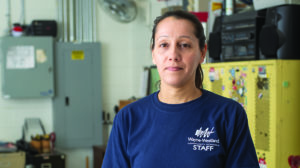 No one asked MEA member Jessica McGrath to start a food pantry for hungry children in her Wayne-Westland school. But when the food services employee realized youngsters coming through her line for breakfast and lunch were going without dinner at night or meals over weekends and holidays, she was moved to action.
"I talk to them, and they tell me things," she says. "Or I see they have no jacket, and I ask 'Do you guys need food?'"
Instead of just worrying, McGrath started a canned goods drive, including prizes for classrooms competing to bring the most non-perishable items. Then she found a quiet way to send the food home—in returnable backpacks.
"Some of the kids might be embarrassed, so this way no one knows; you just hand it to them and they're on their way," she said.
McGrath doesn't want accolades. But her local union president, Tov Pauling, raises the program as an example of what districts receive when they resist outsourcing the work of education support professionals like McGrath, who's been in her job for 10 years. "You don't see that kind of dedication from an outside company. Our people live here, work here, and their kids go here. Our people care."