Award-Winning ESP Leader Fought for 'the Little Guy'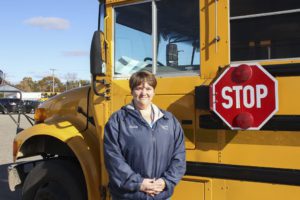 It won't be easy for MEA member Becky Lesh to retire at the end of this summer from the Waterford district where she's lived for 27 years and worked for two decades. But she finds consolation in wins that her education support professionals unit has secured under her leadership.
In her five years as local president, Lesh beat back a district effort to fully privatize the custodial department, and she won back some of the 16% wage cut and four holidays that were taken away to discourage those members from staying.
In 2017, the district moved to privatize transportation, but Lesh organized the community and her members to pull out a victory. She has since won an increase in transportation wages and paid holidays.
"My grandpa was a huge union guy, a pipefitters union steward, and I've always been one to look out for the little guy," Lesh said. "In the end, it's about making sure people aren't taken advantage of."
A longtime bus driver and vice-chair of the 7E Coordinating Council, Lesh has been named MEA's 2021 Leon A. Brunner Award winner for her tireless work fighting privatization efforts and reversing cuts to positions and pay.
Lesh has gotten at least 15 positions returned to the unit in various job classifications as a new administration agreed with her arguments that higher union pay and local control brought greater ease of hiring, better quality, and greater efficiencies over privatization, she said.
"Now I feel good that hopefully things will continue to rise up and get better," she said.
Lesh led her local union in various community service opportunities, from holiday donations to raffle fundraisers, and she has been a patient leader always willing to teach and share information with members and the community, according to nominators Heather Madigan, the union's custodial maintenance rep; and Toni Weddle, the food service rep and local treasurer.
"Becky is continually there for her members and is always willing to fight for the betterment of our members," the nominators said. "If she feels anyone has been treated wrongly by the District, she is willing and ready to go the extra mile to make it right."
The annual Brunner Award recognizes support staff members who have exhibited a high degree of commitment and dedication to their union while advocating for ESP member issues.
MEA UniServ Director Troy Beasley worked with Lesh when he was president of the education association in Waterford. She was instrumental in developing the collaborative relationship that exists between the teachers and support staff unions, he said.
"She believes in unions, solidarity, and speaking up for those who can't speak for themselves," Beasley said. "She is not afraid to speak her mind and is the first person to volunteer to help others when they are in crisis."
Despite the admiring words and award, Lesh says anyone can do what she did—armed with belief and commitment—and she has trained others to replace her. "I remind my members every day, I'm not Superwoman; you can do this without me. Just don't say, 'OK' when something's not right. Choose to stand up for yourselves and each other."
She has the same advice for anyone who thinks of becoming a leader but shies away from doing it.
"Don't be afraid. Reach out to the people who've been doing it. Get yourself into ESP conferences and any of the MEA trainings, because you'll network. You'll meet friends and realize you're not alone. Just ask, and you'll be amazed at the number of people who are willing to help at the drop of a hat. I've been amazingly lucky that way."