All seven past and current presidents of MEA Local 1 were on hand for a recent celebration of 41 years since the 1978 formation of the Multi Association Bargaining Organization (MABO) representing more than 5,000 educators in Macomb, Wayne, and St. Clair counties.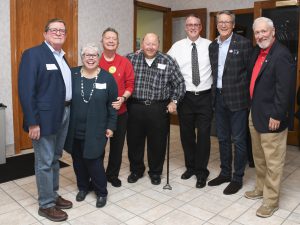 Leaders, members, and staff from past and present crowded into the organization's Clinton Township office last week for the 40th + 1 anniversary. The celebration was delayed one year because of last year's focus on the important 2018 general election.
By banding together, educators from 17 school districts have worked to improve collective bargaining to maintain the appropriate dignity and status for members, whether it was supporting striking educators in the 70's, 80's, and early 90's or fighting to properly fund all public schools.
"Now after a decade of constant attacks on public education and public educators, Local 1 is celebrating because we are still here and still fighting to improve public education for our members and for our communities as a whole," said Local 1 president John Duffy.
Local 1 was founded as a direct result of ongoing intimidation tactics being employed by districts throughout the state that included teachers being fired en masse in the Reese School District in 1971 and the Crestwood (Dearborn Heights) district in 1975.  By working together, the school district presidents of Local 1 were able to support each other to help with bargaining fair and equitable contracts.
Two past presidents of Local 1, Lu Battaglieri and Paula Herbart, went on to become statewide MEA presidents.
MEA President Paula Herbart joined the festivities to thank the many mentors who helped her develop as a union leader from her beginning years as a Fraser music teacher and building rep. "I stand on their shoulders," she said.
"When I am at the state level and talking to people who make decisions that affect the lives of our members, you are with me eternally," she told the crowd.
Local 1 has seen dramatic changes to public education over the last 41 years and celebrates its anniversary more hopeful than ever that the tide is turning in favor of improving public education.
"Unionism means respect, and that's why we continue to fight for it every day," said former Local 1 President Mike LaBuhn, who lead the MABO from 2006-10.
Local 1 represents most educators in the following school districts: Anchor Bay, Armada, Center Line, Chippewa Valley, Clintondale, Fraser, Grosse Pointe, Harper Woods, Lakeview, L'Anse Creuse, Mt. Clemens, New Haven, Port Huron, Richmond, Romeo, South Lake, and Warren Woods.